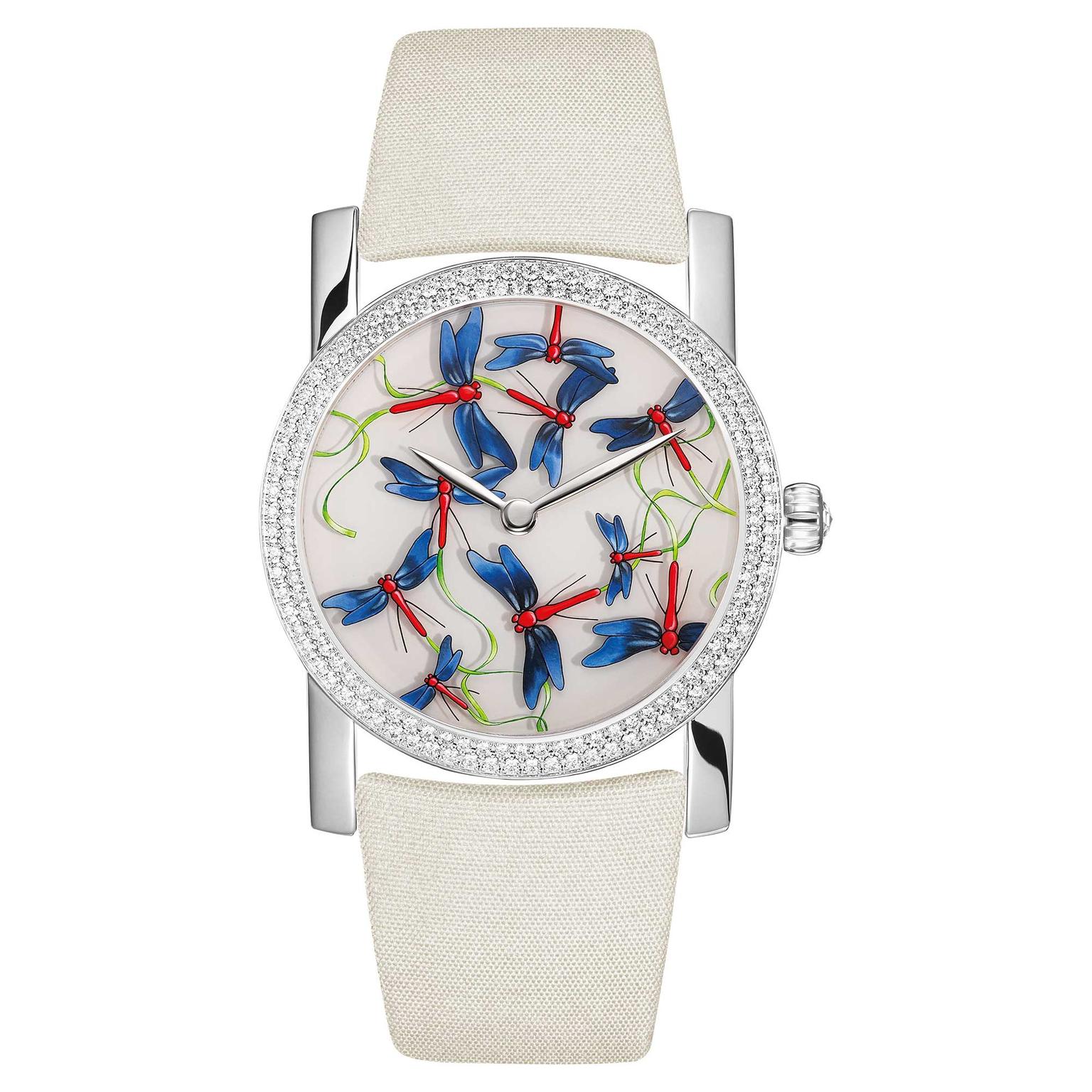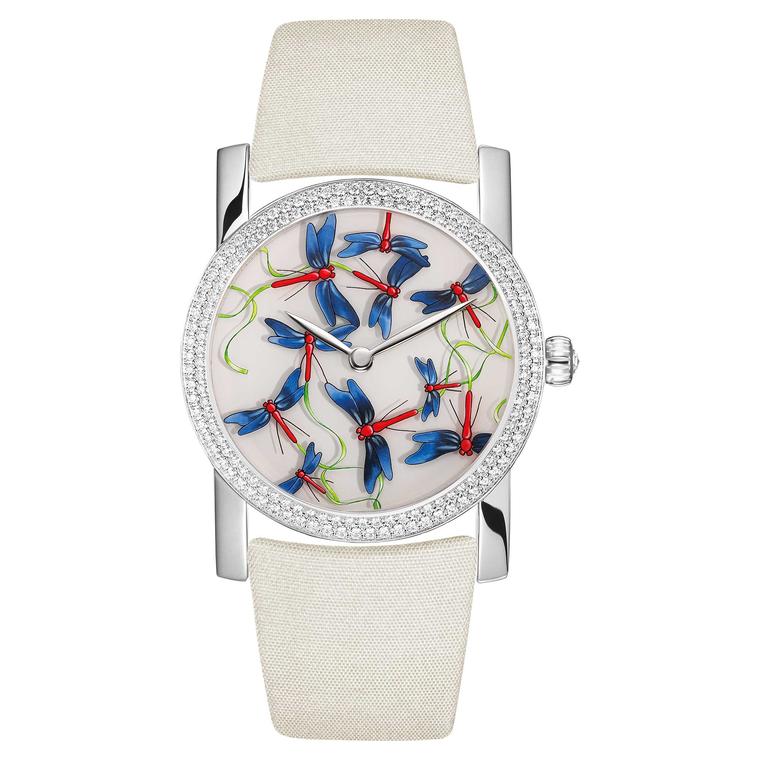 By Rebecca Doulton
There is nothing wrong with healthy competition, and judging by the current watch trend for decorative dials, watchmakers are outdoing one another to captivate the eye of potential customers.
The miniature canvas of a dial demands the skills of highly specialised artists, gemsetters, enamellers, engravers, embroiderers and even feather marquetry experts. We've seen a bouquet of floral dials and butterfly dials this year, along with some that recreate the sashay of an haute couture ball gown or the sensation of freshly fallen snow. Let's take a look at some more of these beautiful watches from Louis Vuitton, Patek Philippe, Chaumet and Dior.
See more watches with floral dials here
The Louis Vuitton Ramage watches echo the spirit of Nicolas Ghesquière's 2015 Cruise Show collection - an invitation to luxuriate in the sun in high LV style. The dials of these ladies' watches feature a central ramage pattern contained within a colourful windmill. The ramage - or branch - pattern, and the LV logo, have been delicately painted by hand, and the colourful windmill whirls against a cool background of snow-set diamonds. The dainty 30mm white gold case on this Louis Vuitton watch houses a quartz movement and comes on an alligator strap to match the colour palette of the dial.
Read more about luxury watches with snow-set dials here
Patek Philippe has been a relentless crusader in the preservation of rare handcrafts, salvaging many skills that were on the brink of extinction. The tenacity and belief in the resurgence of finely decorated dials and cases on Patek Philippe watches has produced some exquisite works of art, including this Calatrava model depicting a "common pheasant". As you can see, there is nothing common about this pheasant, whose feathers have been brought to life with champlevé and cloisonné enamel on a hand-guillochéd background. The pink gold case is set with diamonds and houses Patek's ultra-thin mechanical automatic Calibre 240.
In keeping with its spirit as a Maison of high jewellery, Chaumet watches are always breathtaking. The Attrape-moi...si tu m'aimes collection includes this lovely 35mm white gold watch buzzing with blue and red hand-painted dragonflies. The rose gold model features two stylised poppy flowers and a red butterfly on a pink opal background. The petals of the poppies are made from hand-carved turquoise, and the pistils set with royal blue sapphires, while the butterfly is made from sculpted white mother-of-pearl with orange enamel on its wings. Both models are equipped with a Swiss automatic movement and set with diamonds on the bezel.
We have seen so many wonderful Dior watches this year featuring the magic of haute couture that it would be impossible to pick a favourite. The Grand Soir Origami collection, inspired by the traditional art of Japanese paper folding, recreates the geometric silhouettes and artful pleating of Christian Dior's New Look. The dials of the five watches - each a unique piece -  are decorated with geometrically cut mother-of-pearl, which is then set on the gold dial using marquetry. The abstract motif is framed by a bezel of stunning precious stones, including baguette helix-cut diamonds and sapphires, triangle-cut tsavorites, pink sapphires and aquamarines, which all add depth, light and a flash of colour to these mesmerising Dior watch dials. All the Grand Soir Origami 33mm gold models come with an automatic movement made exclusively for Dior by Zenith.
See more luxury watches from Dior here
Louis Vuitton Ramage watch decorated with a hand-painted ramage pattern on the windmill, in turquoise and purple tones with a flurry of snow-set diamonds.

The Louis Vuitton Ramage watch in white gold with snow-set diamonds and an exquisite hand-painted dial in pink and blue tones comes on a bright pink alligator strap. 

The Dior Grand Soir Origami watch collection is inspired by the traditional Japanese art of paper folding. The dial of the Origami no.32 watch is made from geometric shapes of mother-of-pearl and offset with bright green triangle-cut tsavorite garnets on the bezel and lugs. 

The Dior Grand Soir no.34 Origami watch features a geometric dial made from hand-sculpted mother-of-pearl, accentuated with yellow sapphires as hour markers. The bezel and lugs are set with baguette helix-cut blue sapphires. 

The Dior Grand Soir no. 35 Origami high jewellery watch is presented in a 33mm rose gold case and combines mother-of-pearl marquetry on the dial with triangle-cut orange sapphires, and a stunning bezel set with aquamarines. 

The Dior Grand Soir no.36 Origami high jewellery ladies' watch is one-of-a-kind and decorated with pink sapphires on the case, and diamonds on the stunning mother-of-pearl dial. 

The Dior Grand Soir no. 33 Origami watch in a white gold case with mother-of-pearl dial and trapezium-cut aquamarines is set alight with stunning baguette helix-cut diamonds on the bezel and lugs. All the Origami models are equipped with an automatic movement designed especially for Dior watches by Zenith. 

Chaumet Attrape-moi...si tu m'aimes 35mm rose gold watch featuring two poppy flowers made from carved turquoise and blue sapphires, and a sculpted mother-of-pearl butterfly with orange enamel wings.

Patek Philippe's Calatrava yellow gold ladies' watch depicts the feathers of a pheasant in exquisite detail thanks to the use of champlevé and cloisonné enamelling. 

This delightful Chaumet Attrape-moi...si tu m'aimes 35mm white gold watch features a hand-painted dial whirring with red and blue dragonflies and is equipped with an automatic Swiss movement.