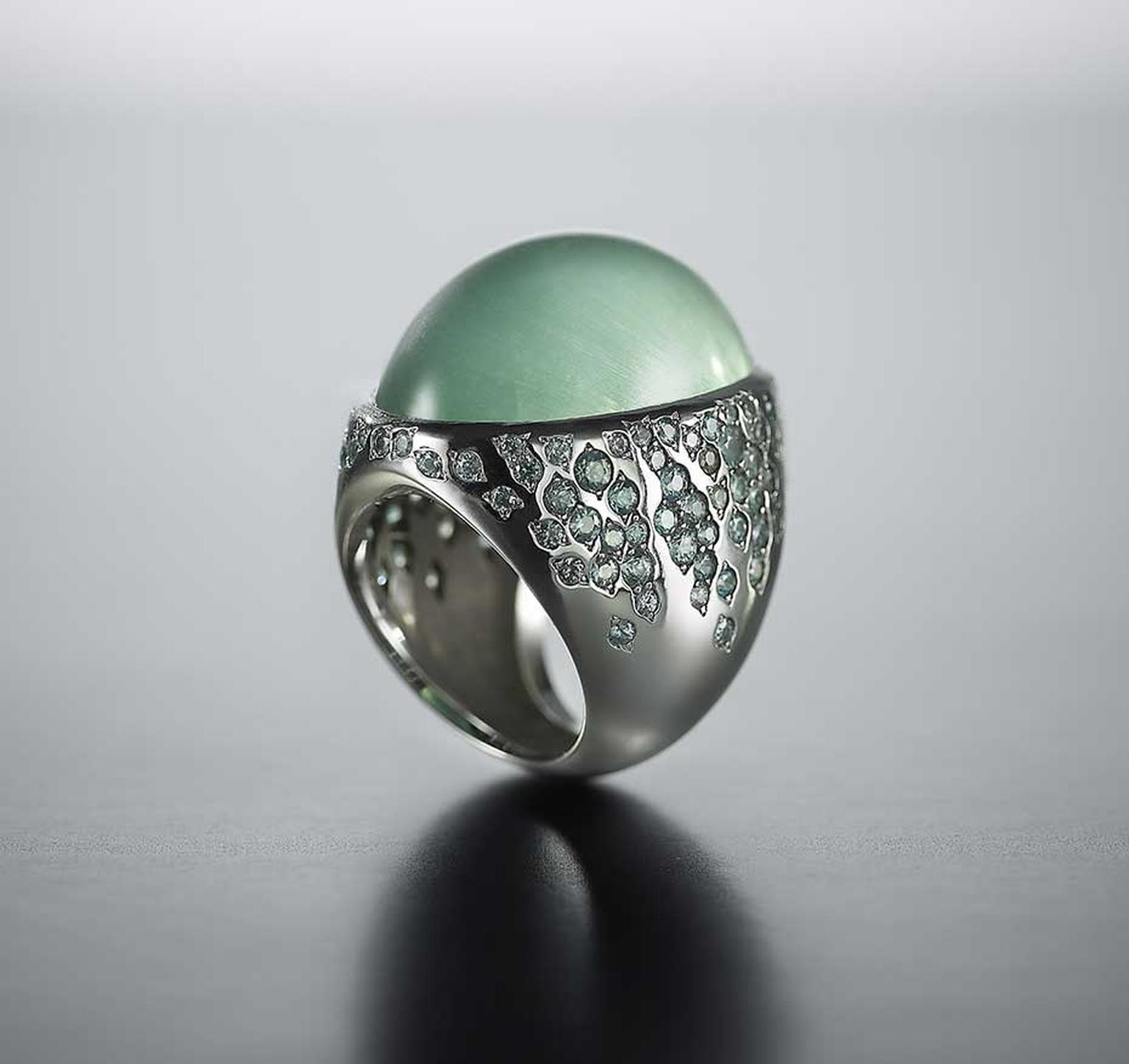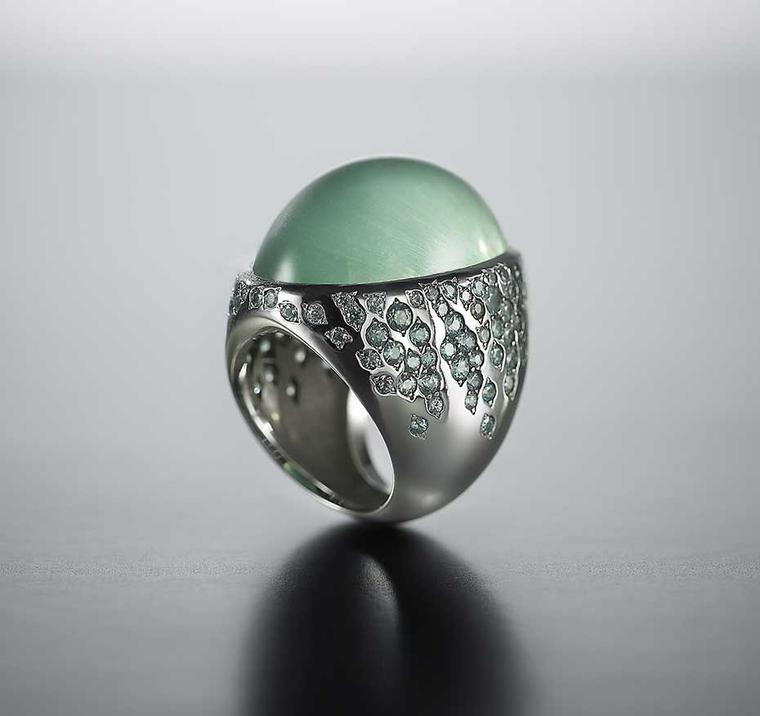 "Simple lines, singular gemstones" could be Walid Akkad's mantra. His jewels are all based on clean, uncomplicated designs, their minimalism hiding the extreme care that goes into their conception and the extraordinary attention to detail that he demands of his jewellers and of himself.
Walid Akkad understands that his jewels will find new homes where they will be cherished by women who take pride in wearing rare and lesser-known gemstones. His cabochon green beryl ring is one such example. The opaque character of this beryl is unusual to say the least, and its beauty has been drawn out by Akkad's use of tiny flowing streams of green-grey sapphires and diamonds set on the shoulders of the ring. 
Walid Akkad does not use colour as other jewellers might. Instead he enjoys playing with the deeper, hidden features of gemstones, expressing their secrets through colour. Akkad likes to use the subtle changes of colour - known as pleochroism - that result from the way a stone is positioned.  In one ring he sets an unusually cut Falcon's Eye - a long, narrow cabochon quartz cat's eye - within the simplest of collet settings allowing the iridescence within the gemstone to flash with each movement of the hand. 
Gold plays a very special role in each of his designs. Unlike some jewellery designers who prefer to hide the metal, Akkad makes it a statement. Gold has a part to play in each of his creations, from simple, smooth gold to the textured gold of his bangle or ring, set with a green zircon.
Necklaces are another favourite, from his intriguing ovoid-shaped diamond necklace to the simplicity of his chalcedony bead necklace, highlighted with a white gold bombé clasp decorated with pink enamel. The chalcedony necklace is simple, elegant and rare due to the size and pure white colour of the beads. 
Akkad trained at the École de la Chambre Syndicale de Bijouterie et de Horlogerie in Paris and, after working with several jewellery houses on Place Vendôme, he struck out on his own. He shows his jewellery every November at the Halkin Hotel in Knightsbridge, London, and his first boutique will open this November at 1 rue de Lille, 75007 Paris.
Walid Akkad Falcon's Eye ring featuring a long, narrow cabochon quartz cat's eye set within the simplest of collet settings.

Walid Akkad gold textured bracelet.

Walid Akkad peridot and textured gold ring.

Walid Akkad ovoid-shaped diamond necklace.

Walid Akkad chalcedony bead necklace with a fuchsia pink enamel clasp set in white gold.

Walid Akkad cabochon green beryl ring with streams of green-grey sapphires and diamonds set on the shoulders.