With an intense hue to rival that of the majestic emerald, tsavorites are stepping into the limelight as one of this season's major jewellery trends.
A favourite with jewellery designers because of its brilliance and sparkle, the grassy-green gemstone is taking a starring role in numerous jewellery collections, both by established houses and smaller, independent labels. So, now that the tsavorite is finally getting the recognition it deserves, we thought it was an opportune time to brush up on our gem knowledge.
A mere baby in gemstone terms, tsavorites were discovered in Tanzania in 1967 by British geologist Campbell R Bridges, who was working as a consultant to Tiffany & Co. However, despite widespread interest from gemmologists around the world, his plans to export the intensely coloured specimens were thwarted by the Tanzanian Government, which refused to issue the necessary permits. Determined to persevere in his attempts to bring this brilliant gemstone to the West, Bridges carried on with his search despite this setback. Four years later his efforts paid off when he unearthed tsavorite in neighbouring Kenya, and this time he was able to secure permission to mine the gemstone. However, political turmoil in both countries continued to present problems with the extraction of tsavorites. In 2009, Bridges was murdered following an alleged dispute over control of the gemstone mines, resulting in a five-year closure of the Scorpion mine in Kenya.
The rise to fame of the tsavorite, and indeed its name, are inextricably linked to Tiffany & Co's Henry Platt, president of the American jewellery house at the time, who took a keen interest in the gemstone from the very beginning. He coined the name tsavorite - after the Tsavo National Park in Kenya - ahead of a Tiffany promotional campaign in 1974 that catapulted the gem from relative obscurity into public consciousness. Platt famously commented: "Tsavorites are everything that a fine gemstone should be, and then some."
The gemstone is still a regular feature in Tiffany jewellery creations such as the 2016 Blue Book collection, which includes an 11.79ct oval-cut tsavorite ring. While the tsavorite's vivid colour, which can range from light green to a deep forest green, is one of its main attractions, the stone also boasts an extraordinary brilliance. A member of the garnet family, tsavorites have a hardness score of around 7.5 on the Mohs scale. While this is on par with the emerald, tsavorites are notably tougher and more durable than its precious green cousin. Its refractive index and dispersion of light are also higher than those of an emerald, giving tsavorites the definite edge when it comes to brilliance.
Tsavorites are 1,000 times more rare than emeralds, especially in sizes over 3 carats - a fact that is not reflected in its price as the older gemstone still commands a premium.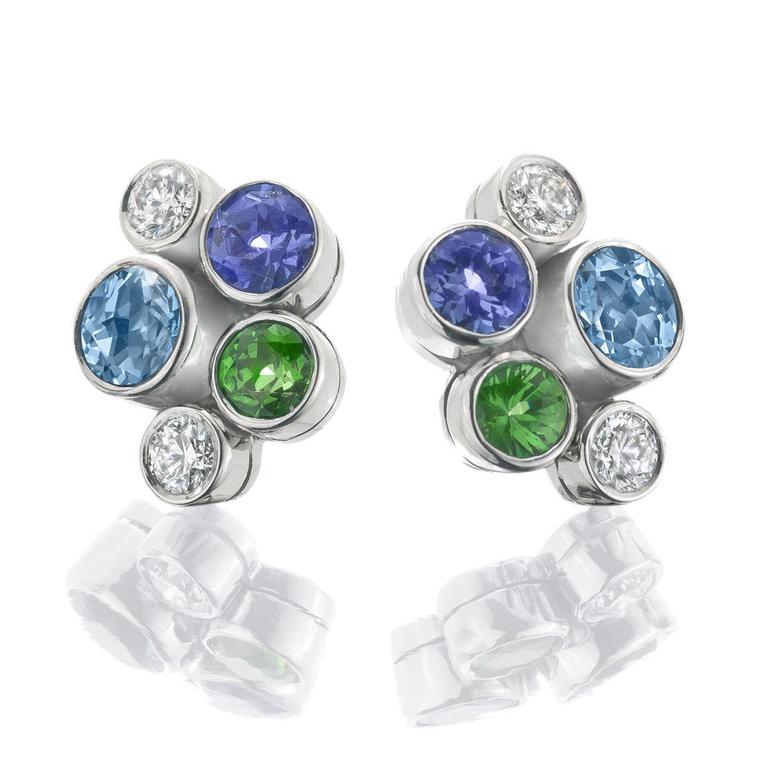 Whether it is the star attraction or used as an accent as in these Boodles Raindance earrings, the vivid colour of the tsavorite really comes to the fore when it is paired with white gold or platinum. Jody Wainwright, head of gem sourcing at Boodles, says: "As the brightest green stone after emeralds, the tsavorite is mesmerising. Tsavorites tend to have far fewer 'inclusions' than emeralds and are therefore a clearer choice of gemstone. Boodles' designs often incorporate tsavorites nestled among other coloured gemstones and diamonds to form beautiful colour pairings."
With a colour that mirrors the greenness of nature, tsavorites are the perfect gemstone to inject a summery feel into fine jewellery. Set together with peridots and diamonds, they glisten like a spring meadow in the drop earrings by New York-based Madstone Design. Marquise-cut tsavorites line up like sparkling petals on an eternity bangle by Niquesa, which is the perfect accompaniment for sleeveless tops and dresses this season.
The iconic Van Cleef & Arpels between-the-finger ring also gets a summery update with the addition of bright green tsavorites in the new Two Butterfly jewellery collection. Combining freshness and sparkle, the ring features two butterflies, one set with tsavorites and the other with white diamonds, and can be matched with the earrings and pendant from the same collection.
Tsavorites also bring a crisp quality to the earthy toned jewels in French jewellery designer Lydia Courteille's Queen of Sheba collection. Presented during Paris Couture Week, the collection was inspired by the famous Ethiopian queen and includes this elaborate ring in the shape of a tree set with tsavorites and green tourmaline.  
One of the most beautiful and vibrant of all gemstones, the rarity of tsavorites only add to their appeal, so if you want to send your friends green with envy this season, make sure you channel the tsavorite jewellery trend.  
Boodles Raindance Watercolour Cluster earrings set with tsavorites, aquamarines, tanzanites, and diamonds (£3,800).