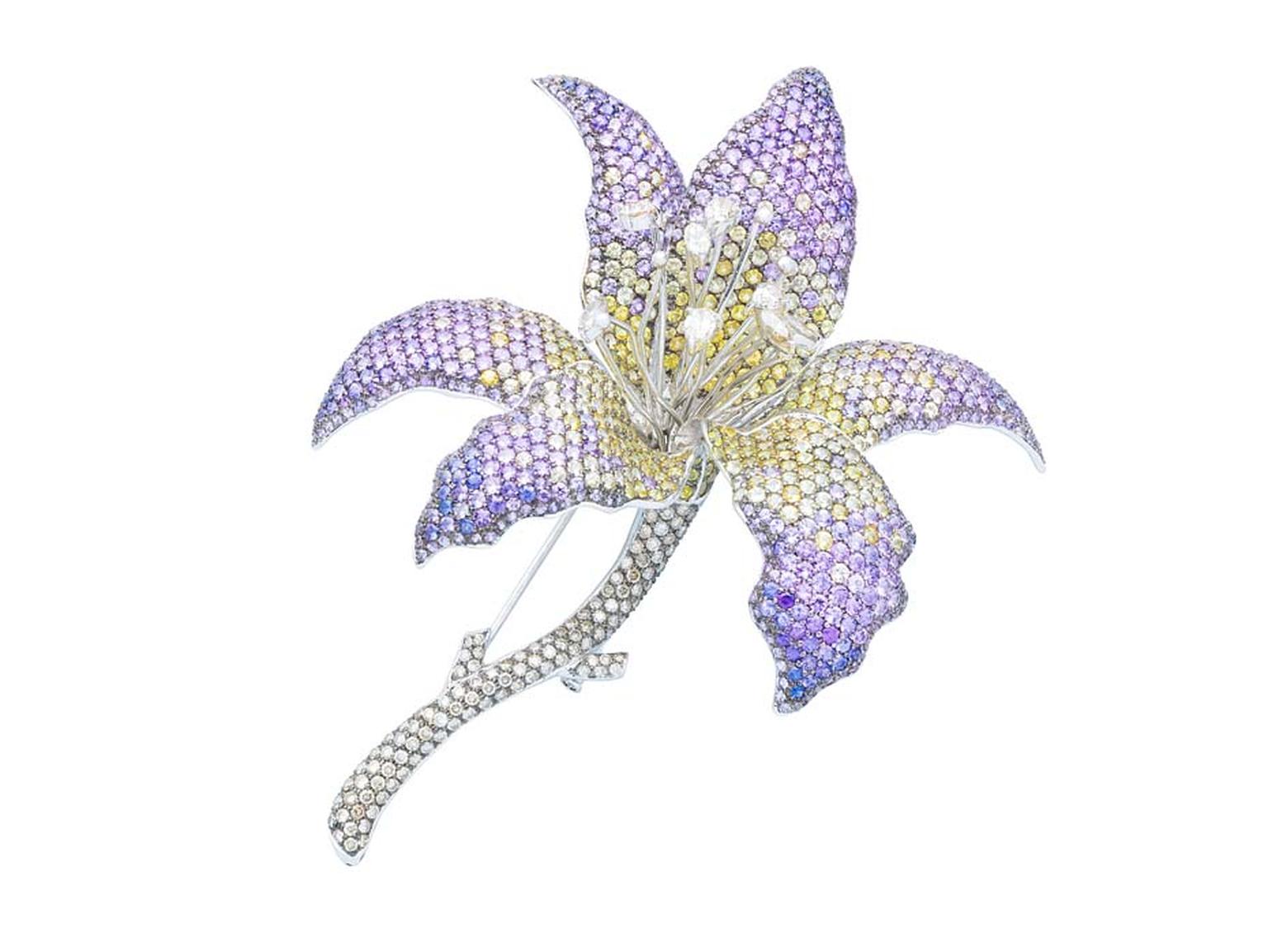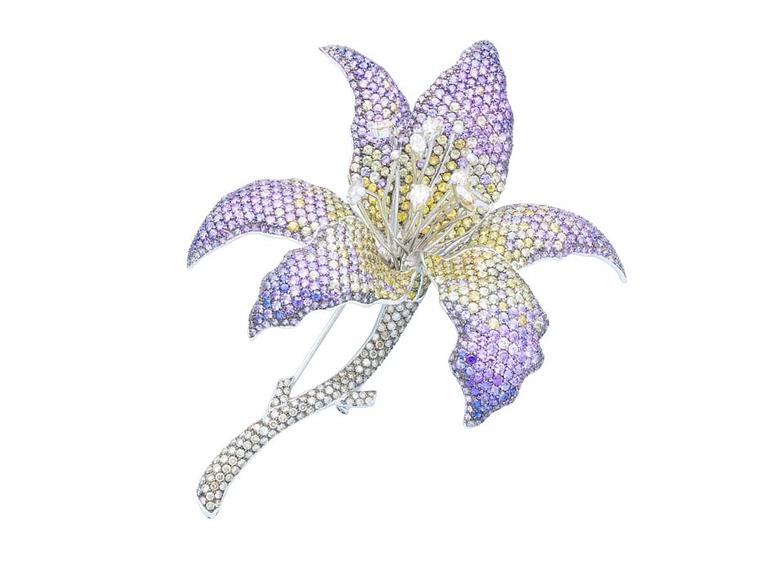 By Francesca Fearon in London
"As a designer I am inspired by the chaotic magnificence of life, in its every form," says Mischelle White, the creative director of Damian by Mischelle in Saigon. "My clients are more inclined towards the opulent side of the design spectrum. So I can follow whims wherever they occur."
Her latest collection, Eternal Spring, features orchid brooches delicately shaded like botanical illustrations in pink sapphires, rubies and tsavorites; flower and butterfly rings in mother of pearl or vibrant sapphires; and a hissing serpent - a house signature - bangle that slithers up the arm, with yellow sapphires speckled with blue.
Occasionally she blends precious skins into her designs, including a stingray (galuchat) bangle set with a diamond and ruby orchid. Or, for men, crocodile leather and gold rings edged with diamonds. There is an underlying tropical exoticism to her aesthetic.
Her business is propelled mostly by bespoke orders from a clientele of predominantly female entrepreneurs in Vietnam, Cambodia and Thailand, who like to spend on themselves. The Tiger Wives, feeling their husbands should look equally resplendent, send them to Mischelle as well, which is why she has so many interesting masculine designs in her collection.  They particularly like the big sapphire rings, which are amongst Mischelle's favourite stones.
This region is a dynamic market. While in Europe people might invest in art, in this part of the world people like to wear their wealth. Perhaps it is a throwback to Vietnam's troubled past, but they prefer transportable assets. Mischelle's parents' generation were Boat People escaping the Communist rule of the 1970s and 80s. 
Mischelle was born and raised in France to Vietnamese parents. She learnt her design skills there and her knowledge of gemstones in Antwerp. "However, it wasn't until I moved to Vietnam 12 years ago that I had the opportunity to set up my first atelier in Ho Chi Minh City (Saigon) to train the local craftsmen," she says.
Damian by Mischelle was founded by Mischelle White - whose husband is English, hence her surname - as a private client jeweller, producing a few hundred, mostly unique or limited-edition jewels a year. She also has an atelier in Bangkok that works on the invisible settings she incorporates often into her designs.
Damian by Mischelle sapphire and diamond brooch.

Damian by Mischelle baguette diamond cluster earrings.

Damian by Mischelle Flower ring with sapphires and diamonds.

Damian by Mischelle Galuchat bangle with diamonds and rubies.

Damian by Mischelle's creative director Mischelle White caters for a discerning female clientele in Vietnam, Cambodia and Thailand who like to spend on themselves.

Damian by Mischelle mother-of-pearl brooch with sapphires.

Damian by Mischelle Serpent green sapphire ring.

Damian by Mischelle Snake ring with blue and yellow sapphires.

Damian by Mischelle Spiderweb ring with black and white diamonds.

Damian by Mischelle trio of men's leather rings.

Damian by Mischelle black and white diamond loop earrings.

Damian by Mischelle Orchid brooch with yellow and purple sapphires.