Outrageously colourful and completely over the top, Solange Azagury-Partridge launched a collection of cocktail rings during Paris Couture Week that might just be her boldest jewels yet.
I spoke to the British designer at the Hôtel Costes in Paris, where Azagury-Partridge has a bijoux boutique and where she hosted the launch party for the new collection, called Poptails. Dubbed "a party on your hand", the eight one-of-a-kind rings sandwich rows of gemstones and slivers of coloured enamel and ceramic together, creating a rainbow cake effect.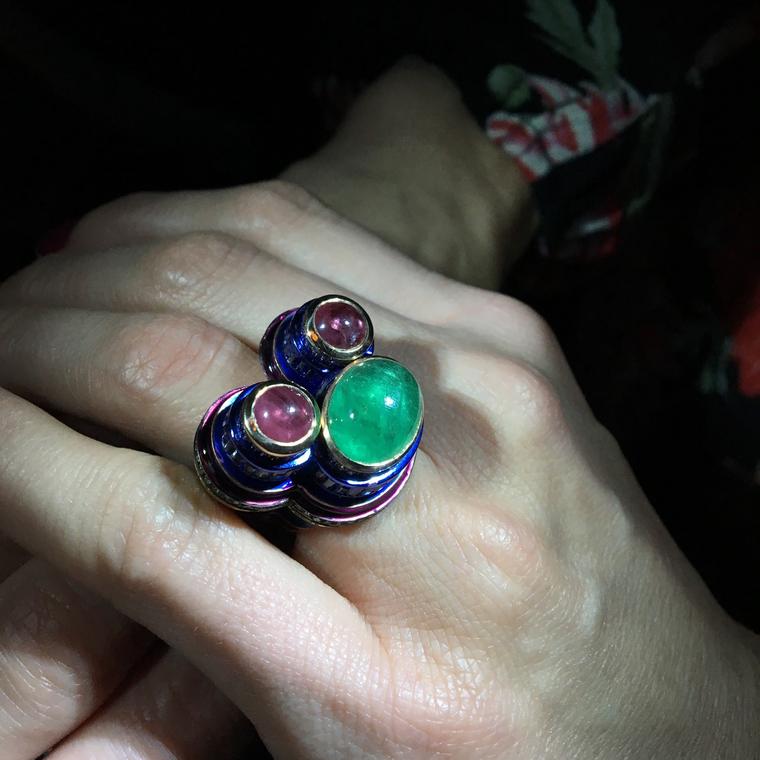 On display were a handful of new Poptails rings, including the strangely beautiful Tri-di, top, a trippy mix of sapphires, emeralds, ceramic plates and lacquer encircling two triangle-cut diamonds, arranged like a three-dimensional molecular structure.
From above, the Temple ring, below, is more traditional in design – an oval white opal set east-west, flanked by two cushion-cut spinels. The psychedelic colour scheme is only revealed when you view the ring from the side, with slices of blue baguette sapphires and coloured diamonds interspersed with stripes of ceramic, mirroring the flashing colours within the opal.
The famous Walt Disney character gets the Solange Azagury-Partridge treatment in this oversized Poptails Micki ring, with an emerald cabochon for a face and pink sapphire ears (POA). 
This is the first time that Azagury-Partridge has designed a collection around the stones, rather than the other way around. But while the gems are clearly very precious, they are just one part of a bigger, brighter vision. 
Enormous in both size and personality, the new collection will be split between Azagury-Partridge's three boutiques in Paris, London and New York. Or if you have a gem that is begging to be Poptailed, Azagury-Partridge is offering a bespoke service that means you can collaborate on a colourful cocktail ring unique to you.