Waving goodbye to Greenery, the shade chosen by the Pantone Institute to reflect the mood of 2017, we welcome Ultra Violet as the hue for 2018. 
The colour experts in Carlstadt, New Jersey at Pantone's HQ tell us: "A dramatically provocative and thoughtful purple shade, PANTONE 18-3838 Ultra Violet communicates originality, ingenuity, and visionary thinking that points us towards the future.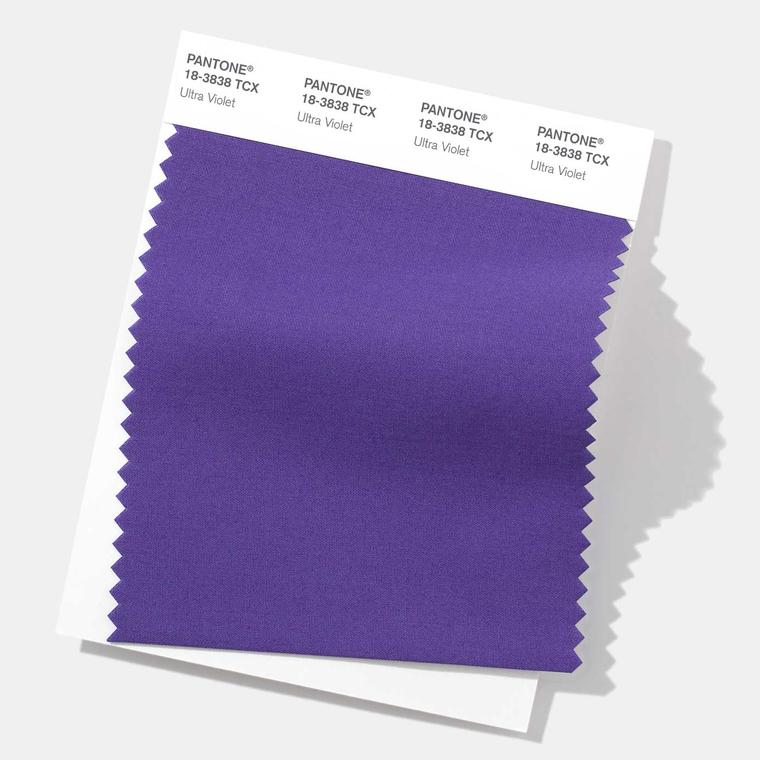 A description that fits in with the qualities of amethyst, the precious gemstone that is increasingly finding its way back into high-end jewels. Given that amethyst crystals can found in large sizes, with even and deep saturation at still affordable prices, it allows jewellery designers a creative scope that more expensive sapphire or ruby prohibits. What's more amethyst, or purple quartz, is a relatively hard stone and ranks a respectable 7 on the Mohs scale, following diamond in the top slot at 10, sapphire and ruby at 9, and topaz at 8.
In ancient times amethyst was considered as desirable as emeralds or rubies but the purple hue of amethyst lost its allure in the 1900's due to a deluge of cheap, inferior quality amethyst. Ten years ago it was rare to see amethyst used in high jewellery creations by the leading Place Vêndome maisons, but examples such as the Van Cleef & Arpels Secret de Cassis necklace (below) or Bulgari (lower image) confirm that amethyst is once again in the big league.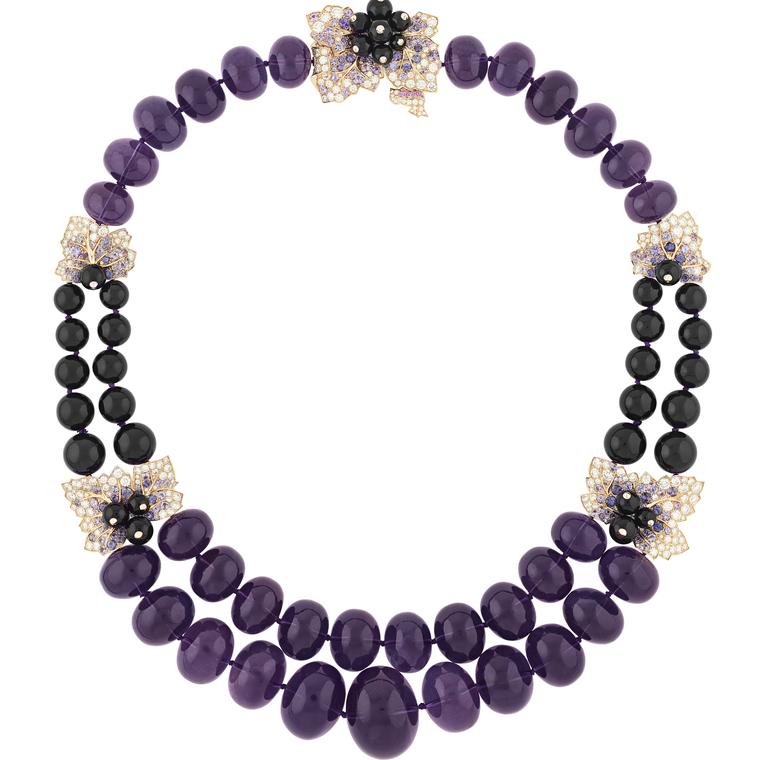 Originally known as the Royal Stone, thanks to its majestic colour that symoblises power, only royalty were allowed to wear the stone. This would explain why amethyst is found in royal collections all over the world from ancient Egypt to the British Crown Jewels. Amethyst is used abundantly in jewellery from almost every era but perhaps most dramatically in the Art Deco epoch by jewellers who valued it for its size, vibrant colour and ability to be cut into large geometric shapes to suit their bold, brave new minimalist designs.
Bulgari's high jewellery necklace in pink gold with 19 amethysts, that weigh an impressive 425.43 carats, are combined with green jadeite, mandarine garnets and almost 12 carats of diamonds. POA

Stephen Webster's Deco Haze finds the dark delight of amethysts in these dramatic drop earrings. The rich colour of the amethysts is enhanced by blackened white gold and black diamonds. 

Boucheron Ispahan amethyst ring from the exotic Trésor de Perse collection shows how versatile amethyst can be and even lighter shades of this gemstone have their place in high jewellery . 

Azza Fahmy Lotus ring with 20 carat amethyst surrounded by diamonds and pearls. Handmade in the Egyptian firm's Cairo workshops, Azza Fahmy combines traditional arab jewellery making skills and aesthetic iwth contemporary colours and designs. Price: £2,495

A yellow gold ring by Elizabeth Gage with a 44.58-carat untreated Brazilian amethyst carved by the Master craftsman Michael Dyber. Price: £8580 including VAT

Vhernier's minimalist and architectural designs are the perfect showcase for the vibrant violet hue of this 42.36-carat amethyst set into a rose gold Cuscino ring. Price: £7,600

Lily Aldridge matched her violet dress with an amethyst and mandarin garnet necklace by Bulgari for the launch of the Italian jeweller's Festa collection in Venice. 

At the end of 2017 the Pantone Institute announced that the colour for 2018 was Ultra Violet or Pantone number 18-3838. 
Available in different shades, jewellers can choose a range of tones to work with. Award-winning jeweller Elizabeth Gage, OBE, says of her 44.58 carats untreated Brazilian amethyst ring:  "Amethyst, in my opinion, is a very underrated stone. I personally don't like the very dark ones as they don't seem to have much life to them. This particular stone is a natural untreated amethyst from Brazil, it was carved by Michael Dyber which makes this ring very unique."
Amethyst is the birthstone of February and traditionally it is believed to signify peace and temperance. In Ancient Greek its name refers to it ability to avoid drunkness as amethyst means 'without drunkenness' and is thought to help drug and alcohol withdrawal symptoms as well as relieving arthritic pain and alleviating insomnia.
Jewellers who favour its bold, rich tones include Avakian of Geneva who are known for original colour combinations. "We like to use amethyst as if adds strong contrast and a vibrant colour to our pieces," explains Haig Avakian of the family-run business.
With Italian flair and an alluring sensuousness, Bulgari embraces the ripe, richness of amethyst as beautifully expressed in the necklace Lily Aldridge wore to the launch of the Festa jewels in Venice in July 2017.