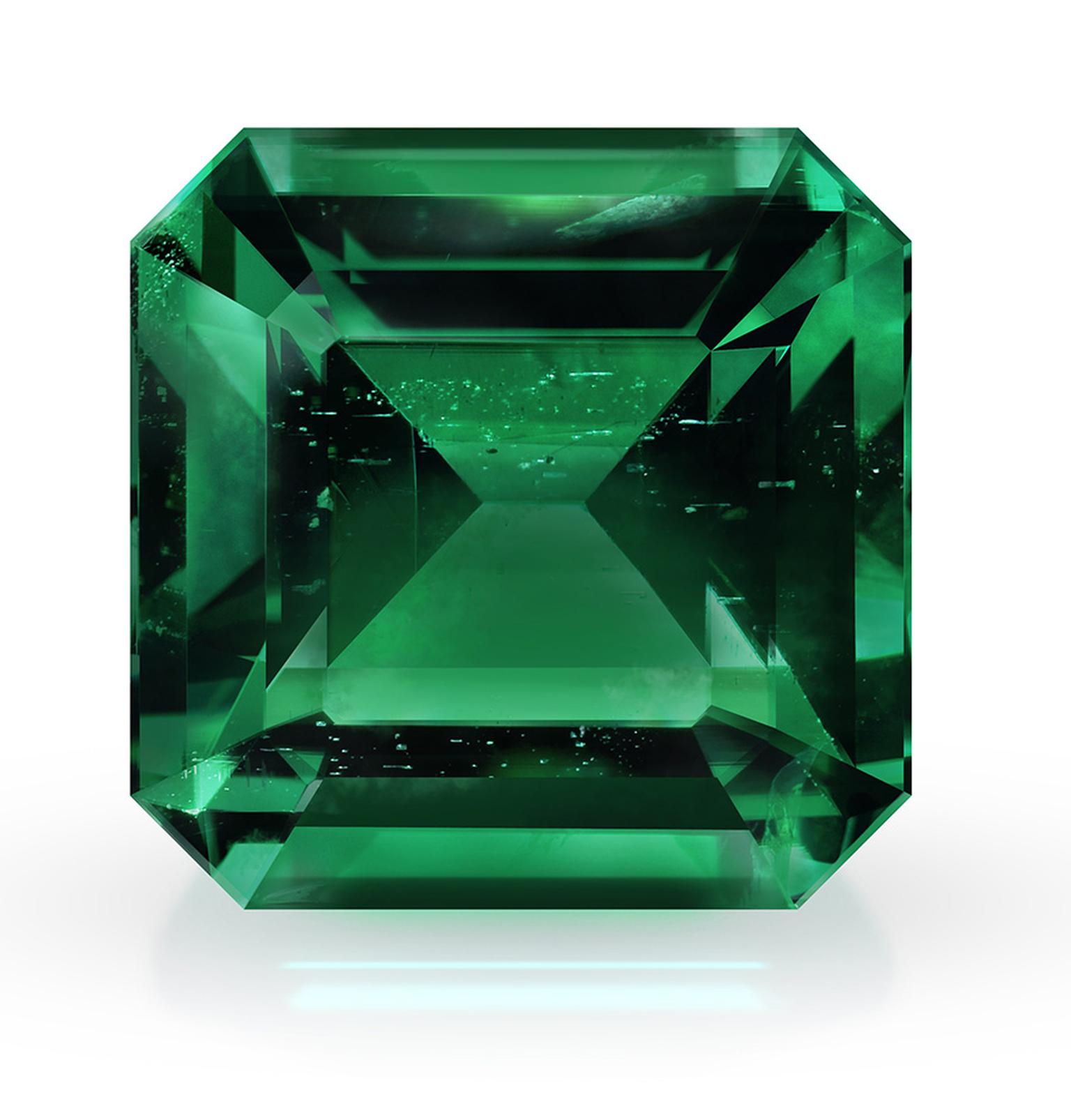 Not that we had any doubts about green and, in particular, emeralds being a favourite over the past few months, but now the Pantone Color Institute has declared that Pantone 17-5641 - otherwise known as emerald green - is the official colour of 2013. Moving on from Tangerine Tango of 2012, our eyes can now rest on the lush tones of a colour close to nature.
"The most abundant hue in nature, the human eye sees more green than any other colour in the spectrum," says Leatrice Eiseman, executive director of the Pantone Color Institute®. "As it has throughout history, multi-faceted emerald continues to sparkle and fascinate. Symbolically, emerald brings a sense of clarity, renewal and rejuvenation, which is so important in today's complex world. This powerful and universally appealing tone translates easily to both fashion and home interiors."
Need I add that emeralds translate most beautifully into jewels, making this the perfect excuse to round up some of the most verdant sightings of deep-green emeralds spotted on my travels over the past few months? Glamorous emerald wearers include, most recently, Naomi Watts at the Screen Actors Guild Awards, where she swanned in wearing a 14.5ct cabochon emerald by Fabergé ( read more here). Watts can wear this  Fabergé Solyanka Emerald Cabochon ring, set with an ethically sourced cabochon emerald and 263 round white diamonds, safe in the knowledge that, like all Gemfields emeralds, the stone was ethically sourced from the company's Zambian mine, which now produces approximately 20% of the world's emerald supplies. Gemfields follows fairtrade, environmental, social and safety best practices and guarantees the provenance of every gem.
Always on-trend, Angelina Jolie recently created the 'Style of Jolie' jewels  (read more here), the proceeds from which are donated to the star's charitable foundation, the Education Partnership for Children of Conflict, and benefit children in need around the world. A walking advertisement for her creations, she particularly suits the emerald earrings, ring and bracelet from the collection, which match her green eyes. Another fan is Victoria Beckham, who loves the drama afforded by an impressive emerald, as have an increasing number of celebrities, who appreciate its cool, green elegance on the red carpet.
These women know that the appeal of the emerald, the most valuable of the beryl family of gemstones, lies in the richness of its colour. Long considered one of the world's most precious stones, in Roman times the emerald was the most expensive gem in known existence. Cleopatra used the emeralds from her Egyptian mines to emphasis her royal status after usurping her brother's throne, and we can thank her for infusing emeralds with connotations of power and royalty.
Individuality is what makes emeralds so unique. As well as varying colours, there is no such thing as a perfectly unflawed emerald. Each stone has its own 'garden' of inclusions and flaws that are like an individual passport, which gemmologists can use to trace a stone back to its original mine. The emeralds that Cleopatra had access to were of a much lighter colour than the ones we are used to seeing and were no doubt smaller and riddled with flaws. But still they were considered the most precious of all stones. When the Spanish Conquistadors discovered the emerald mines in their New World territory of Columbia, it was the first time that the world had seen such large, deeply coloured emeralds and they became much sought after. Colombian-mined emeralds began to appear in the Old World port of Seville as early as 1537, shortly after the arrival of the Conquistadors. From here, Portuguese traders took the stones back home to Lisbon, and it wasn't long before they had made their way to Goa, the Portuguese colony in the southern tip of India and the centre of the gemstone trade.
Mogul rulers were attracted by the twinkling delights of Goa's gem traders, and the royal ateliers in Jaipur enhanced the appeal of these vivid stones with engravings. Beyond their beauty, the Moguls valued precious stones for their mystical attributes. As well as being the colour of Islam, emeralds were prized for their power to protect and heal and were believed to be an antidote to poison that could even blind serpents. Their name means "tears of the moon" and, once engraved, their talismanic powers were supposedly heightened, particularly if the engravings contained verses of the Koran and the stone was worn next to the skin. Napoleon, who resurrected the glory of the Ancient Roman Empire, was also fond of emeralds and he carried a miniature painting of his Empress Josephine wearing them.
But no story about emeralds is complete without a mention of the most glamorous jewellery wearer of them all, Elizabeth Taylor, who was most fond of emeralds. Her Bulgari emerald suite sold at Christie's auction for £15.8 million ( read more here). On display at Bulgari's booth at the Biennale des Antiquaires last September, the suite of jewels was the inspiration for new Bulgari emerald necklaces, which are as opulent as Liz could have wished for.
With side-swept hair, a slinky 1920s Marchesa gown and classic Fabergé Clover earrings and Solyanka Emerald Cabochon ring, Australian actress Naomi Watts stole the show at the 2013 Screen Actors Guild Awards.

Bulgari Elizabeth Taylor emerald and diamond necklace, a reminder of the actress' love of all things Bulgari and, in particular, her Bulgari emerald parure.

'Style of Jolie' Collection Emerald Tablet Ring, created with LA jeweller Robert Procop and inspired by ancient tablet carvings.

'Style of Jolie' Emerald Bracelet from the jewellery collection created by Angelina in collaboration with Robert Propcop, the proceeds of which benefit her charity The Education Partnership for Children of Conflict.

'Style of Jolie' Emerald Bracelet, developed with jeweller Robert Procop. The bracelet features 14 Columbian green emeralds.

Avakian cabochon emerald necklace- a 120 carat cabochon emerald hanging from a necklace set with 240 cts of emeralds, 190 cts of blue sapphires and diamonds weighing 35cts.

Christies Lot 369: Antique Indian emerald, diamond and enamel sarpech. Pre-sale estimate: CHF670,000 - CHF950,000.

And here is the Alexandra Mor ring I wore with a Gemfields 26.16ct emerald cut in an elevated sugarloaf cabochon shape.

David Morris Natural Colombian Cabochon-Cut Drop Earrings With White Diamonds. Total Emerald Weight 52.67ct; Total Diamond Weight 18.36ct.

David Morris Old-Mine Natural Colombian Emerald & Diamond Necklace. Total Emerald Weight 83.90ct; Total Diamond Weight 86,60ct.

David Morris Natural Colombian Emerald & Diamond Palm Leaf Earrings.

Faberge Solyanka ring, with a central Gemfields emerald.