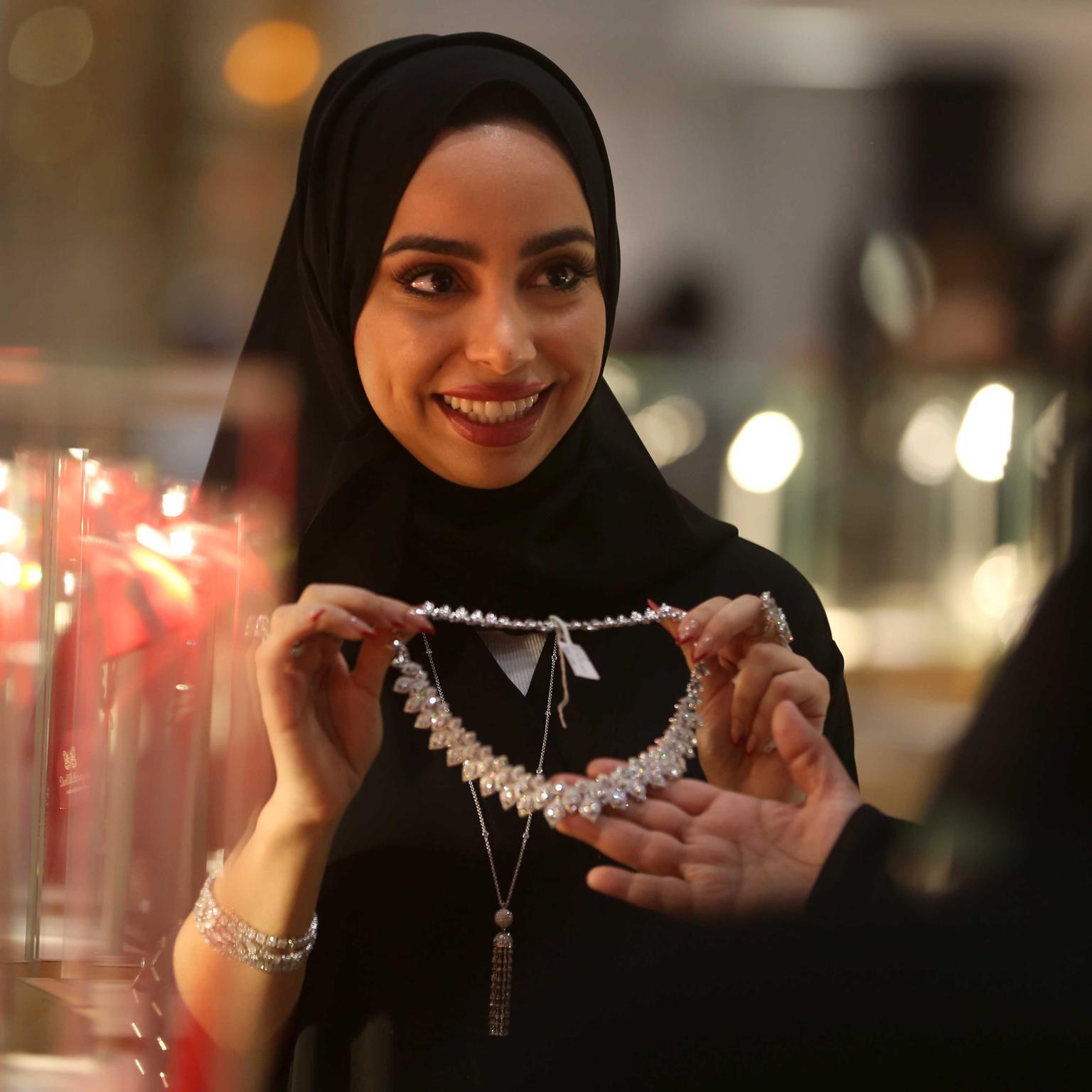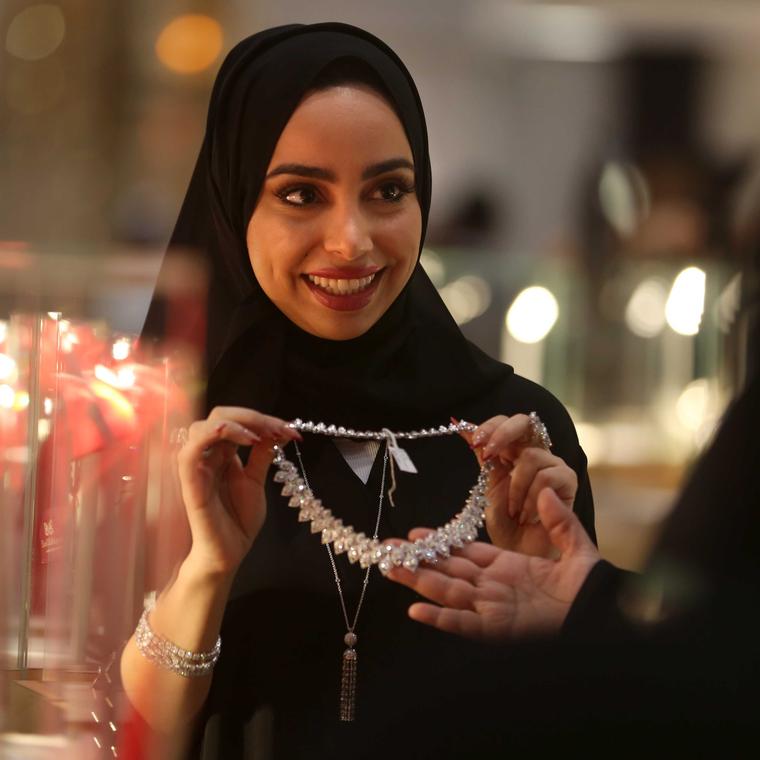 I have long wanted to visit the Doha jewellery show as I had heard so much about it. And out of the blue came an invitation that I couldn't refuse. And so I found myself on Qatar Airways gliding out of a cold London into the warmth of Doha.
So what is the Doha Jewellery and Watch Exhibition, or DJWE for short? It is a six-day luxury event in its 15th year that hosts more than 400 brands from 10 countries who come to sell their jewels and watches directly to consumers. It is held at the Doha Exhibition and Conference centre in the West Bay area and spans 25,000 square metres.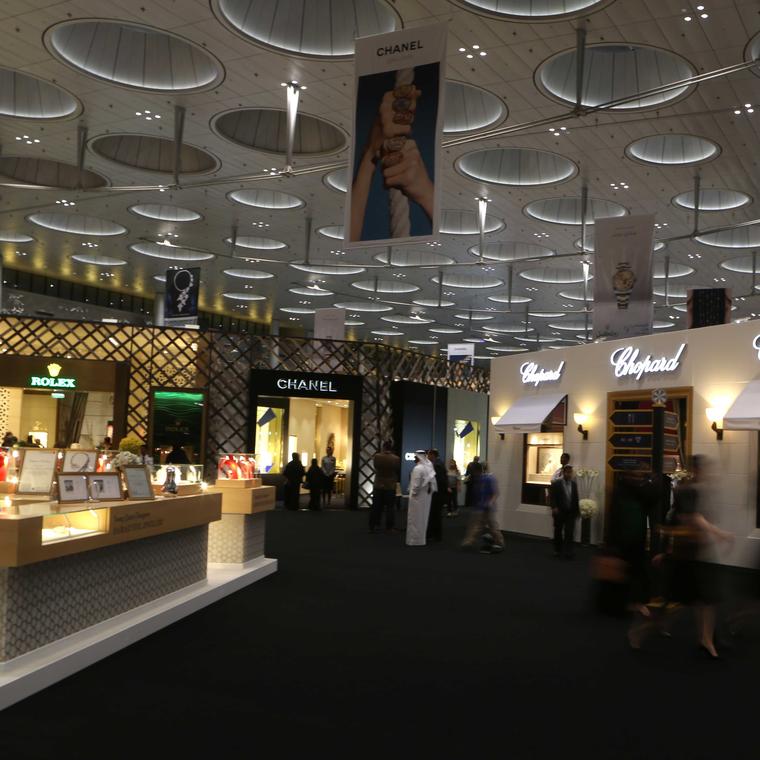 Unlike other trade shows such as BaselWorld, the Salon International de la Haute Horlogerie or the Las Vegas Couture show, this is all about the end-consumer. And consume they do. Each booth is totally open to the public and browsing and trying on is very much encouraged.  Friendliness and openness set the tone as I strolled from jeweller to jeweller.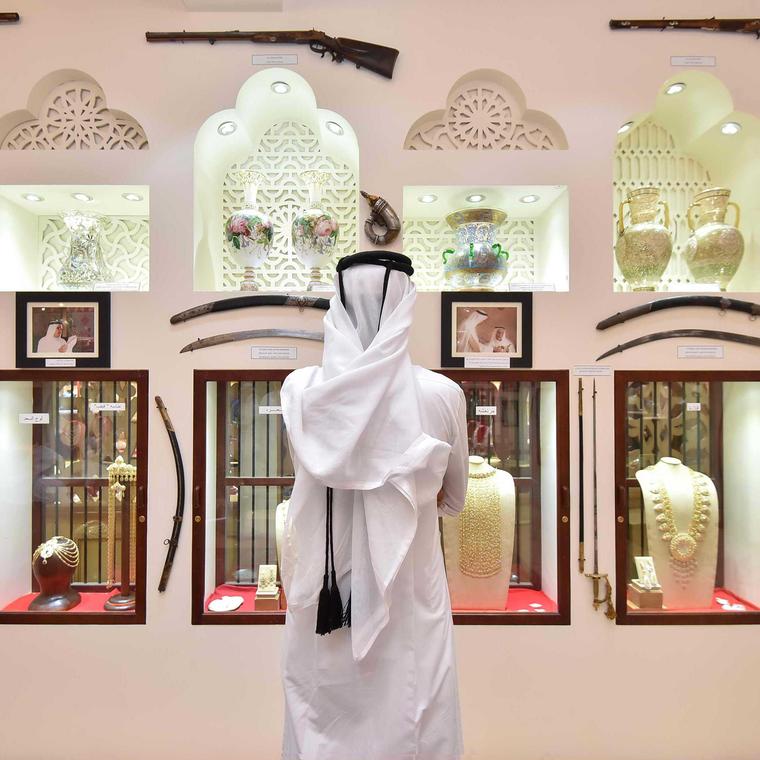 The space is all one level and is was neatly divided up representing Qatar's principle jewellery players: Al Fardan Jewellery Company, the Ali Bin Ali Group, Al Majed Jewellery, Amiri Gems and Fifty One East. Each of these groups hosts both big-name international houses such as Cartier, Dior, Van Cleef & Arpels or Chanel as well as independent and local and regional jewellers. Luxurious private salons (below) and special exhibitions and workshops were set up in each area showcasing the region's love of jewels and in particular pearls.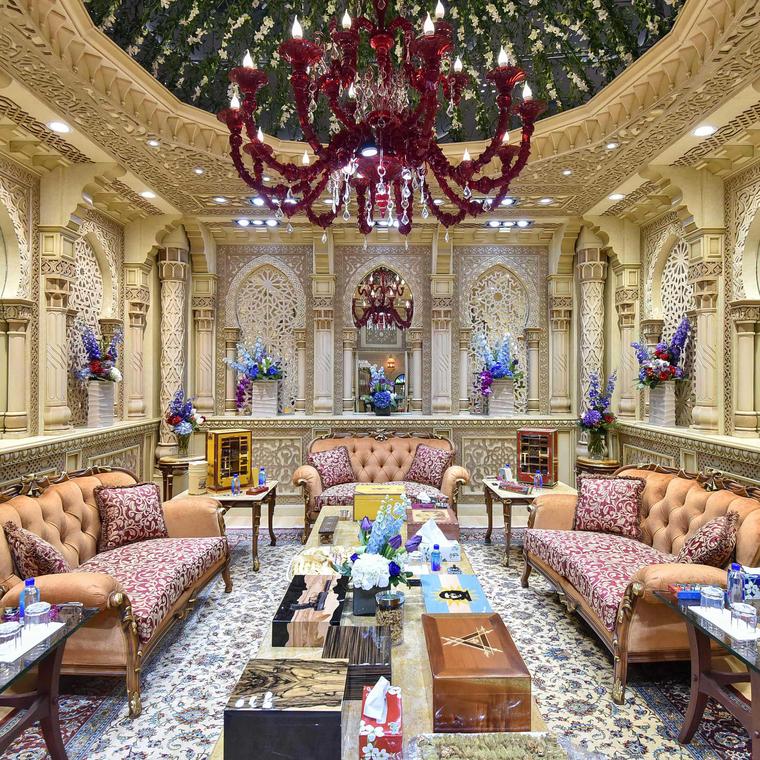 Given the Gulf's historical role in the production of the natural pearls, the Queen of Gems was of course a big draw. I was fascinated by the display of natural pearls at Al Majed where graduated strands of natural pearls were displayed alongside vintage tiaras and shimmering piles of different size and types of natural pearls on red silk that filled an entire room. I doubt I will ever see a more impressive accumulation of natural pearls. I was fascinated by the demonstration of the traditional pearl-drilling technique (below) using a bow and wooden block and great dexterity on the part of the craftsman.
I spoke to regional jewellers including Al Zain of Bahrain (below) who had a spectacular natural pearl and emerald body jewel on show as well as Doha jewellers Atamant. The Young Qatari Designers pavilion gave a showcase to six local designers and their opulent creations.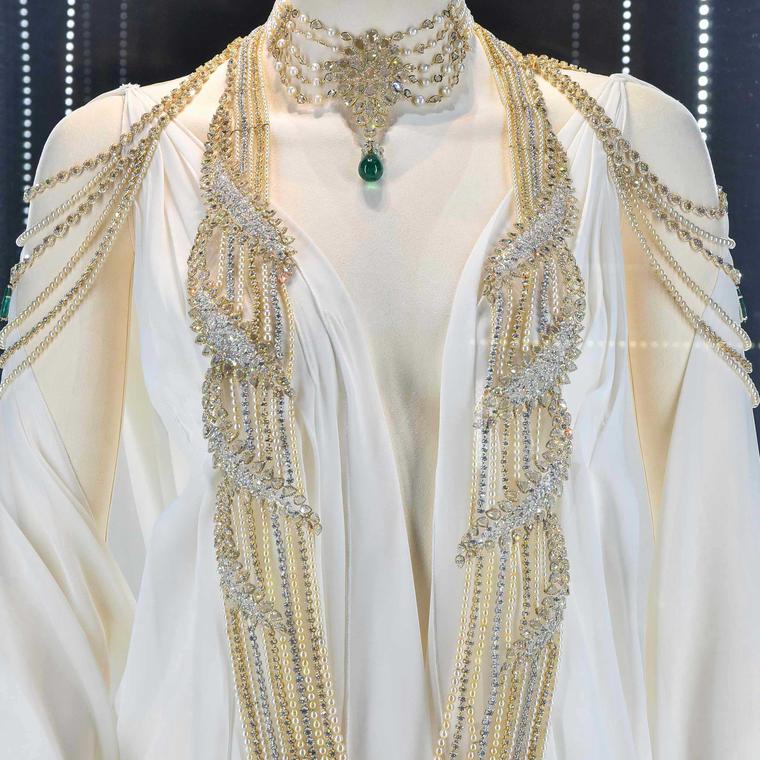 Beyond the main five players was a well-curated mix of smaller independent jewellers and up-coming talent. It was a pleasure to see British jewellers Sarah Ho and Rodney Rayner as well innovative designers such as VAK from India and the well-established Santosh family of New Delhi.  Nikos Koulis from Greece was present along with his compatriots the famed Lalounis family. David Webb of New York and Suzanne Kalan (below) brought a touch of American fun and style to the show while France and Italy excelled in both design and techniques with dozens of representatives from these two jewellery-producing power-houses. I swooned over Mouawad's impressive display of fabulous gems.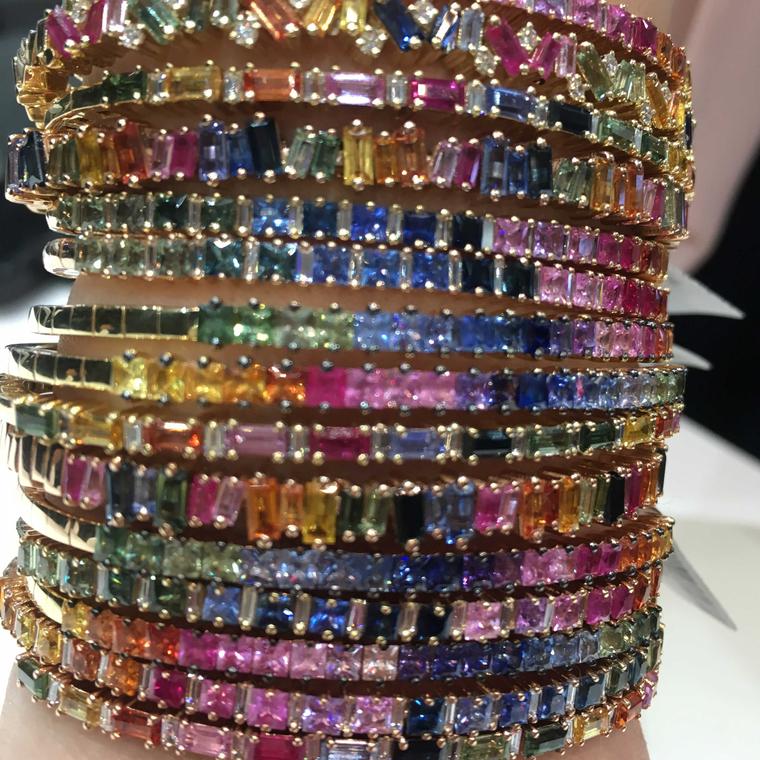 In the official press release sent out by Auditoire, the show organisers, Ahmed Al Obaidli, Director of Exhibitions at QTA commented, "The Prime Minister and Minister of Interior, HE Sheikh Abdullah bin Nasser bin Khalifa Al Thani's continued support for DJWE reflects our leadership's commitment to pushing the boundaries of excellence, as one of the development and growth elements of tourism in Qatar…DJWE is a great display of Qatar's exhibition and conference infrastructure capabilities which includes showrooms, facilities and world-class organisers."
The Doha Jewellery and Watch Exhibition offers a wide array of pearls in all shapes and sizes. 

Pearls are a big draw at the Doha Jewellery and Watch Exhibition from brands such as Mikimoto to regional jewellers.

Mouawad presented two spectacular padparadscha sapphires at DJWE 2018 that show to perfection the two spectrums of this very rare sapphire with a pinkish sunrise variant and an orangey sunset version.

Another spectacular jewel spotted at the Doha Jewellery and Watch Exhibition was this Mouawad necklace with a stunning 53 carat Colombian emerald cabochon at its centre.

Independent jewellers also have their place at the Doha Jewellery and Watch Exhibition such as Los Angeles based Suzanne Kalan who upped the colour factor with her Rainbow Fireworks bangles.

The Doha Jewellery and Watch Exhibition is a window on the wide world of jewellery where you can discover innovative designs from brands such as VAK from India.

There is plenty for men at DJWE 2018. At David Webb I spotted this diamond and yellow sapphire brooch with moving legs that is for the more daring gentleman jewellery-lover.

Al Zain of Bahrain presented Cascade of Dreams with 1,970 natural pearls and 12,841 diamonds which was one of the most impressive jewels of DJWE 2018.

Eastern splendour sets the tone for the Doha Jewellery and Watch Exhibition in Qatar that has a style of its very own.

The Doha Jewellery and Watch Exhibition offers a wide variety of items including traditional precious artefacts you are unlikely to see anywhere else.

With 400 brands from 10 different countries, the Doha Jewellery and Watch Exhibition is a unique opportunity to immerse yourself in the world of luxury with big name international brands as well as smaller independents selling their latest creations. 

Now in its 15th year, the Doha Jewellery and Watch Exhibition is a selling show and given the scale, quality and variety of jewels on show, an important date in the calendar for both jewellers and jewellery lovers.
It is undoubtedly the most luxurious and varied  exhibition I have been to and my only question is: where do I sign up to come next year?