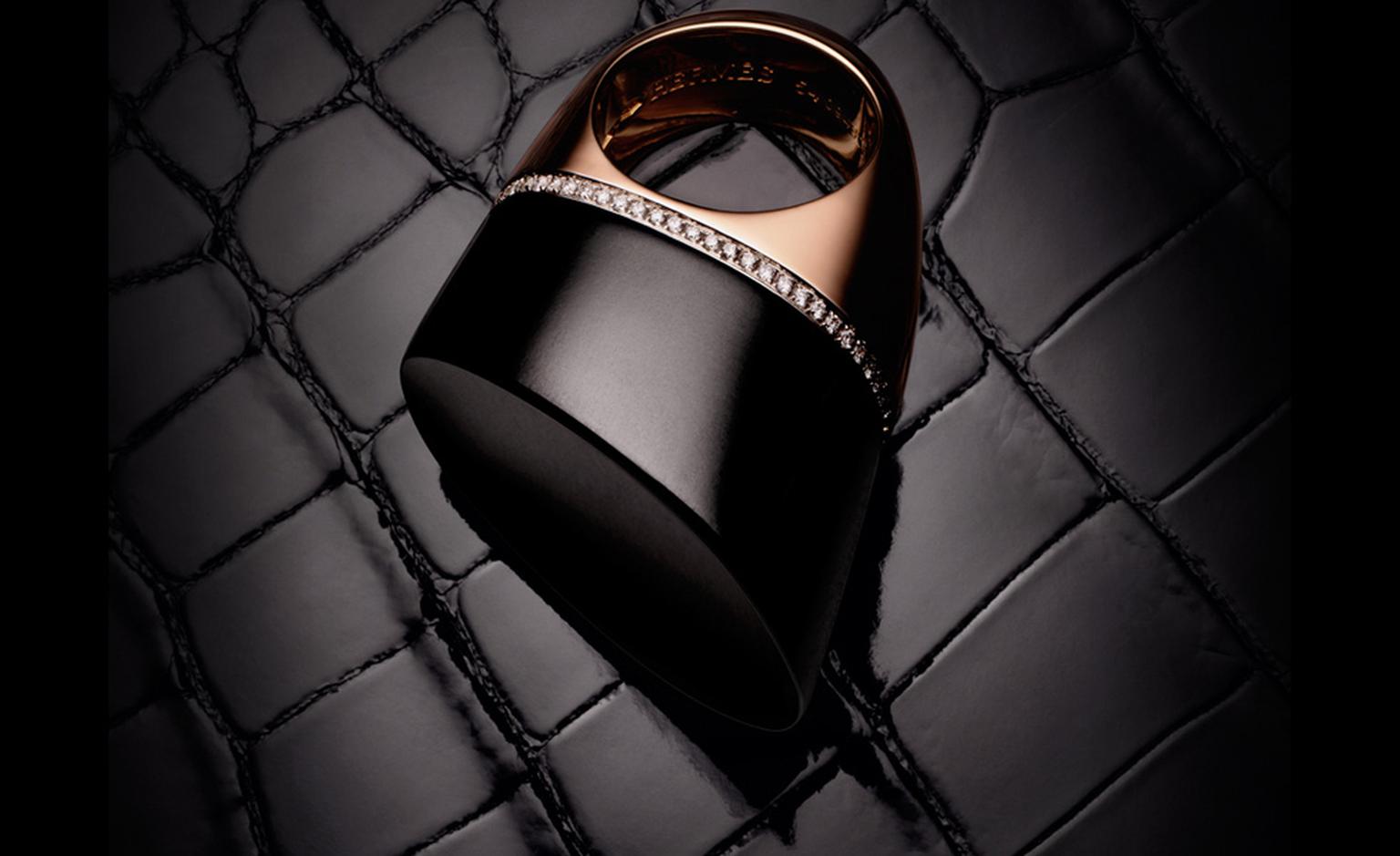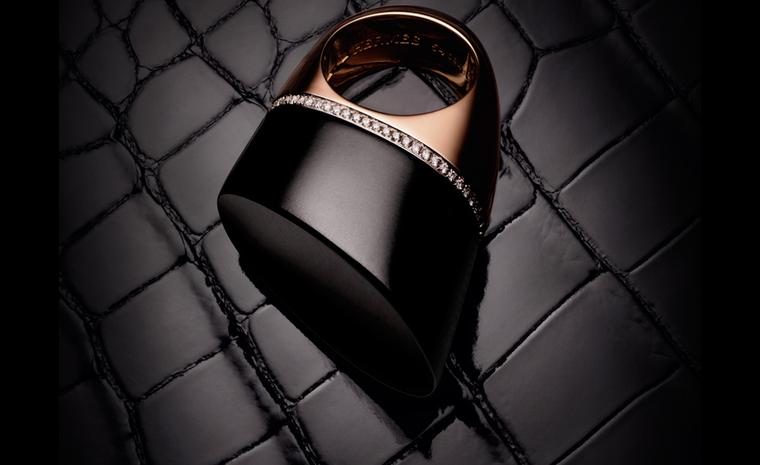 Hermès, the French house that began life making leather harnesses brings us a range of equine-inspired jewellery. Designed by Pierre Hardy, this new line of Haute Bijouterie in precious metals is bold in its use of unexpected forms such as the horse hoof and materials that range from gold and jade to aventurine and pink opal.
"The most luxurious and expensive sex-shop in the world," Helmut Newton is reputed to have said of Hermès. Far fetched? Not when you see the latest 'haute bijouterie' collections "Fouet" and "Centaure"  by Pierre Hardy, who also designs women's shoes.
Drawing on the house's perennial equestrian theme, the collections are inspired by the whip and the hoof. These masculine, powerful symbols are reined in and transformed into jewels that as well as being supremely elegant in arrogantly outsized proportions, play with our notions of masculine and feminine, of power and submission.
A flexible platinum whip or 'fouet' shimmering with 3,669 diamonds hangs provocatively around the neck. The tip flicks a shower of diamond light into the decolleté.  "Take (the) platinum Fouet necklace, entirely set with diamonds," reads the press kit which I will quote lest you accuse me of getting carried away: "which gives up the arms of brute force in a sparkling band that curls caressingly on the skin. This whip does not command but amorously cajoles. Volte and volte-face: the tables are turned, the whip is tamed and force transformed into beauty. Pleasure is the watchword, leavened by a lashing of wry humour."  Oh la la. No 'double-entendres' there.
And more titillation from the  Centaure jewels. A glossy black jade hoof is turned upside down as the centre piece of a ring,  off-set by a line of diamonds and flanked by the lustre of a generous rose gold mount. Diamond-dusted hooves gallop around the neck and wrist.
And well spotted those of you who wandered about Hermès' calling their jewels 'haute bijouterie'. A contradiction in terms? In the hierarchy of French gem vocabulary, bijouterie normally refers to less valuable jewels but Hermès, ever playful, has coined the term to describe the coming together of  design and workmanship without the big stones normally associated with 'haute joaillerie.' You can almost hear the hooves beating on the cobblestones when you look at these dramatic pieces with their shining smooth flanks and confident sculptural forms. 
Hermès Centaure ring in rose gold with black jade and diamonds.The rings all have flat bottoms so that it can be displayed like a sculpture.

Hermes diamond Whip necklace

Hermes necklace with hoof motifs

A selection of Hermes hoof-inspired rings

Hermes Collier de Chien cuff in gold with diamonds

Hermes ring