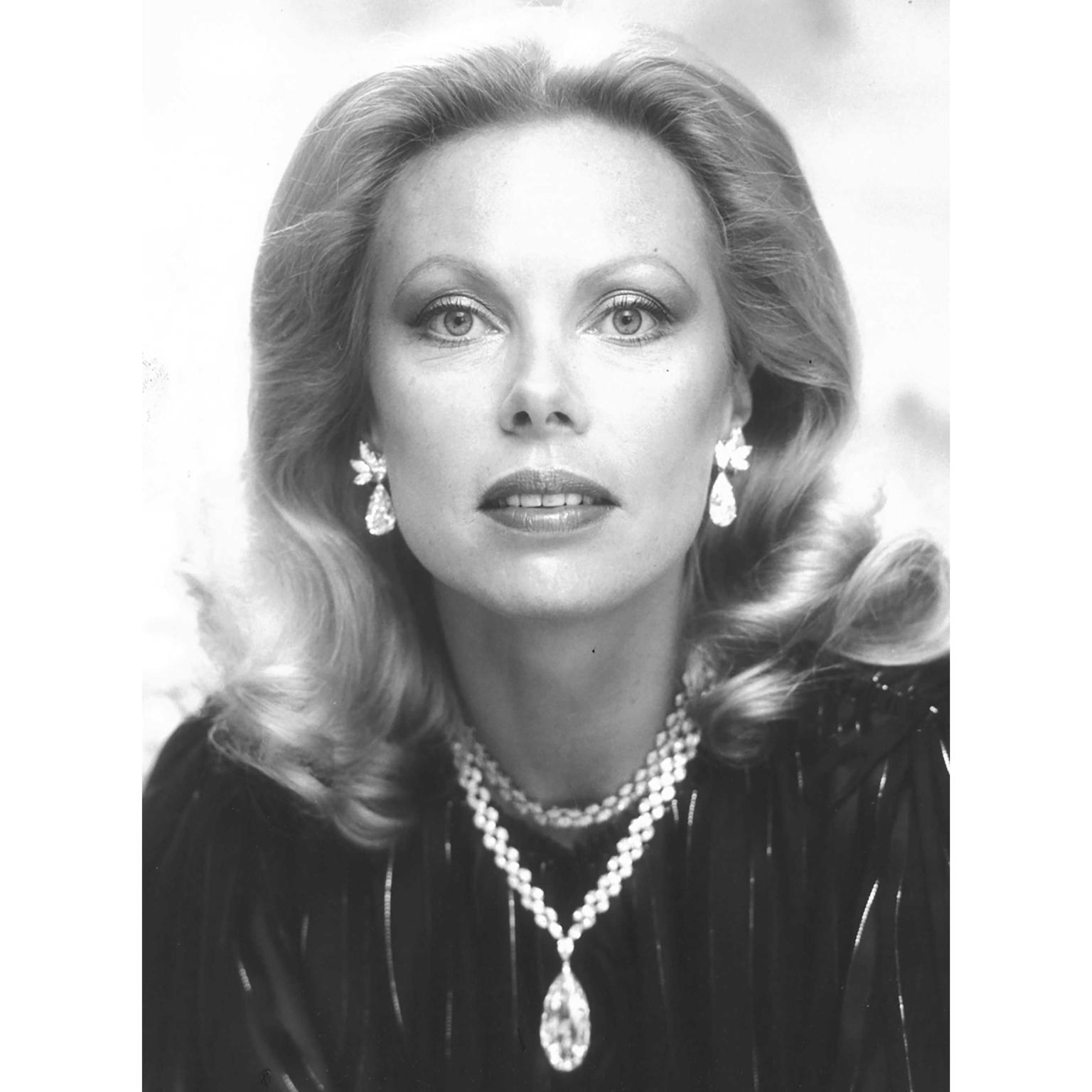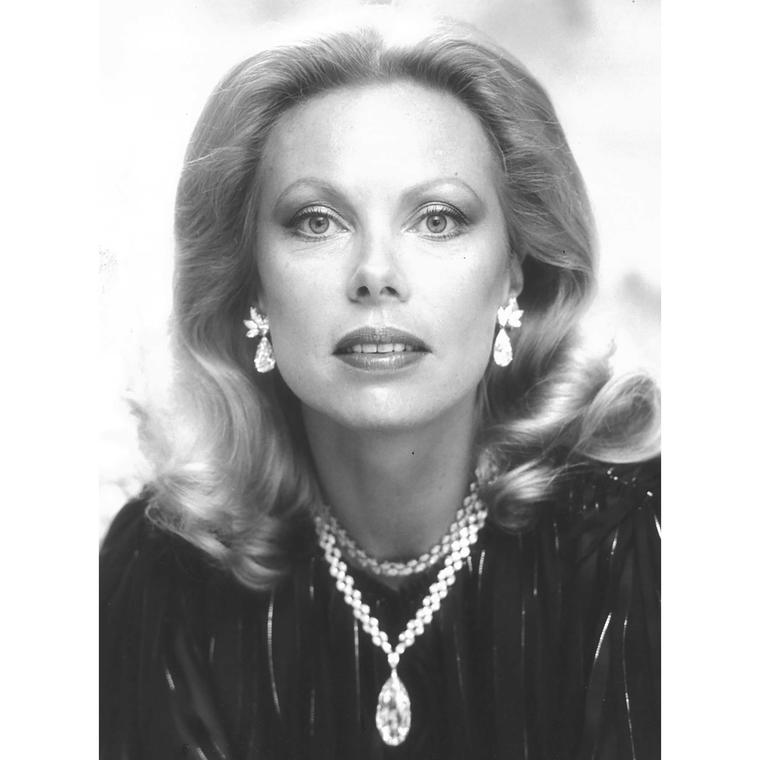 Update 6 May: since publishing this story, the New York Times has revealed the controversial origins of Heidi Horten's German husband, Helmut Horten's vast wealth. The investigation brings to light that Horten built up his businesses during the Holocaust benefitting from the pressure put on Jewish families to sell their business assets. There have been calls for the charity auction to also benefit organisations that further Holocaust education and research. Christie's has since updated its website saying it will make a "significant" donation to these organisations after the auction.
Here is the extract from Christie's website: 'For our part, Christie's will make a significant contribution from its final proceeds of the auction to organisations that further advance Holocaust research and education.'
The New York Times adds: 'In a statement, Christie's CEO Guillaume Cerutti said: "It was never Christie's intention to hide information about the well-documented history of Mr. Horten and we have added relevant information to our sale materials and website to ensure that the facts are clear to all."' At the time of publishing this article Christie's had not revealed this information.
On 8 May Christie's replied to my request for information on the matter with this email:
"STATEMENT FROM ANTHEA PEERS, CHRISTIE'S PRESIDENT, EMEA
Christie's decision to take on the sale of jewellery from the Estate of Heidi Horten was made after careful consideration.
We were aware of the history of Helmut Horten's actions during the Nazi period, when he purchased Jewish businesses that were sold under duress. His activities were well documented and provided the foundation for his later wealth. However—and without ignoring or excusing Mr. Horten's actions in any way— the jewelry collection of his wife, Heidi Horten, was assembled decades later, between the beginning of the 1970s and 2022, the year of her death.  As with all property entrusted to Christie's, this collection has undergone a thorough verification process. The provenance of each of the 700 objects up for auction is well documented, with detailed indications of purchase, and none of these jewels come from a spoliation or a forced sale from a Jewish owner. These jewels were acquired from prestigious houses such as Bulgari, Cartier, Tiffany, Harry Winston and Van Cleef & Arpels.
Additionally, all of the Estate's proceeds from the sale of this jewelry collection will be donated to a foundation that supports philanthropic causes, including medical research, children's welfare, and access to the arts, pursuant to Mrs. Horten's wishes. This charitable dimension was an essential element in Christie's decision to take on the sale.  Christie's has also committed to donate a significant portion of our commission to organizations that contribute to vitally important Holocaust research and education. It will be up to these organizations, if they wish, to communicate about these donations.
Through this public sale, organized in a transparent manner, we are trying, for our part,  to work to preserve the memory of the most painful period in history and of those who were tragically its victims."
The original story published prior to this information is below.
If you ever wondered which lucky woman had the largest and most precious collection of jewels to come to auction, the answer has finally been revealed. Christie's sale of Heidi Horten's collection confirms that the Austrian collector's cache of gems is the largest and most valuable private collection of jewellery ever to come to under the hammer.
Elizabeth Taylor would have blanched to know that her 2011 record-breaking jewellery sale that achieved over US$100 million pales in comparison to the sheer quantity and overwhelming quality of Heidi Horten's collection.  The pre-sale estimate for the Heidi Horten collection is US$150 million, 50% higher than Taylor's impressive hoard.  There have only ever been two jewellery sales at Christies's to top the US$1 million mark: The Elizabeth Taylor Collection and Maharajas and Mughal Magnificence in 2019 and Heidi Horten is set to eclipse them both. One can only speculate whether Elizabeth Taylor was aware of Heidi's enviable collection but the reverse is undeniably true.  While Taylor's collection focussed on antique jewels and pieces from the 1950s to the 1970s, Heidi's is a more contemporary selection, with an emphasis of the very best of the best.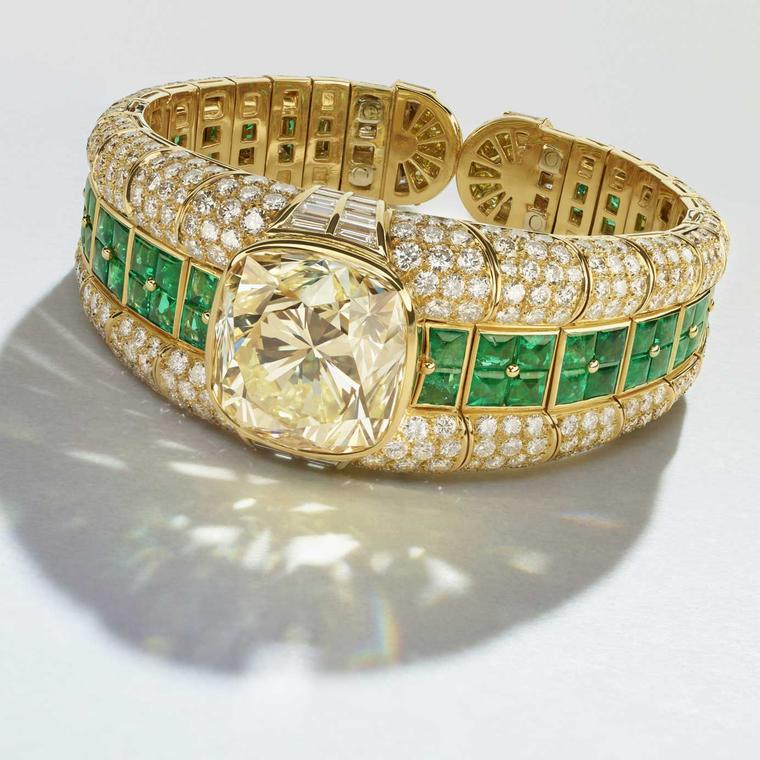 Heidi Horten (1941-2022) was born in Vienna, Austria and met her first husband Helmut Horten (1909-1987), the future department store magnate of Germany, on holiday in Krumpendorf when she was just 17, already a tall, blonde natural beauty with piercingly clear green eyes.  Helmut's 1966 wedding gift to Heidi was nothing less than the historic Wittelsbach Blue 35.56-carat diamond, formerly part of the Austrian and Bavaria crown jewels. Heidi and Helmut began acquiring art and her passion for collecting expanded into jewellery, guided by knowledge as well as a genuine love for the pieces.
'Heidi was a sensitive and passionate collector with a deep appreciation for jewellery,' says Max Fawcett, head of Jewellery at Christie's in Geneva. 'She had a discerning eye and curated a sophisticated collection featuring some of the finest jewels ever to come to market.'
Spanning the 1970s through to the 1990s Heidi amassed 700 pieces of jewellery and until the very end was still buying jewels. At this later stage she was keen on more wearable jewels from brands such as Tamara Comolli in Germany, of which she would order multiple colour versions.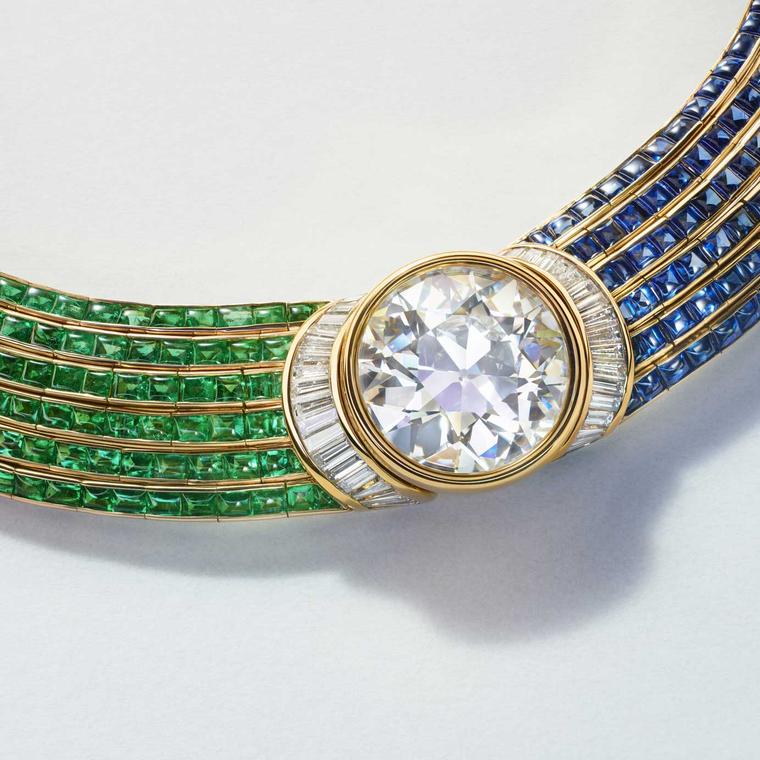 Her cherry-picked Bulgari jewels are considered one of the top five Bulgari collections in the world and includes many bespoke pieces and important gemstones.  Heidi also had jewels by Cartier, Van Cleef & Arpels and Harry Winston as well as vintage jewels including stellar names such as Boivin. Such was the value of her custom, that many pieces were passed between the houses to be remodelled and adapted, a service rarely offered to anyone but the most important clients.
One of the star Bulgari pieces is a dazzling, colour-saturated diamond, sapphire and emerald necklace, set with a 46.56-carat round brilliant-cut diamond at its centre (lot 76 above). Like all important jewels, the jewel has a story to tell. The diamond was originally set in a ring by Cartier in 1975. The same diamond was bought by Harry Winston and in turn Bulgari made it the centre stone of a necklace that in 1994 caught Heidi's eye.
Each jewel was meticulously catalogued and kept in a box embossed with her HH monogram.  Heidi herself was rarely seen bidding at auctions as she had two assistants overseeing her jewellery collection. Always looking out for exceptional quality and with a penchant for emeralds, jade and large cabochon gemstones and yellow gold, the collection is sophisticated as well as very personal.
The most valuable jewel in the Heidi Horten sale is the ruby and diamond ring by Cartier (lot 96). The 25.59 carats 'Sunrise Ruby' is a highly desirable saturated pigeon-blood red colour and extremely clear. According to Fawcett of Christie's it is 'one of the most sought-after rubies on Earth.'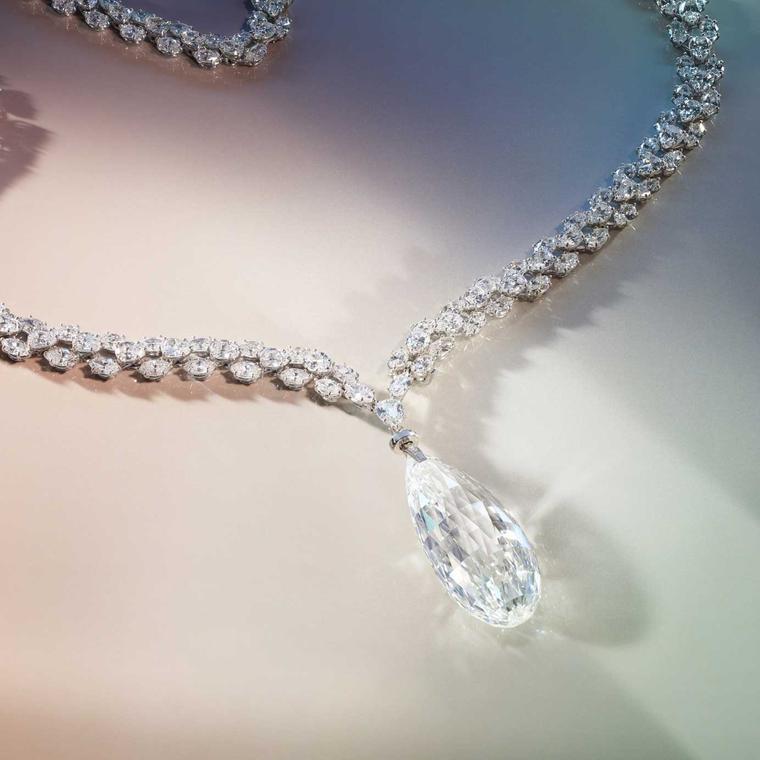 Another highlight is the magnificent Harry Winston 90.38-carat 'Briolette of India' diamond necklace (lot 46 above). Again, this diamond has had a fascinating journey. Historian Hans Nadelhoffer recounts that the stone was cut into a briolette shape in Paris and sold to Cartier in the early 20th century. In 1911 Cartier set it in a brooch that was bought by George Blumenthal, the German-born American banking mogul. In 1950 Harry Winston bought the diamond and made it into the necklace, which Heidi bought in 1971.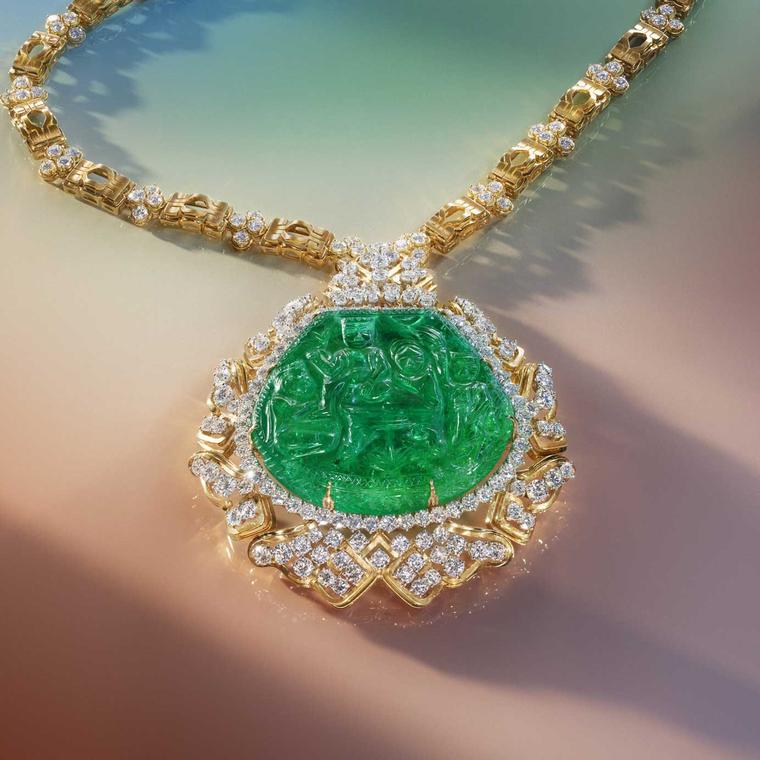 As well as impressive emeralds and diamonds, the Great Mughal necklace (lot 253 above) is an absolute showstopper. A 362.45-carat C19th carved emerald depicting a scene from the Indian epic poem Ramayana was set into a necklace by Harry Winston and bought by Heidi in 1972.
It is surprising to know that Heidi was a connoisseur of jade. 'To find a collection in Europe with such important jade is extremely rare,' says Fawcett, explaining that jade is usually favoured by Asian collectors for its associations with luck and prosperity. 'Heidi collected jade over a long period, so it was clearly something she was very passionate about.'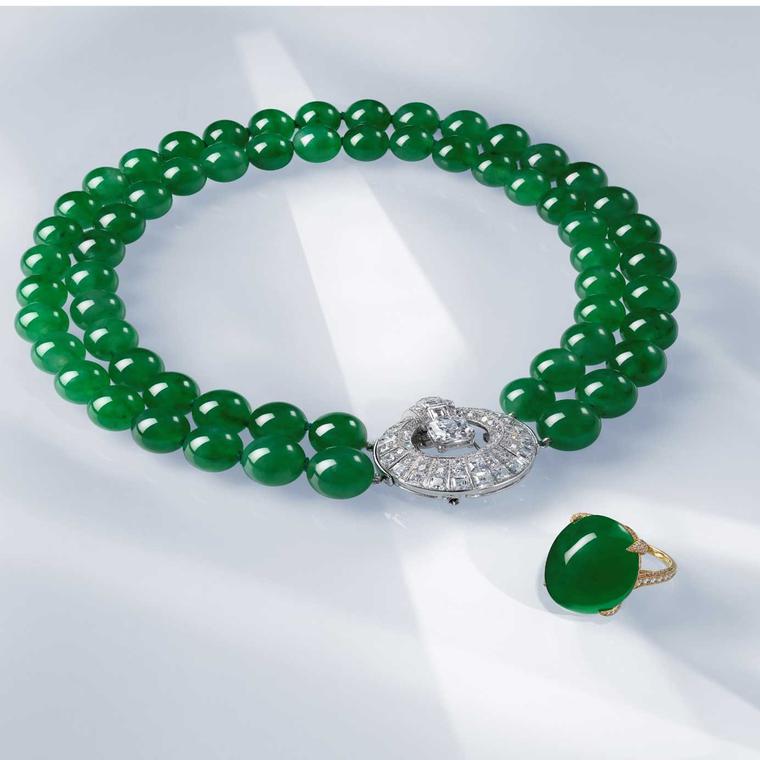 Heidi's love jade is evident in the 25-bead jade necklace with a diamond clasp (lot 21 above), that she bought in 2009. According to Fawcett, the size, colour and translucency of the jade make it one of the most important jade necklaces ever offered at auction. 
Following Horten's wishes, all of the sale proceeds will benefit the Heidi Horten Foundation, that includes the Heidi Horten Collection museum in Vienna - home to her modern and contemporary art – as well as medical research and other philanthropic activities.
The jewels will be sold online and at live auction. The online sale opens for bidding from 3 to 15 May. The The World of Heidi Horten: Magnificent Jewels Part I sale will start on 10 May in Geneva followed by a Part II auction on 12 May.
__________________________________________________________________
Click here to watch an Instagram reel about Christie's sale of Heidi Horten jewels
Click here to watch an Instagram reel about Christie's sale of Heidi Horten jewels
__________________________________________________________________
Heidi Horten wearing her important pearl necklace copyright The Heidi Horten Foundation.

Lot 74  Bulgari coloured diamond, emerald bracelet

Lot 1 and 2 Van Cleef Arpels and Boivin

Lot 197 Jadeite peapod and diamond earrings.

Lot 54 Fancy pink diamond of 20.06 carat

Lot 253 Harry Winston The Great Mughal necklace

Lot 46 Harry Winston The Briolette of India

Lot 79  Bulgari sapphire, coloured sapphire emerald necklace

Lot 76 Bulgari diamond, sapphire and emerald necklace

Lot 15 and 17 jadeite cabochon and diamond ring double strand jadeite bead necklace diamond clasp by cartier

Heidi Horten wearing the Briolette of India copyright The Heidi Horten Foundation.