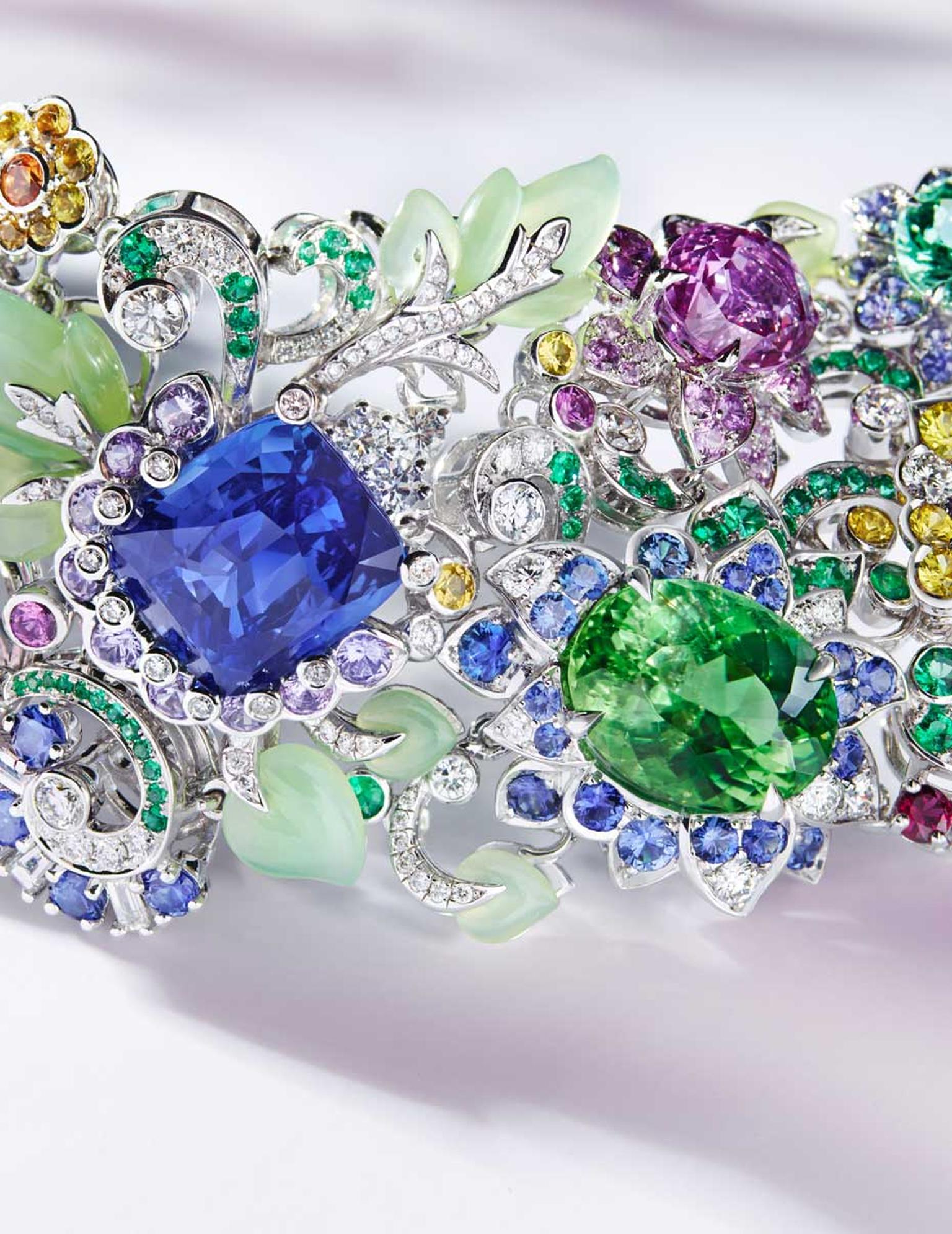 By Maria Doulton
Spring appears to have arrived early at Fabergé in Mayfair, and I was fortunate enough to bear witness when I viewed its brand new Secret Garden high jewellery collection. Before me bloomed bouquets of brilliantly coloured flowers in the form of a Fabergé necklace, rings, earrings, bracelet and brooch, each as fresh as though just picked from the garden.
This Fabergé jewellery collection is the subject of our latest video in which we take a closer look at the exclusive pieces and discover the inspiration behind them.
Based on Peter Carl Fabergé's love of flowers, and in particular stone samplers that showcased stone specimens, the Secret Garden collection brings together a wide array of precious materials as well as highly skilled craftsmen. Led by Natalia Shugaeva, the design team at Fabergé embarked on a year-long project to create a modern-day masterpiece. The first challenge was to source the precious stones based on Shugaeva's sketches, which meant days of poring over tables full of gemstones from around the world. Once selected, the precious stones had to be re-cut to fit the demanding designs. It was then over to the Parisian jewellery atelier where, slowly, the collection began to take shape.
Known as "the artist jeweller", Fabergé infuses these coloured gemstones with the vibrant palette of the Russian artist Chagall, a contemporary of Peter Carl Fabergé. Inspired by the artist's use of colour, in one small jewel, Fabergé brings together both delicate and bright stone colours, light and dark textures, opaque and transparent effects, and plays with colour with sheer mastery. In one Fabergé ring alone, zesty green tsavorites, yellow sapphires and raspberry spinels create new and intriguing sensations. And typical of Peter Carl Fabergé, the new Secret Garden collection of Fabergé jewellery looks to delight with the unexpected. Leaves carved from Siberian jade unfurl alongside hot pink sapphires and deep red spinels, entwined by delicate gold tendrils set with a trail of graduated Colombian emeralds.
These one-off masterpieces not only bring together a rainbow of precious stones, they also call upon the skills of different craftsmen. Each stone has been individually cut to fit the intricate designs. From graduated micro-pavé diamonds and sapphires to bezel settings, claws and highly articulated joints, hundreds of hours of work have been invested in each of these jewels. The centrepiece Fabergé necklace includes a detachable spinning egg that has been painted with enamel to bring to life a garden scene.
The Fabergé brooch is perhaps one of the most interesting pieces as, when not being worn, the delicate spray of flowers sits in a little rock crystal vase to be enjoyed as an objet de vertu - much like the famous Fabergé Easter eggs. 
And like the Fabergé easter eggs that brought widespread recognition and royal patronage to Fabergé in St Petersburg, each jewel contains a little surprise. Hidden to everyone but the owner, the back of the jewel conceals a charming diamond-set garden insect.
Watch our video, look out for the pretty little ladybird on the back of the Fabergé bracelet and be transported to a garden of eternal spring.
The team at Fabergé sought out some of the world's most beautiful gemstones in order to get the combination of colours just right for the Secret Garden collection.

The detachable Fabergé egg, which can be removed from the necklace so the jewel can be worn in two ways.

Fabergé cocktail ring from the Secret Garden collection - a real statement piece.

The fresh feel of spring is perfectly captured in these Fabergé earrings from the new Secret Garden high jewellery collection.

Bright gemstones and floral motifs have been creatively combined to form this fabulous Fabergé ring from the new Secret Garden high jewellery collection.

This beautiful Fabergé brooch takes the form of a delicate spray of flowers and, when not being worn, sits in a little rock crystal vase.

Fabergé's new Secret Garden collection was inspired by Peter Carl Fabergé's love of flowers and the work of Russian artist Marc Chagall.

Maria Doulton meets Fabergé design director Natalia Shugaeva to hear about the inspiration behind the new Fabergé Secret Garden collection.

Maria Doulton paid a visit to Fabergé's London headquarters for a preview of this latest collection of high jewellery.

Fabergé design director Natalia Shugaeva describes some of the jewels from the new collection, which took her highly skilled team more than a year to create.

The jewels in the new collection, like this exquisite Fabergé bracelet, feature an array of precious gems, including emeralds, padparadscha sapphires, raspberry rubies, pink spinels, mint tourmalines, tanzanites, moonstones and opals.

Fabergé earrings in the form of beautiful blossoms, gleaming with coloured gemstones.