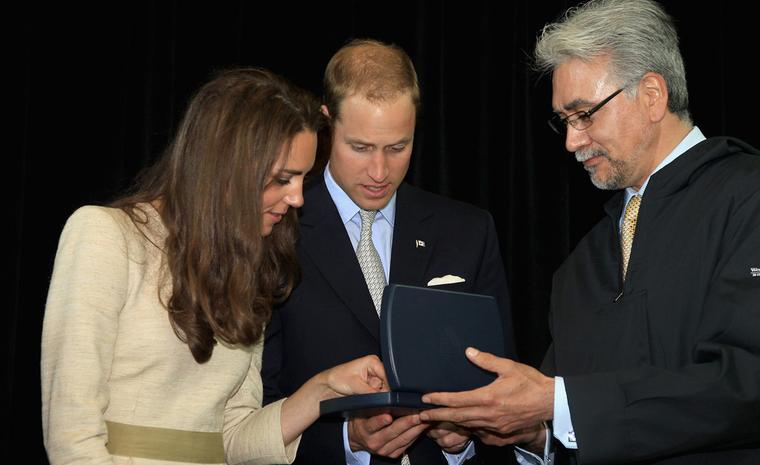 Prince William and Katherine looked surprised when the Northwest Territories Premier presented them with a gift of diamonds from the northern mines - made into polar bear jewels by Harry Winston. A brooch for her and cufflinks for him.
The Northwest Territories and its people presented Their Royal Highnesses with Northwest Territory (NWT) diamonds as gifts to mark their visit. The diamonds are from the Diavik mine and were donated by Harry Winston Inc. The  Harry Winston Diamond Corporation, a Canadian company, as well as owning the famous New York jeweller, also control 40% of the mine. The brooch and cufflinks feature the Northwest Territories polar bear symbol and were designed by Harry Winston Inc. This gift highlights the importance of Canadian diamonds and it is no surprise that the diamond is the official gem stone of the Northwest Territories. Nearly 80 million carats of gem quality diamonds have been mined in the region, worth an estimated $11.4 billion Canadian dollars. With its fourth mine in development, the NWT already produces 15% of the world's rough diamonds positioning Canada as the world's third-largest diamond producer by value after Botswana and Russia. Look out for Prince William and Katherine wearing their gifts - they are quite distinctive and won't be mistaken for any of the Queen's more traditional jewels.
The royal couple with their gift from the Northwest Territories on 5 July 2011 during their state visit to Canada.

The polar bear brooch given to the Duchess of Cambridge by the the Northwest Territory and its people featuring the region's official logo. The diamonds from the Diavik mine in the Northwest Territories.

Harry Winston donated the diamonds from the Diavik mine in the Northwest Territories and made the jewels featuring the region's logo of a polar bear.

The Duke and Duchess of Cambridge are presented with diamond jewels by Northwest Territories Premier Floyd K Rowland.