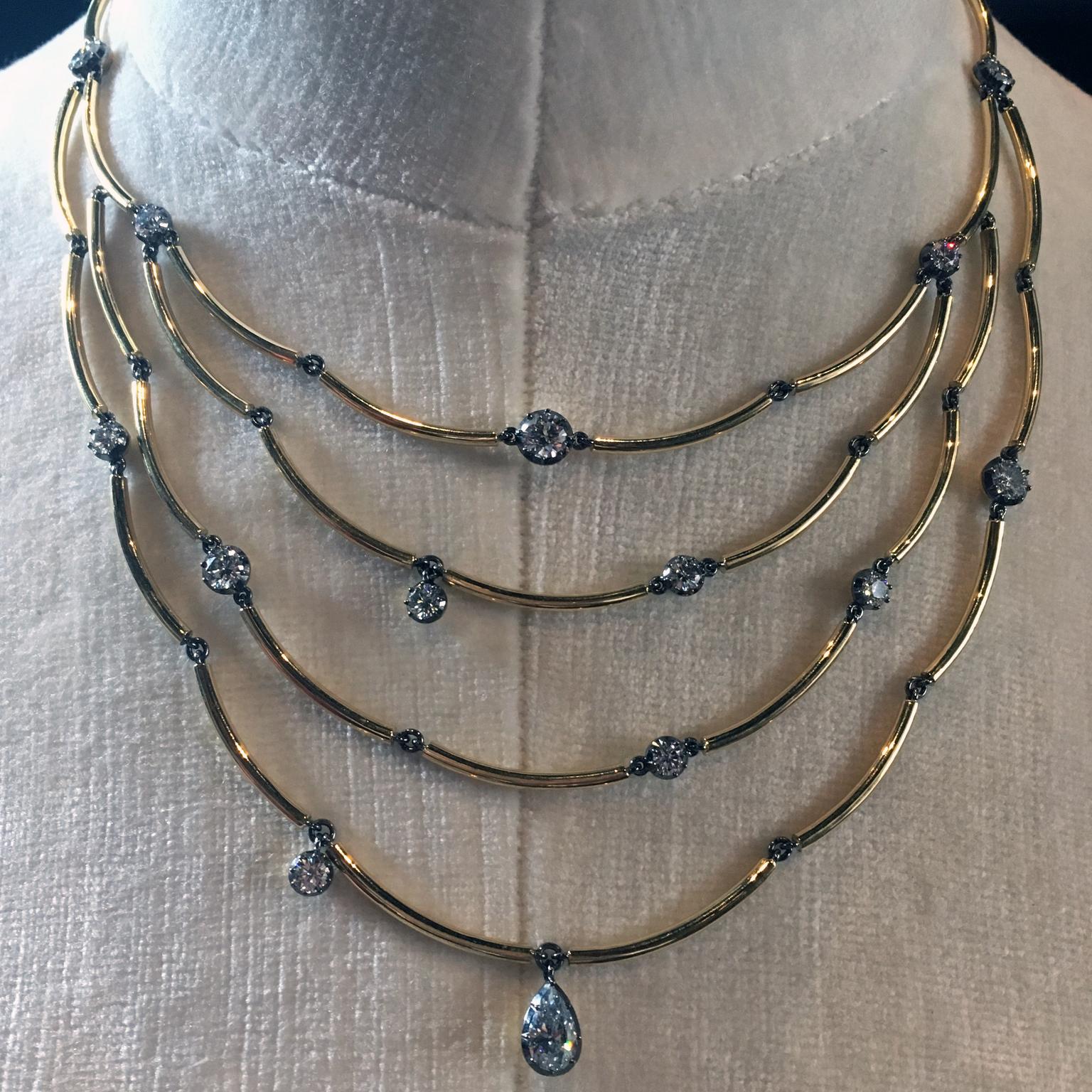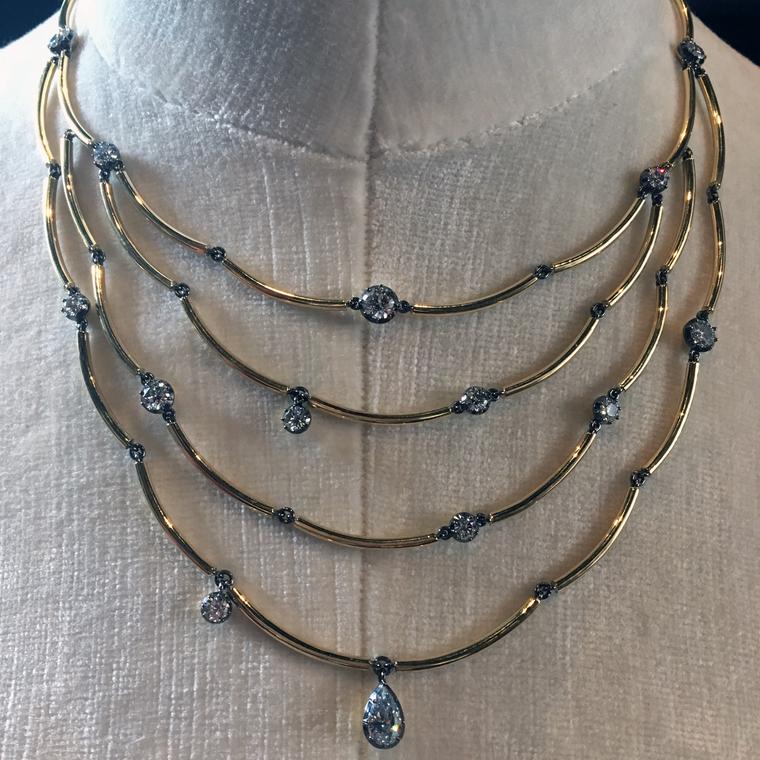 In August 2011, when gold prices reached an all-time high of $1,900 per ounce, it was inevitable that jewellers would be cutting back on their use of this staple of the jewellery industry. Clever solutions like designs with big cut-outs or "negative space" and gold wire openwork forms temporarily solved the problem of how to create jewels using less gold without losing impact. Another trend born of the burden of rising gold prices was for small-size jewels micro-set with diamonds and precious stones that, happily, also appealed to Millennials.
Today, with the price of precious metals settled back to normal, jewellers are once again looking to gold to create everyday jewels with the tactile and visual appeal that only this alloy can offer. And as if on cue, two London jewellers known for diamonds and precious gemstones announced that they were launching their first-ever gold jewellery collections. 
It turns out that diamond-girl Jessica McCormack is a big fan of gold: "I love the warmth of gold and the way it contrasts against our blackened Georgian cut-down diamond settings in the new Chi Chi collection."
On a June morning in London, VANLELES unveiled the Out of Africa Sahara collection of large gold jewels with a light dusting of diamonds. Inspired by the conical shapes of the rooftops of West African and desert tribal houses as seen from the air, founder and creative director Vania Leles has used fair trade gold and responsibly sourced diamonds. What's more, she has pledged to support the charity Women for Women International and their projects in African countries where women most need support, including Nigeria.
"As my Out of Africa Sahara collection is created in fair trade gold, I wanted this to be the focus of the designs, only using diamonds to accent the pieces," explains Vania Leles. "Having always designed bold, colourful pieces before I was excited about the challenge of designing a more every day, versatile collection with a more contemporary aesthetic – hence the use of a single round motif."
To date, Jessica McCormack has been all about the diamonds so the arrival of Chi Chi, which will be available from 20 September, was something of a surprise. True to Jessica's love of the arcane and bizarre, the collection is inspired by the ancient Chinese Buddhist tradition of bamboo Chi Chi fortune-telling sticks that became popular in San Francisco in the early 1900s, probably in China Town along with Chow Mein and fortune cookies. 
Gold plays the leading role as slender, softly curved gold tubes mimicking the shape of Chi Chi sticks are strung together to form bar bracelets, jointed rings and tiered, bib-style necklaces. Round-cut diamonds play a supporting role as the perfect foil to the sheen of rose or yellow gold in a rich hue last popular in the Victorian times.
As well as offering lower price points than her current diamond jewellery range permits, Chi Chi broadens the range of McCormack styles on offer. And it turns out, diamond-girl Jessica McCormack is a big fan of gold: "I love the warmth of gold and the way it contrasts against our blackened Georgian cut-down diamond settings. Yellow or rose gold adds a layer of softness that makes wearing diamonds everyday so much easier. I love the idea of layering the Chi Chi necklaces and bracelets and being able to create your everyday jewellery uniform."
Weeks earlier, Lady Gaga heralded the arrival of Tiffany's newest launch of City Hardwear jewels.  Each chic, weighty, all-gold jewel packs an industrial punch with plenty of attitude to boot. Wrecking balls, shackles and chunky chains bring gold to a new generation of street-smart kids or women who have moved on from polite, pretty jewels. The lambent quality of gold softens the harshness of the motifs making street fixtures and construction site staples objects of adornment to create a look Tiffany describes as "fiercely feminine".
A test of good design is the ability to work in a range of different materials. And the all-gold de GRISOGONO designs that I have chosen stand out for looking fabulous both in coloured gemstone or plain-gold versions. The sensuously plump volumes of the Gocce range – which means teardrop in Italian – are as attractive whether in emeralds and amethyst, turquoise and diamonds or flowing golden forms for what founder and creative director Fawaz Gruosi describes as a "more casual feel".
With the arrival of these great all-gold jewellery designs I am tempted to predict that we are witnessing the beginning of a move from the baroque excesses of cascades of colour gemstones and pavé-set swirls to more every day, bright and bold jewels.  Or maybe jewellers are no longer shy to show a side that yearns for a cleaner and simpler take on adornment.