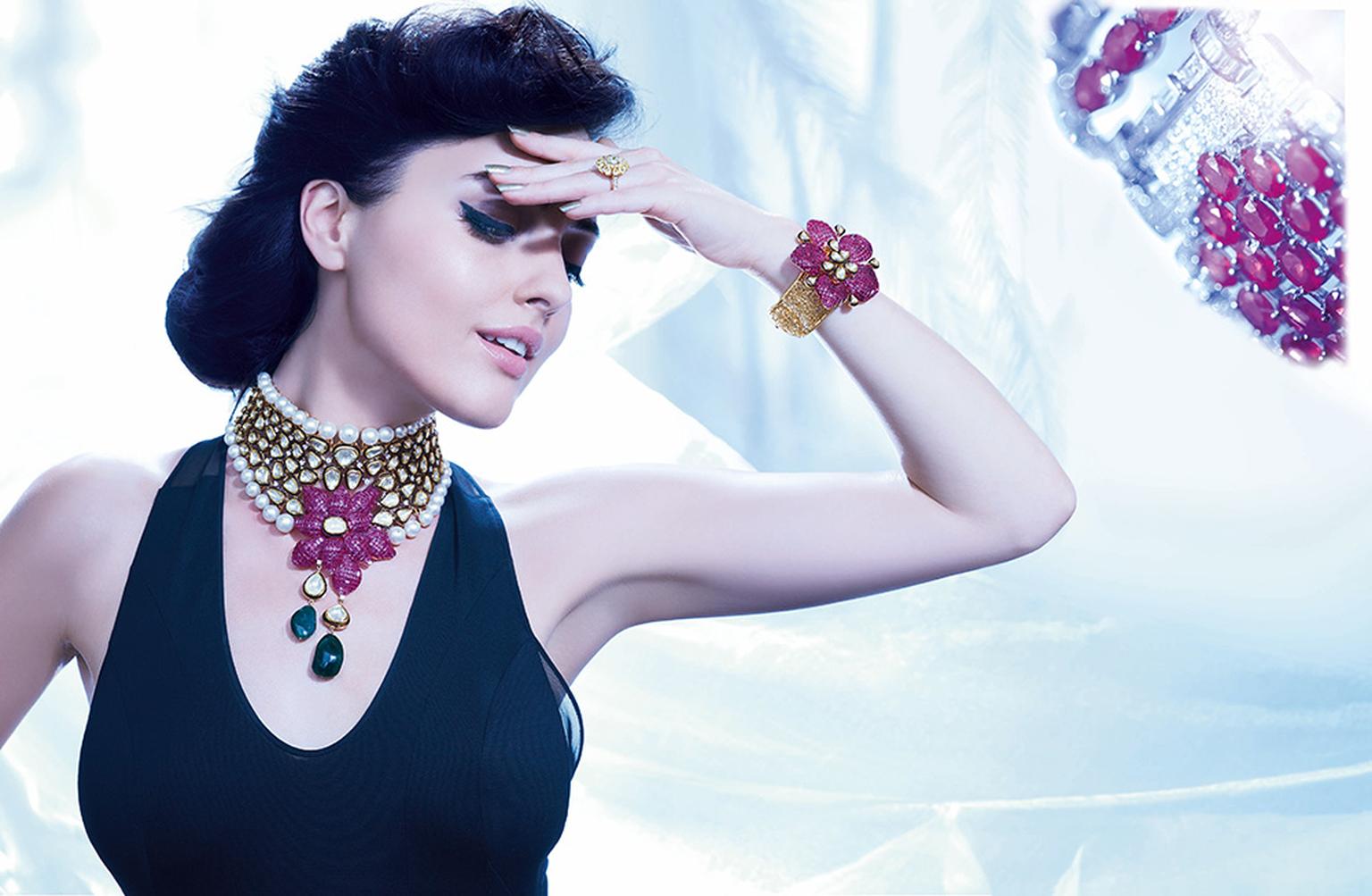 By Preeta Agarwal
You could feel the buzz as soon as you stepped foot on the driveway of the Taj Palace hotel, where an electric-blue Jaguar was parked proudly in the afternoon sun. The inaugural edition of the Vogue Wedding Show, organised by Vogue India, was just beginning, and guests were arriving for their appointments with India's top bridal couturiers, jewellers, wedding planners and exclusive service providers.
The show, which ran from 4-6 April 2013, concluded in spectacular style in New Delhi last week. Featuring the most luxurious and personalised wedding services in the country, tailored to guests who have the grandest plans for their Indian wedding, the specially curated exhibition was the first of its kind in India and leaps and bounds ahead of the conventional exhibition format.
Strictly by invitation only, it gave brides to be - and their future husbands - the chance to enjoy exclusive one-to-one time with the country's connoisseurs of luxury weddings. The exclusive list of 45 participants was divided into two halls. The Durbar Hall housed a dream dressing-up box of bridalwear by couturiers including Tarun Tahiliani, Sabyasachi and Abu Jani and Sandeep Khosla, with accessories from Christian Louboutin and Judith Leiber. India's top jewellers were also present, of course -  Rose and Anmol from Mumbai; Hazoorilal and Khanna Jewellers from Delhi; Raj Mahtani from Kolkata; Surana Jewellers and Gem Palace from Jaipur - along with international jewellery house Damiani. The Shahjehan Hall played host to the top wedding service providers from India and further afield, such as Quintessentially Wedding Planners and DLF Emporio with its gift registry.
Rows of boutique-style booths, with canopied doors, greeted me as I entered the Durbar Hall. As I moved from booth to booth, it quickly became apparent that this was one of the biggest gatherings of high-end Indian jewellery ever seen under one roof. Here were some of the most famous family jewellers in India - Hazoorilal, Khanna Jewellers and Anmol - displaying the grandest polki jewellery I had ever laid eyes on. Next to them, Ganjam, the leading designer jewellery house in India, displayed only two necklaces, its most valuable creations tucked safely away to present to the brides and grooms arriving for their appointments.
Ganjam is rarely present at exhibitions. When I asked Mr. Suresh Subramanyam, Head of Marketing at Ganjam, about the event, he said: "We are delighted to be part of the Vogue Wedding Show. This one-of-a-kind wedding exhibition is a wonderful opportunity for some of the finest Indian and international luxury retailers to connect with some of the most affluent families in the country. It is a one-stop luxury wedding shop and a brilliant opportunity for brands to closely interact with a private and privileged global Indian audience."
The hustle and bustle outside Kolkata-based Raj Mahtani's booth gave me little clue to the serious business going on inside. Stocked with some of the most unique Marwari jewellery, typical to Rajasthan, his booth was lined with vivid creations, the number of which dwindled magically by the third day. Krishnadas from Hyderabad, along with Surana Jewellers and Gem Palace from Jaipur, were spotted charming customers with their sparkling wares, as was Amrapali, which participated through Taj Khazana, the exclusive Taj Group boutique.
Situated in the centre of the hall were Nirav Modi and Rose, along with an open display of jewels by Forevermark, with Mr Nirav Modi and Mr Biren Vaidya of Rose personally showing their most magnificent creations. Two models bedecked in Nirav Modi jewels sat outside the beautiful Modi booth, which was lined with tall glass showcases displaying some of the most eye-popping yellow and pink diamond jewellery. Other jewels that stood out were a unique pair of yellow and white diamond feather earrings, a sari necklace, a sunburst necklace and, my personal favourite, an 8.45ct fancy yellow radiant-cut diamond ring, encircled by ribbons of diamonds and worth 1 crore Indian rupees. At the Rose booth the jeweller's finest contemporary pieces were on display, including the latest Tanzanite and Yellow Sapphire Collection. Most eye-catching of all was a pair of delicate diamond earrings, with briolette-cut diamonds descending downwards like a waterfall.
International players such as Damiani and Christian Louboutin waved the international flag for luxury and captivated the eyes of many, while there was a surprise element from jewellers like Bharany's from Delhi and Heeramaneck and Kothari Fine Jewels from Mumbai. Although silent players in the Indian jewellery industry, their lists of exclusive clients contain some of India's wealthiest industrialists and best-known celebrities.
Sari necklace by Nirav Modi.

The Khanna Jewellers booth at the Vogue Wedding Show 2013.

The Forevermark jewellery display at the Vogue Wedding Show in Delhi.

Anmol Jewellers' booth at the inaugural Vogue Wedding Show.

Ganjam's Heritage necklace.

Ganjam's 'Violet' necklace, which was on display at the Vogue Wedding Show.

Anmol Jewellers polki necklace with invisible-set rubies and tumbled emeralds.

Polki necklace by Anmol Jewellers.

Anmol Jewellers' classic all diamond range.

Anmol Jewellers detachable necklace cum choker with diamonds and emeralds.

Nirav Modi's 8.45ct fancy yellow radiant-cut diamond ring.

Necklace from Damiani's Sophia Loren collection.