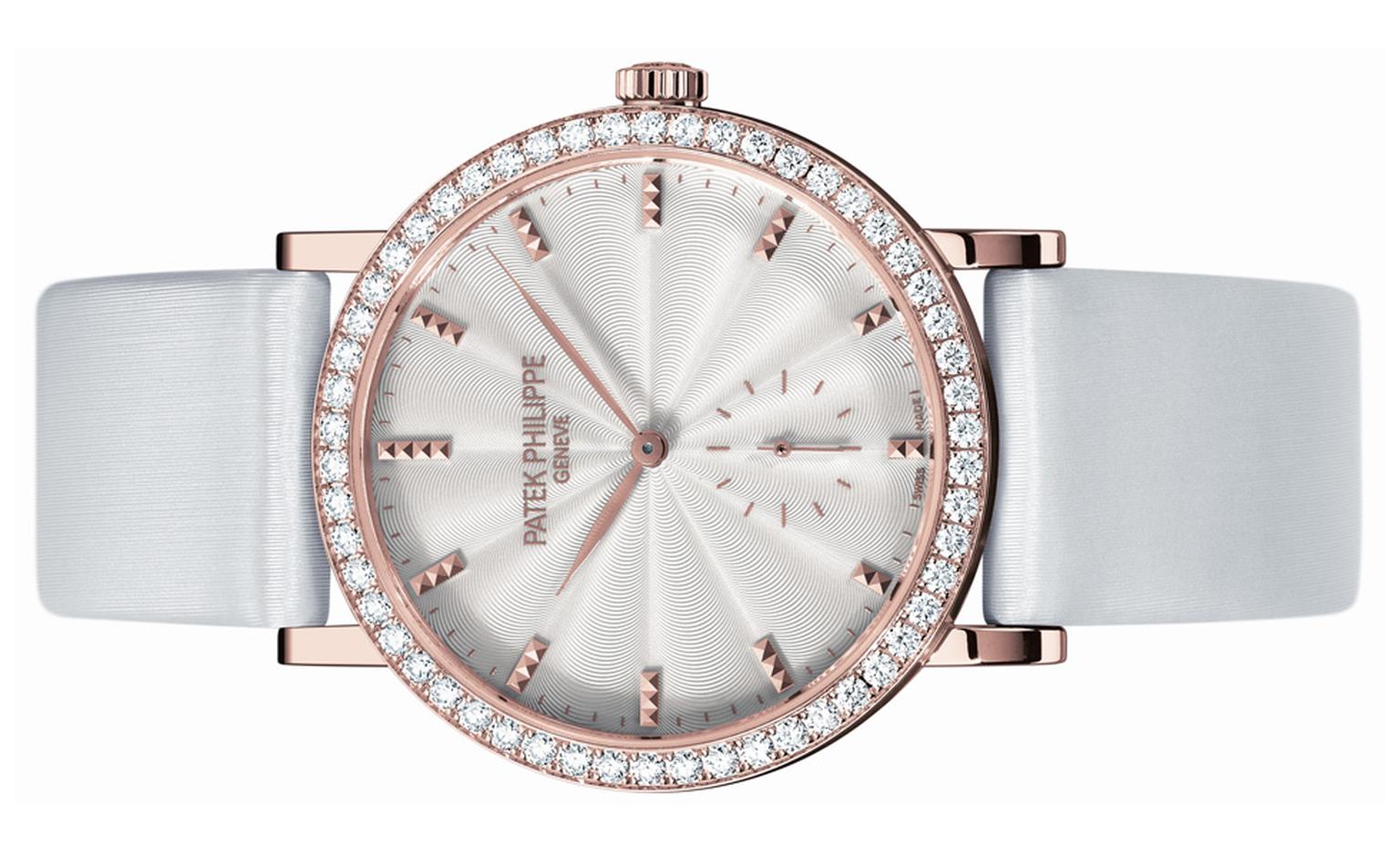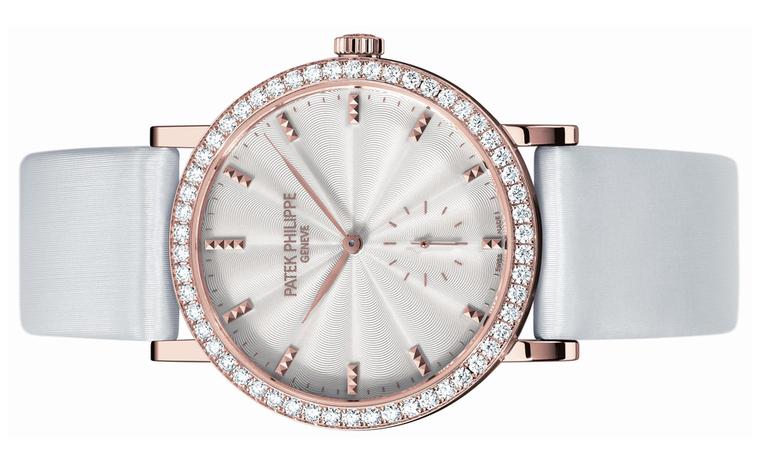 With a watch like the Patek Philippe Calatrava, Aquanaut, Nautilus or Twenty-4 on your wrist who needs jewellery? Take the exquisite Calatrava, a round watch of classic proportions and a rippling dial of creamy lacquer, elegantly slim gold case and tapered hands. The sprinkling of pretty diamonds will leave you wanting for no more sparkle. Available in different gold tones it is the most discreet way to wear something very, very special.
Slim enough to slip under your cuff offering a beguiling shimmer of diamonds, like all Patek Philippe watches, it is all about details. "Where others would stop, is where we start," is how the house describe their attention to detail. And not just a pretty face, these watches are beautiful inside with mechanical movements that will keep ticking for decades to come.
New models include the Aquanaut in an elegantly cool slate grey colour and a Nautilus Luce in chocolate hues with a warm rose gold case as well as new colours for the ever elegant Twenty-4.
The watches are beautiful but it is worth knowing what makes them so special. Patek Philippe is not only one of the most successful high-end Swiss watch brand but also one of the best-known luxury brands. Record auction prices confirm its enduring appeal amongst the watch cognoscenti, while fresh waves of followers dutifully add their names to waiting lists for the next complication. At the same time, consistently attractive designs add to the product range, including the best-selling Twenty-4 for women. All these achievements have won the house a brand equity that makes other watch companies green with envy.
Patek Philippe are able to stick to a rigorous ideal of making the very best as they are still privately owned and run by father and son, Philippe and Thierry Stern. The team runs the entire firm controlling every step of the manufacturing process from movements to cases and dials, and what's more, they have all the time in the world to get it just right.
Patek's manufacturing facility in Geneva is testament to one family's determination and independence. "We built our manufacturing facility step by step and we never took money from a bank," states Philippe Stern of the amazing production complex where CNC (Computerised Numerical Control) machinery that produces smaller component and whirr robotically away alongside a lovely wooden engine-turning machine, lustrous with the patina of decades of use that dates from 1913 and operated by winding the handle, like an old-fashioned sewing machine.
The silicon based material Silinvar used in the new Patek Philippe escapement lives alongside the centuries old craft of decoration. The Geneva Stripes that can be glimpsed on a Patek movement are created with a very low-tech box wood tool and a home-made mixture which contains lavender essence. It is this marriage of the old and new that makes Patek so fascinating. And Philippe Stern is adamant that upping production quantities is not their goal. While new machinery may improve and even speed up the production of components, the box wood decorating and machine turning respect a much more ancient pace of work. And the result as you can see are these exceptional watches.
Patek Philippe 4910 Twenty-4 with diamonds

Patek Philippe 5068R Aquanaut Luce in rose gold with 46 diamonds

Patek Philippe 7010G Nautilus

Patek Philippe 7120R Ladies' Calatrava in rose gold with lacquered dial

Patek Philippe 4897G Ladies' Calatrava in white gold with blue lacquer dial

Patek Philippe 7120G Ladies' Calatrava in white gold with lacquer dial

980canvas7120R-jpeg