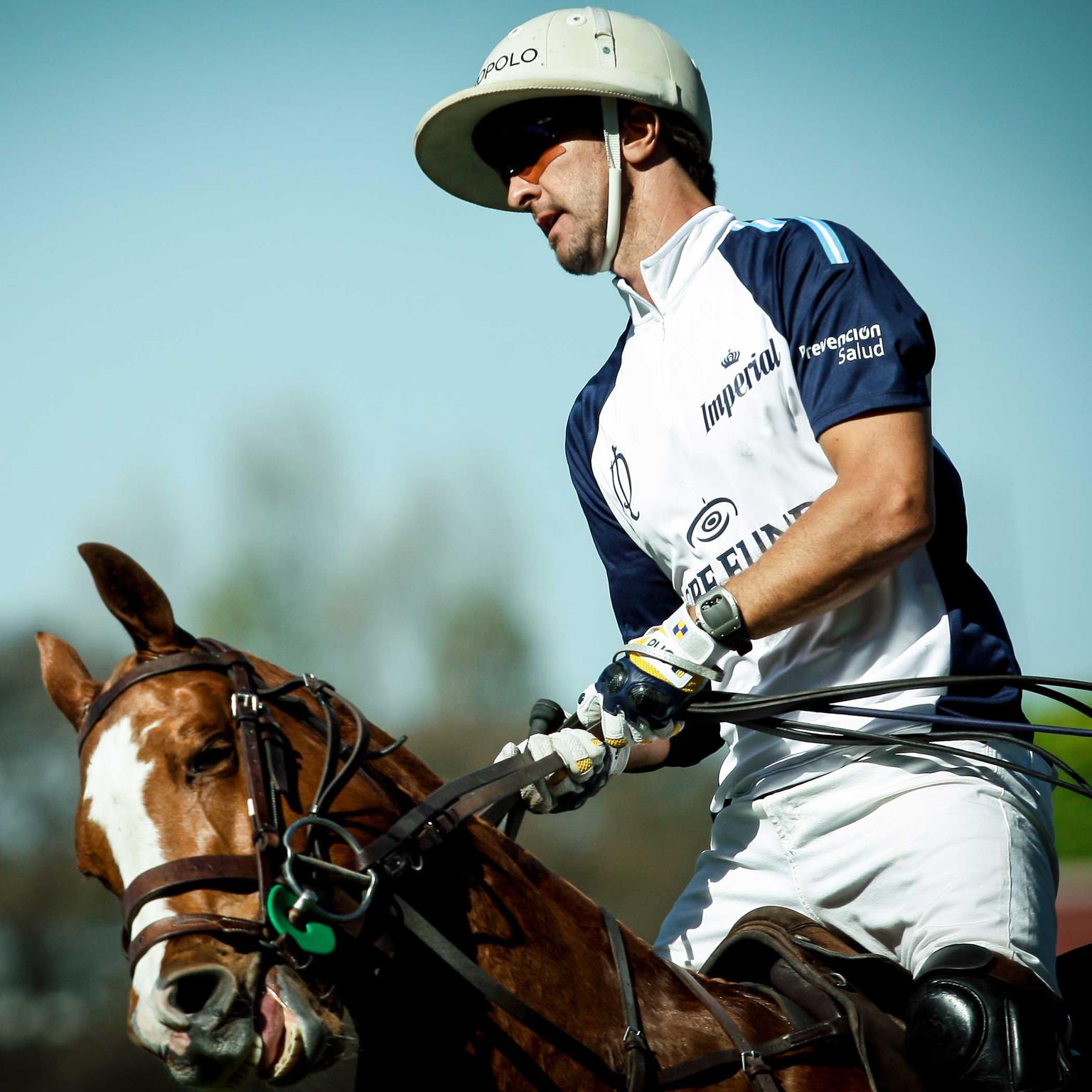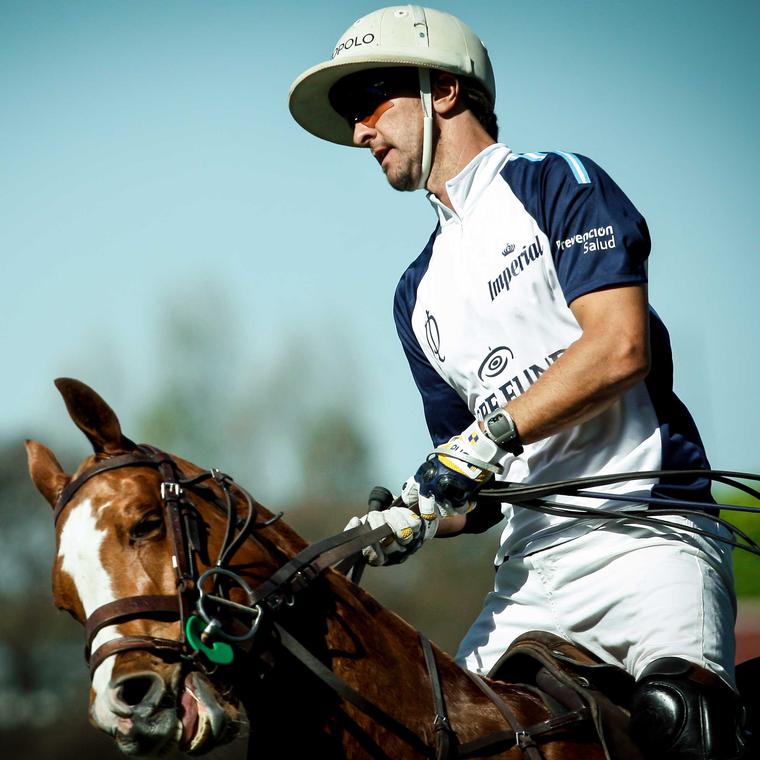 By Maria Doulton
If a picture says more than a thousand words, then the dramatic image of polo player Pablo MacDonough falling from his horse in 2013 tells a whole story. And it's a story that is testament to the strength of Richard Mille watches.
Trapped between the horse's legs and on the point of being crushed, Pablo was headed for an epic bruising. The same arm that sports his Richard Mille watch was caught under the horse's front foot, yet despite the catastrophic and certainly doomed arrangement of horse, speed and man, both Pablo, the horse and the watch emerged virtually unscathed.
For Pablo, this was akin to a miracle, but for the watch, it was a carefully engineered outcome because, quite simply, no one makes watches as strong and lightweight as Richard Mille. In fact, few other watch companies would consider the challenge of making a watch specifically for polo - a notoriously risky, high-impact sport. However, Richard Mille delights in the opportunity to set itself the most arduous challenges, such as making a polo-resistant tourbillon for the wrist of one of the world's toughest and finest polo players.
The fact that Pablo MacDonough had a Richard Mille on his wrist is another story worth telling. The famous Argentine polo player, born into a hardcore horse-breeding, chukka-happy family, has played since the age of six and, in 2010, was the Number One in the World Polo Tour Ranking. In 2012, MacDonough joined the Richard Mille Polo Team and since then is rarely seen without his faithful Richard Mille watch.
"I am so used to wearing my RM 053, it now feels like part of my arm. It is light and comfortable, and it feels strange not to wear it. It would be like playing without a helmet or a mallet," says MacDonough. "It's rare to see a watch on the polo field as this is an extreme sport. Other players don't wear them as they are too delicate. Normally, I am the only guy with a watch during a match."
In 2011, founder Richard Mille approached MacDonough and the Argentine soon felt an affinity to the brand. "It's really nice working with a small company where you can get to know the team. Honestly, Richard Mille watches are the ones I like the most. Other watches are missing that special something."
Together with MacDonough, Richard Mille developed the RM 053. MacDonough explained to the engineers the shocks, centrifugal force and rough handling that a polo player faces. Heavy balls shoot through the air at 200km per hour, mallets fly and hooves thunder. The challenge was to make a highly sophisticated and precise tourbillon that could not only survive a match, but also be legible at a glance without dropping the reins. The result was the futuristic-looking and compact hooded, titanium carbide-armoured Tourbillon RM 053 Pablo MacDonough, of which only 15 were ever made. The dial is angled so that the time can be read through the two portholes without twisting the wrist.
Discover more new Richard Mille watches here
The first test the RM 053 had to pass was to withstand the thwack of an errant mallet. "The watch saved my wrist, it took all the impact, so we were both fine," tells MacDonough.
Despite his exclusive Richard Mille watch and the celebrity allure of polo, it is all about hard work for MacDonough. "Polo is not glamorous for me. I spend most of my time at the barn with the horses and on the farm. At a big event such as the Queen's Cup or Gold Cup, the guests are glamorous, but we are the ones playing so we don't get very involved in that side of things."
Richard Mille continues to strengthen its ties to polo and has recently announced that, for the second year, it will be the Official Timekeeper to the Polo Club Saint-Tropez, as well as investing in improving this idyllic Côte d'Azur venue, plus sponsoring the Richard Mille Cup in the Polo Masters Tour.
To mark the third year of this successful association, Richard Mille has created two limited-edition collections. The RM 07-01 Polo Club Saint-Tropez ladies' watches are made of ceramic ATZ, and lightweight titanium bears the classic navy blue and white club colours, with its logo engraved on the back. The black RM 029 men's watches are made of black ceramic and NTPT® carbon. These sports watches will be released in time for the Polo Masters Tour final weekend, with celebrations in Saint-Tropez where I am sure you will be able to spot other Richard Mille wearers. And Richard Mille is certainly in the right milieu, as MacDonough points out: "Those who love watches know Richard Mille, and in this world everyone knows what a good watch is."
See more Richard Mille ladies' watches here
The dramatic image of polo player Pablo MacDonough falling from his horse in 2013. With the arm that sports his Richard Mille watch trapped between the horse's leg, Pablo was certain of a catastrophic crushing - but man, horse and watch went virtually unscathed. Photo: Emiliano Lasalvia.

Polo is one of the toughest sports for any watch to contend with, but the Richard Mille RM 053 Tourbillon, with its titanium carbide armoured case and two raised viewing windows, has shown it can withstand the most demanding conditions.

The ultra-light movement in the Richard Mille RM 053 watch, worn by polo player Pablo MacDonough, can be seen in all its glory thanks to the skeletonised baseplate. 

The RM 029 Polo Club Saint-Tropez is made of black ceramic and NTPT® carbon and limited to 50 pieces.

The limited-edition 48mm RM 029 Polo Club Saint-Tropez from Richard Mille, with its classic tonneau shape, features an automatic calibre RMAS7 with oversized date mechanism and variable rotor geometry.

Since 2012, Argentine polo player Pablo MacDonough has been part of the Richard Mille Polo Team and is rarely seen without his RM 053 watch.
Mentioned in this article: