The story of how the Chaumet Dandy watch collection got its dapper profile is so engaging and so neatly tied up with France's crown jewels that a short digression is in order. It all starts in the hilt of an emperor's sword; to be more precise, in the coronation sword of Napoléon Bonaparte bearing the coveted Regent diamond. The odyssey of the Regent diamond - a plump 140.64ct cushion-cut marvel from India, now on display in the Louvre - is a story in itself, but suffice it to say that Napoléon thought it would look rather grand on the coronation sword made for him by Nitot in 1802 - the famous Parisian court jeweller and founder of Chaumet.
There is nothing like having a rich historical archive to peruse for ideas, and it was the shape of the famous Regent diamond on Napoléon's sword that inspired the designers of Chaumet watches to create the distinctive cushion-shaped case of the Dandy. Aptly named after those dapper, nonchalant fellows who placed a great amount of importance on their appearance - Beau Brummell and Charles Baudelaire qualify in this category - the Dandy watch has a refined cosmopolitan presence.
Since the Dandy took its first gallant strides in 2003, it has enjoyed regular wardrobe updates, ever faithful to its vocation as a gentleman's dress watch. Stylish insouciance has always defined it, from the Dandy Arty XL model with its sharp, impeccable striped suit to the highly original snowy obsidian attire of the Limited Edition Dandy Arty Open Face watch - a timepiece designed for more creative spirits. 
This autumn, the archetypal bayadère stripes that we associate with this Chaumet watch - and which have been one of the Maison's key motifs since 1920 - have been revisited in a new model.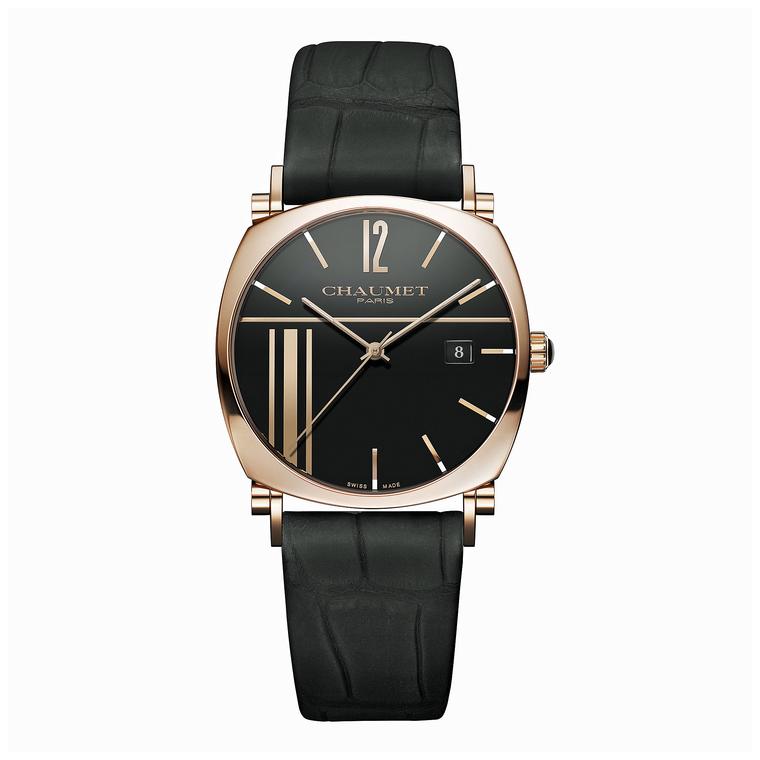 The cosmopolitan and very chic 38mm pink gold Dandy watch features the vertical stripes in rose gold on the lower left half of the black galvanic dial, giving this dress watch a studied asymmetry that immediately captivates the eye. Inside the cushion-shaped case, a first-class Swiss mechanical automatic movement powers the hours, minutes, seconds and date functions.
Mentioned in this article: