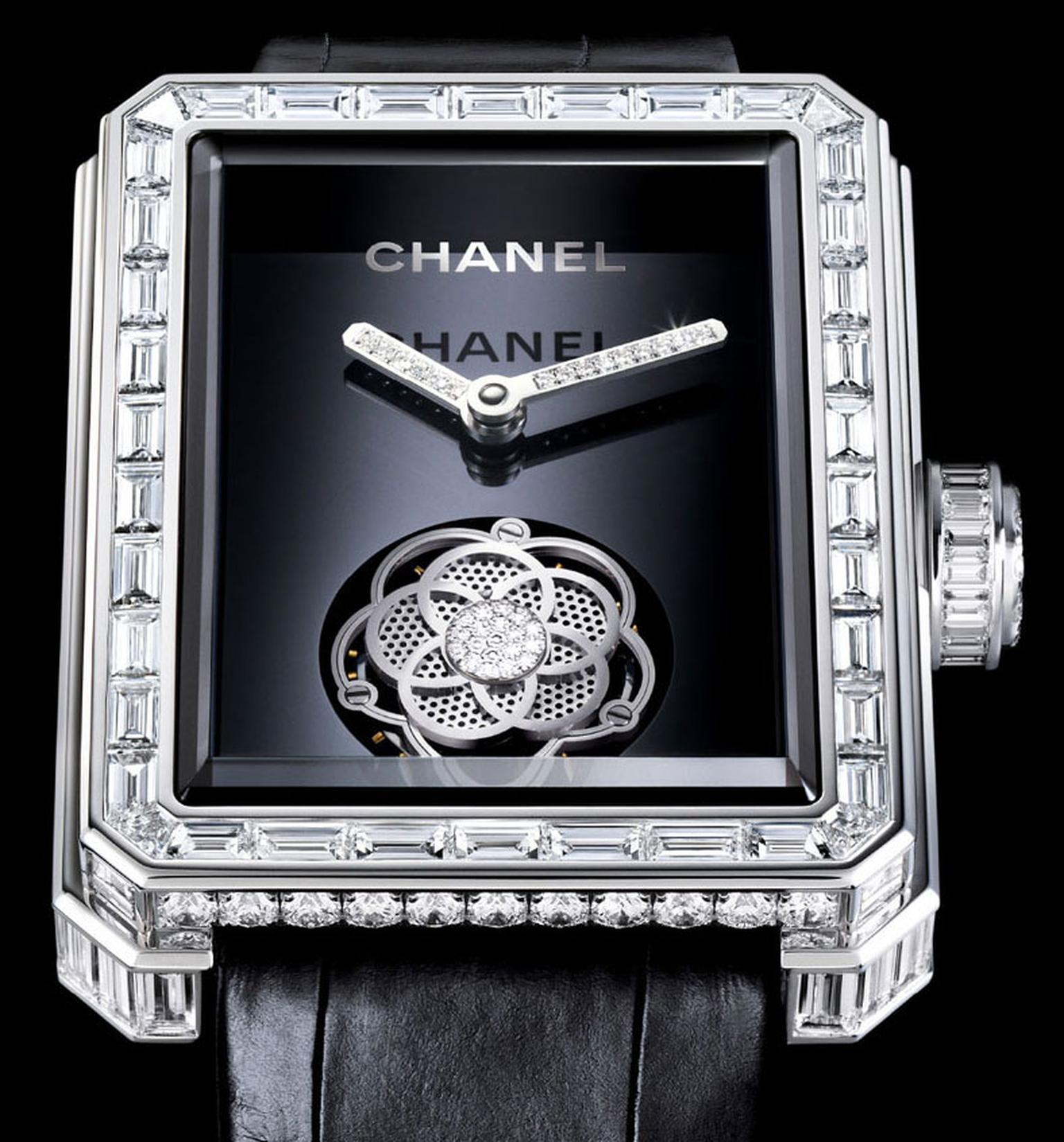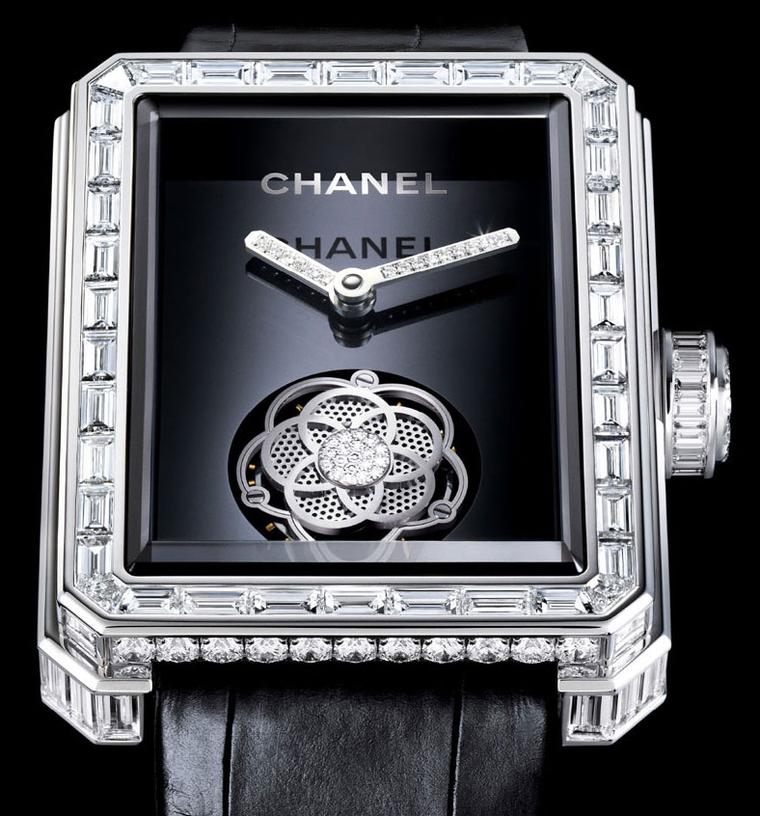 The biggest watch and jewellery show in the world, it has to be said that this year's BaselWorld didn't fail to match the output and sparkle of previous years, with a vast selection of timepieces, precious stones and ingenious craftsmanship on display all around. With so much to catch our eye, here's a selection of women's watches that really did dazzle.
Chanel's Camélia Flying Tourbillion is one of the more classical selections this year. Easy on the eye and perfectly realised, it celebrates Chanel's 25 years of making timepieces and comes with a very familiar shape indeed, taken from their renowned Chanel No. 5 bottle and the Place Vendome itself. A collaboration with Renaud and Papai, it has a scintillating black ceramic dial encased in eighteen rubies, as well as 18ct white gold with 15 diamonds on the hands alone, not to mention 101 5.2ct of baguette-cut diamonds on display elsewhere. Only twenty of these have been made, and what lucky people those will be to get their hands on it.
Chopard's Happy 8 watches made many feel just that, delighting onlookers with this timepiece form their Happy Diamonds collection. Taking it's cue from the cultural significance of the number 8, which in parts of the world like China carries a great measure of luck; the arcs of this chosen digit are prevalent throughout the design, with playful curves and circles to be seen. The watch case is made of 18ct white gold set with diamonds with one mobile diamond; a Quartz movement, it is available with asleek satin or more adventurous fully-set diamond strap.
It's impossible to ignore the striking presence of the Bulgari Serpernti. Here shown in 18ct pink gold with brilliant cut diamonds and white eggshell enamelling, the double wrap-around coils are what Bulgari is all about with this notable design. Available in slightly differing colour finishes, here we see a white mother of pearl face set with brilliant cut diamonds, and each one contains a Swiss quartz movement personalized for Bulgari.
It's playtime once again with Boucheron's delicious Ajourée Grenouille. At 6.8mm thick and a 38mm case, it is no surprise to see the trademark Boucheron craftsmanship, with colourfully complicated settings: the frog is made of rubies and pink sapphires, as is the flower, both sporting green travorites. The watch required a total of 311 gems, with 3 tsavorites, 30 rubies, 151 pink sapphires and 127 diamonds. A quartz movement finished off with an understated white matte satin strap, this little chap was sure to shine at this year's BaselWorld. Keeping up the animal magic was the Armadillo from Mattia Cielo, part of their 'Iguana' collection; a timepiece with a uniquely textured charm, this is the first Swiss-made Mattia Cielo jewel-watch.
Now comes a watch collection with a piece for every season, as DeLaneau's supremely talented enamel workers have created the Four Seasons Cerisier. Each watch has been handcrafted and signed by the in-house artisan, and each of the four seasons has been captured in Champleve enamel. These watches marked the return of DeLaneau to Baselworld after an absence of almost a decade, and it was quite a way to make their re-entrance.
Bulgari.18 ct pink gold watch with brilliant cut diamonds and white eggshell enamelling. Double wrap-around coils. White mother of pearl face set with brilliant cut diamonds. Swiss quartz movement personalized for Bulgari. Price from £48.400

Boucheron Ajourée Grenouille

De Laneau Cerisier Fall

De Laneau Cerisier Summer

Mattia Cielo Armadillo

Chopard Happy 8 Watch

De Laneau Cerisier Spring, part of a series of four watches depicting the seasons. The dial is hand painted and the case elaborately gem-set for a unique and very feminine look.

De Laneau Cerisier Winter

Chopard Happy 8 Watch with Diamond strap

Chanel. The Premiere Flying Tourbillon watch in white gold and diamonds. POA