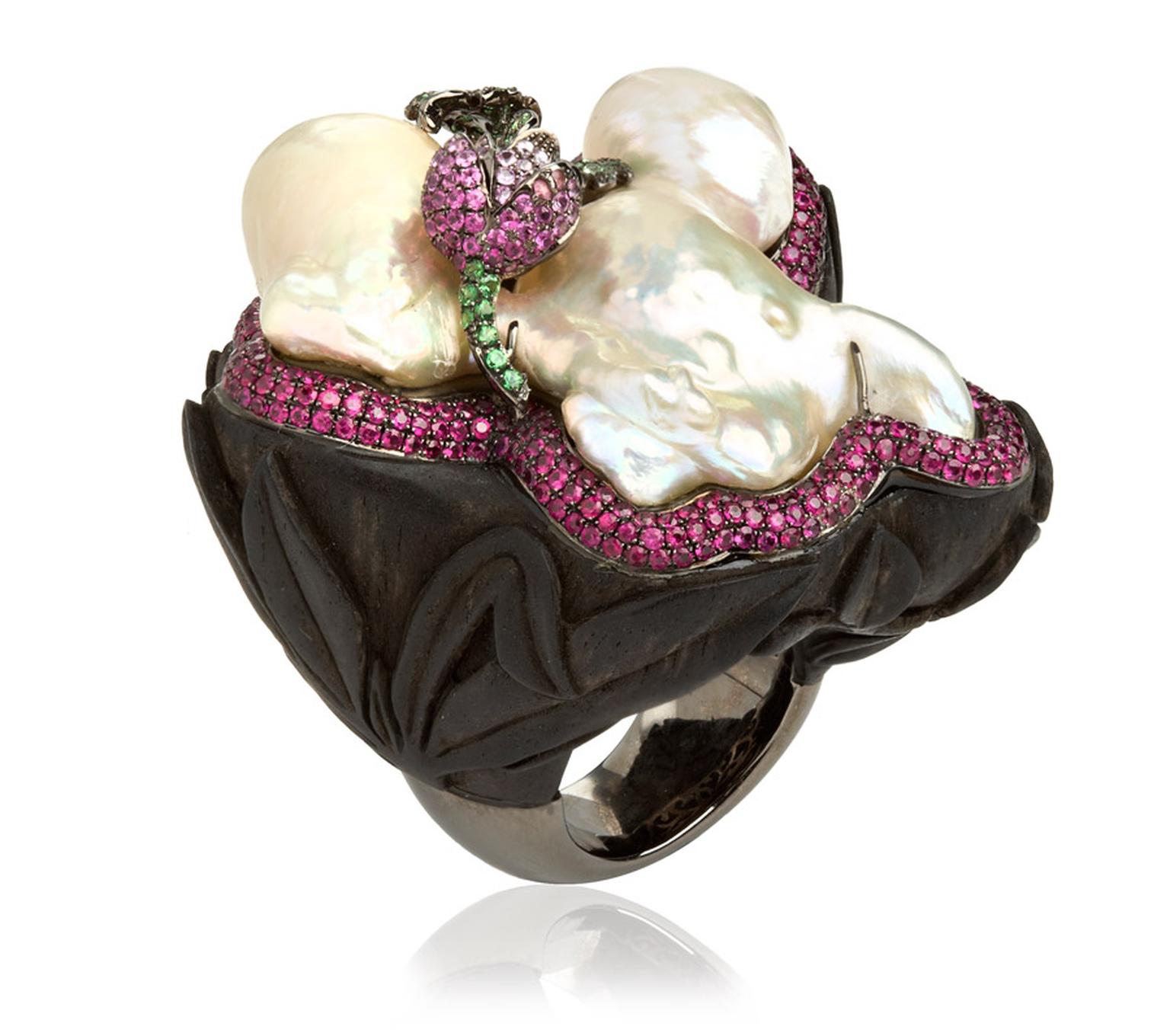 Sometimes a piece of jewellery is remarkable for the story behind it, then there are the pieces where the jewellery tells a story itself, miniature works of art weaving grand narratives for whoever holds them; with Chinese designer Wendy Yue's Fantasie collection for Annoushka, we certainly have the latter.
Every piece, be it rings, bangles or earrings, has been meticulously crafted to reveal sculptured settings that utilise a wide variety of stones to make jewellery that seem like worlds unto themselves. Born in Hong Kong but trained in Vienna, Wendy Yue has a background steeped in practical knowledge gained from her time in the jewellery business and her travelling the world over. Soon she started her own atelier, winning gold in the Buyer's Favourite Diamond Jewellery Design Competition in Hong Kong in 2000. It is this impeccable world experience fused with her Chinese roots that has given way to the fantastical elements on display in this collaboration with Annoushka.
Mixing stones and complimentary colours to consummate effect, the real joy from this jewellery collection is getting lost in the details and the often high-spirited nature of them; just look at the mischievous and greedy monkeys on their respective fantasie rings, seeing confident combinations of golden coral, diamonds, sapphires, green garnet, and rose gold, all wrapped up by the monkeys themselves. Then there is the exuberant Fantasie Garden Party Party Bangle, with a strong Eastern influence clear to see, carefully crafted in 18ct white gold, diamond, sapphire, green garnet, coral and malachite, in particular this is a piece that stands out from the others, a miniature scene playing out on your wrist whenever you wear it.
Colour is key in vibrant works such as these, and Wendy Yue's palette is unquestionably striking, especially when deployed on something like the Fantasie Laguna Ring with a truly alluring blue opal seemingly held captive by 18ct white gold set with blue sapphires. Also brimming with colour is the Fantasie Jumble Jungle Ring, ambitiously combining 18ct white gold, brown diamond, garnet, pink sapphire, pearl, jade and coral. Next to Jumble Jungle the Fantasie Night Ship earrings permeate delicate Eastern sensation with the simple use of brown diamond, orange diamond, sapphire, emerald and agate to once again create a fantastical narrative in so small a piece, the stones adorning the sales of small ships as they sail through the clean black night, Yue utilising the settings to imaginative effect.
Meticulously sculpted and adorned with diamond pavé, each piece expresses the wry humour underlying this collection; exuberant, enjoyable, and certainly brimming with a wealth of colour and craftsmanship, Wendy Yue's Fantasie collection for Annoushka is more than aptly named.
Fantasie 18ct white gold, diamonds, sapphire, garnet and pearl Retiring Rose ring by Wendy Yue for Annoushka £7,600.

Wendy Yue and Annoushka's Fantaise 18ct white gold, diamond and sapphire Madgascan Forest pendant.

Fantasie 18ct white gold diamond blue sapphire and opal Laguna ring by Wendy Yue for Annosuhka - £12,700

18ct white gold diamond garnet sapphire pearl coral and jade Jungle Fantasie Jumble ring by Wendy Yue for Annoushka - £12,000

18ct white gold diamond sapphire and emerald Fantasie Night Ship earrings by Wendy Yue for Annnoushka (£9,200).

18ct white gold, diamond, sapphire, and garnet Fantasie Diving Dragonfly earrings by Wendy Yue for Annoushka - £7,200

18ct white gold, diamond, sapphire, and green garnet Fantasie Cat Cage ring by Wendy Yue for Annoushka - £9,900

18ct white gold, diamond, sapphire, and garnet Fantasie Garden Party bangle by Wendy Yue for Annoushka - £38,800

Phosphosiderite Fantasie Sherbet Bow earrings by Wendy Yue for Annoushka in 18ct white gold, with diamonds and sapphires.

18ct white gold, diamond, sapphire garnet, jade, and tourmaline Fantasie Dusty Rose ring by Wendy Yue for Annoushka - £15,500

18ct white gold, diamond, sapphires, and green garnet Fantasie Madagascar Retreat bangle by Wendy Yue for Annoushka.

18ct white gold, pearl, diamond, sapphires, garnet, jade and tourmaline Fantasie Perilous Pearl ring by Wendy Yue for Annoushka - £13,500