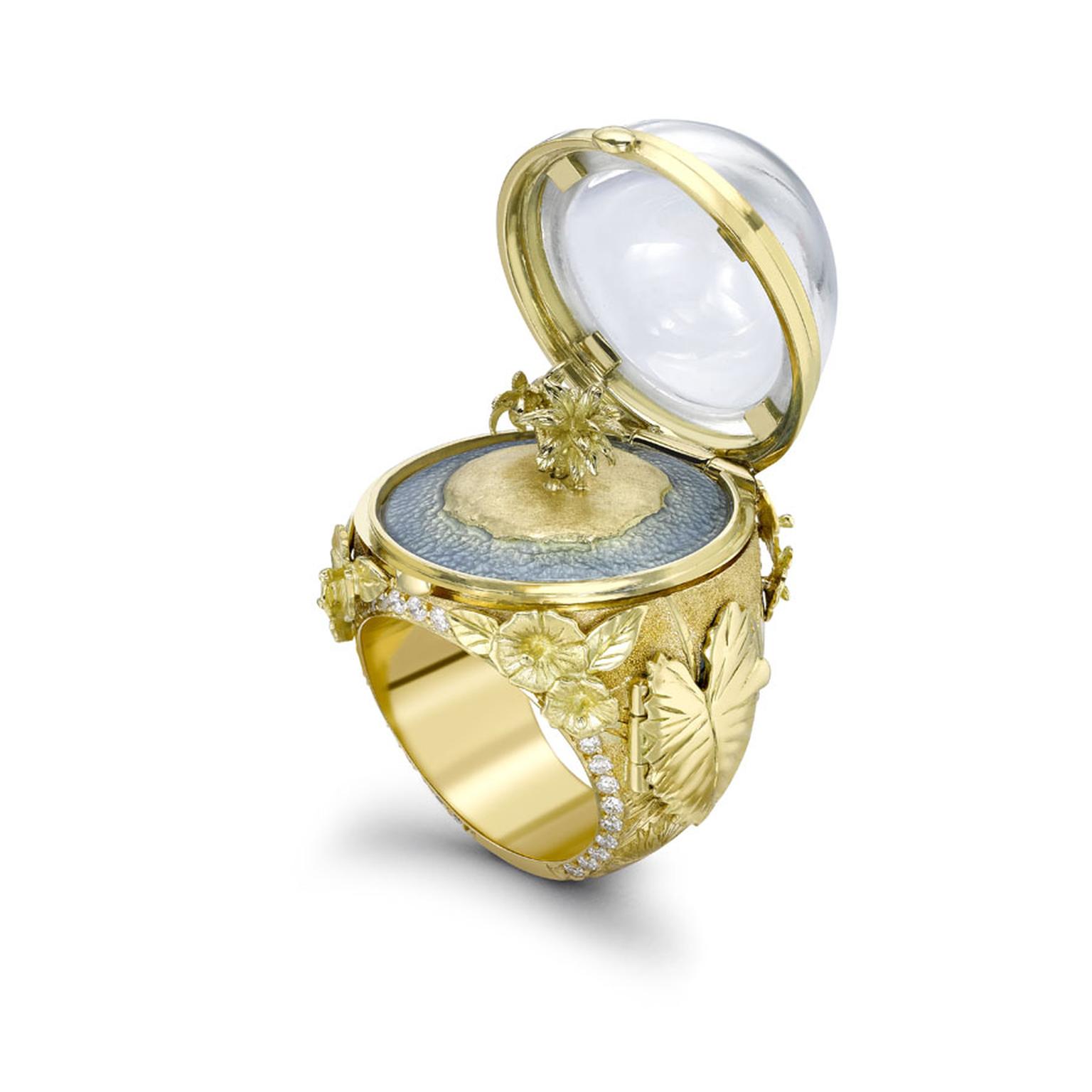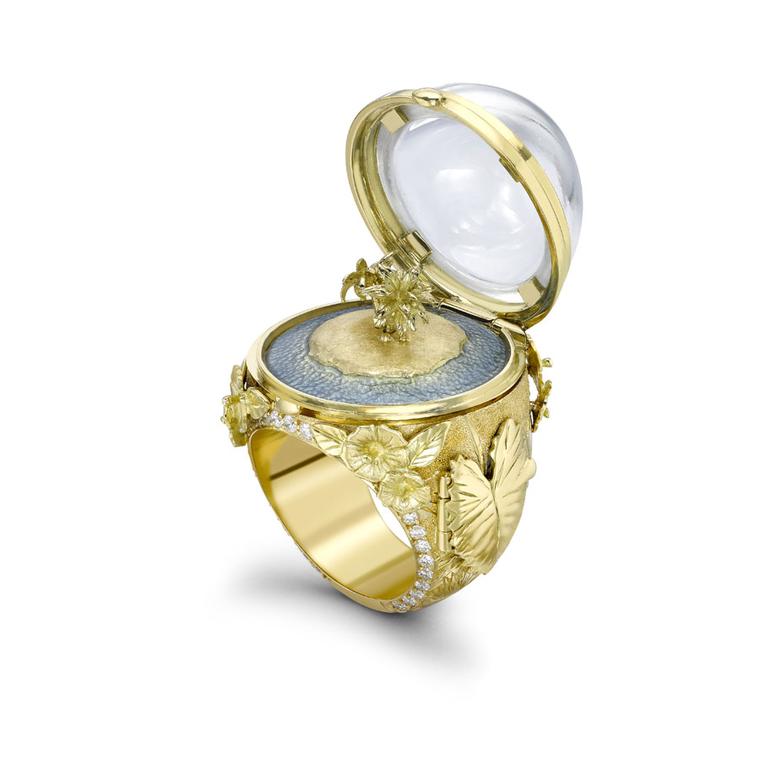 Theo Fennell's flagship boutique on the Fulham Road in London is a sparkling window into the world of this one-of-a-kind designer. On my last visit, the store was showcasing the winners of this year's Theo Fennell RCA Awards, with glass display cabinets filled with everything from solid-gold moulds of body parts to alchemic jewels created from solid perfume.
While Theo Fennell's jewels are crafted using traditional materials, they are anything but traditional. Fennell has a wildly inventive imagination, hence his close affinity with the Royal College of Art. Venture further into the boutique and you will find skulls covered entirely in pavé diamonds, forest creatures reinvented as colourful pendants, hummingbirds carrying precious cargo in their claws and, in the darkened back room, a fantasyland filled with Theo Fennell's Masterworks - one-off jewels so distinctive they could be designed by no-one else.
Fennell's Masterworks are so evocative they have the power to transport you to a different time or place - none more so than his Tropical Paradise Opening ring. Like skulls, bees, birds and religious iconography, the boundless biodiversity found at the equator is a theme close to Fennell's heart. From every angle, the ring offers a new tropical scene to marvel at, with tiny hand-enamelled paintings of parrots and flamingos hidden behind palm leaves, tropical flowers engraved in gold and a rock crystal dome that opens to reveal a tropical island, complete with a miniature palm tree.
This kind of tropical oasis is a theme that Fennell returns to often in his designs, perhaps because these jewels offer the same feelings of escapism that you get when you holiday in more exotic climes. Or perhaps it's because Fennell is so often inspired by his materials - gemstones in particular. Knowing the way his mind works, I have no doubt that he took one look at the remarkable 44.86ct blue topaz in the Under the Sea ring and felt compelled to place it in an ocean setting, resembling a piece of sunken treasure.
Fennell would then turn to his Moleskin notebook full of sketches he has made while on his travels or pondering a scene that has captured his imagination. A sketch could spark an idea and, together with the stone, the form of the jewel takes shape in Fennell's mind. After sketching the final design, the piece will then be made by hand in the workshop on top of the Fulham Road boutique.
This magical underwater world is also depicted on a pair of Oceania Drop earrings, the sea creatures so perfectly realised you could be peering through the glass of a tropical aquarium. Topped by two vivid blue topaz, Fennell offers another surprise: the drops can be removed and the topaz studs worn separately, should you not be feeling in a suitably tropical mood.
I have tried these jewels on and, while undeniably precious, they are incredibly fun to wear. On those too frequent rainy and overcast days in London, I would never grow tired of opening the lid of my ring to take a peek at that little golden palm tree.
Theo Fennell's Oceania Drop earrings in yellow, white and red gold depict a world beneath the sea. The blue topaz and diamond studs can be detached and worn separately (£21,500).

Hidden behind beautifully crafted gold palm leaves are hand-enamelled scenes of tropical parrots and flamingos.

A design for which Theo Fennell has become famous, the Tropical Paradise Opening ring in yellow gold is decorated with hand-engraved flowers and diamonds (£POA).

The star of Theo Fennell's Under The Sea ring is a vivid 44.87ct topaz, surrounded by white diamonds.

Inspired by the magical underwater world, Theo Fennell's Under The Sea ring is decorated with aquatic animals in white, yellow and rose gold (£21,000).

The lid of the ring opens to reveal a tropical island with a miniature gold palm tree.