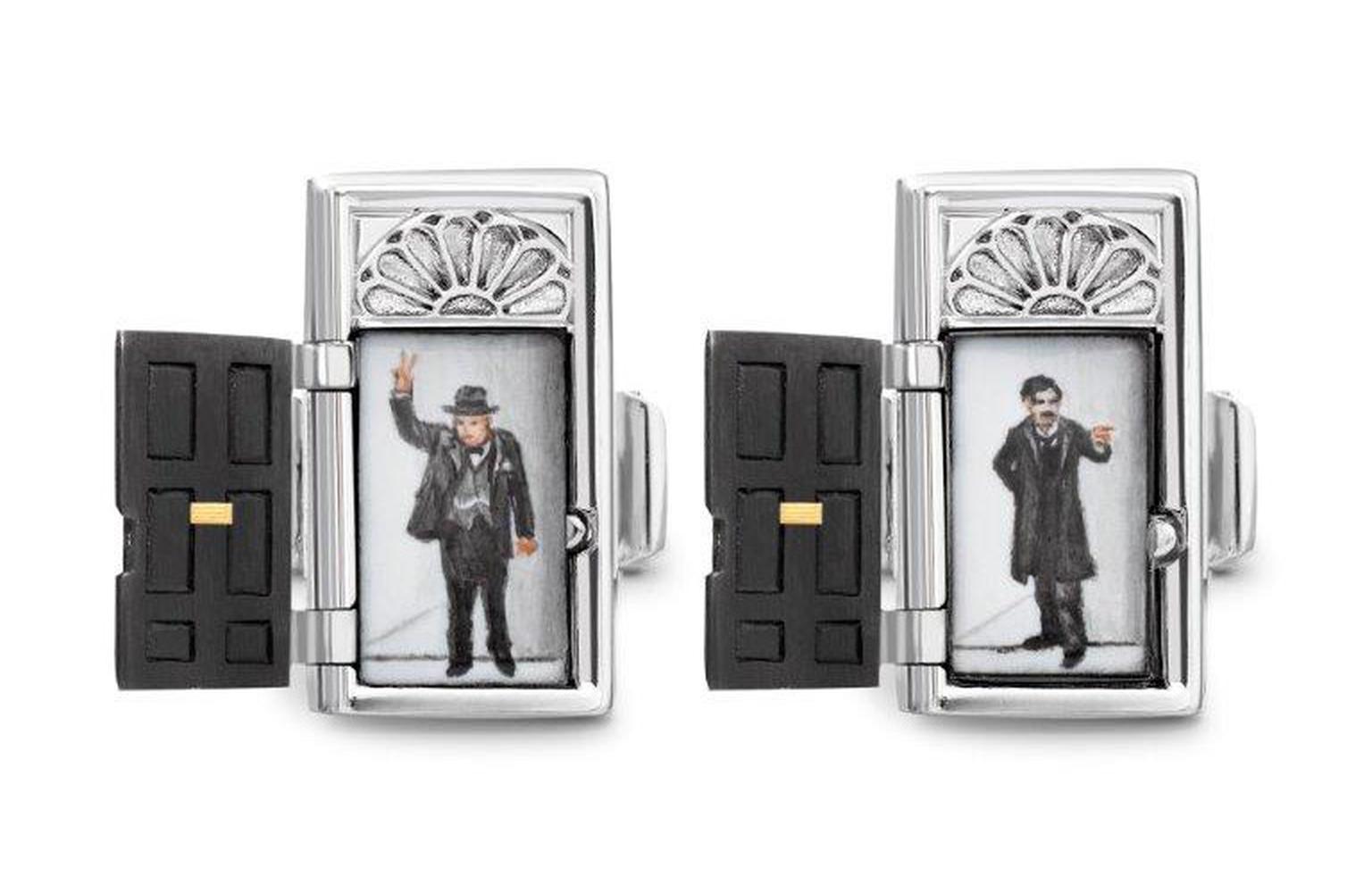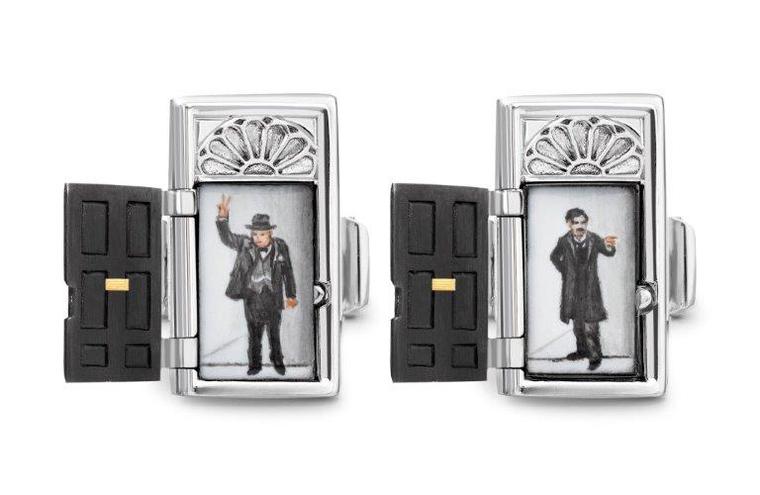 Theo Fennell's latest cufflinks depict the door of no 10 Downing Street in miniature, which opens to reveal portraits of the wartime leaders Sir Winston Churchill and David Lloyd George. Iconic figures in British history, their idiosyncrasies - Churchill's black Bowler hat, bowtie and V for Victory hand signal; Lloyd George's pointing finger and well-groomed moustache - have been captured on tiny rectangles of enamel, hand-painted by Fennell's master enameller.
Despite being bitter political rivals, there was a genuine friendship between Churchill and Lloyd George that spanned both World Wars. Yet you are more likely to see their portraits hung in a gallery than you are on a pair of cufflinks, which is so typical of Fennell. A master of surprise and an inspired storyteller, Britain's most consistently original jewellery designer is launching unique cufflinks such as these all the time, featuring everything from an astronaut floating in space to a seductive silhouette of a woman, spied through a keyhole.
Many of Fennell's cufflinks are hand painted to an exceptional level of detail, which is one of the reasons why they are so popular. One pair features 1950s racing cars, viewed through a rear view mirror, but Fennell prefers his customers to see them as a blank canvas, waiting to be filled with a design of their choice. Clients can commission a pair featuring a tiny painting of their very own car, complete with a personalised number plate.
Fennell has designed cufflinks in the shape of goggles, binoculars, a keyhole, a porthole and a gun sight, all of which can be personalised by Fennell's dedicated enameller, who is responsible for painting all the tiny scenes. Two designs - the Scuba Diving and Moon Safari cufflinks - have been crafted using a process called Essex Crystal, which was popularised in Victorian England. An intricate art that involves cutting the crystal into a cabochon shape, carving a scene on the flat side of the crystal and filling it in with layers of paint, the end result is an animated image that appears to jump out at you in 3D.
The beauty of Fennell's hand-painted enamel cufflinks is that you can commission Fennell's enameller to recreate any scene you want. If you've ever had a birthday looming and wrestled with the question "what do you get the man who has everything?", a pair of personalised Theo Fennell cufflinks could be the gift you are looking for.
Theo Fennell Essex Crystal Scuba Diving Cufflinks (£10,500).

Theo Fennell Keyhole Swivel Cufflinks in white gold and diamonds, featuring two hand-enamelled scenes (£11,500).

Theo Fennell's Binocular Horse Racing Cufflinks have been painted by hand on enamel (£7,500).

Theo Fennell's hand enamelled 1950s Race Car Rear View Mirror Cufflinks (£8,250).

Theo Fennell Essex Crystal Moon Safari Cufflinks (£9,850). Essex Crystal is a process where rock crystals are carved and engraved from behind and then hand painted to give a 3D appearance.

Theo Fennell Periscope Cufflinks in white gold feature hand-painted enamel scenes of the view through a submarine periscope (£7,250).

Theo Fennell's No 10 Cufflinks feature miniature black rhodium-played doors that open to reveal the two wartime leaders Sir Winston Churchill and David Lloyd George, who were friends despite being political rivals.

Theo Fennell Ski Goggle Cufflinks in white gold, hand enamelled with mountain and snow scenes (£8,250).

Theo Fennell Gunsight Cufflinks (£9,500) in white gold, with hand-painted enamel scenes.

Theo Fennell No 10 Cufflinks in white gold featuring doors that open to reveal hand-painted enamel portraits of Sir WInston Churchill and David Lloyd George (£9,950).