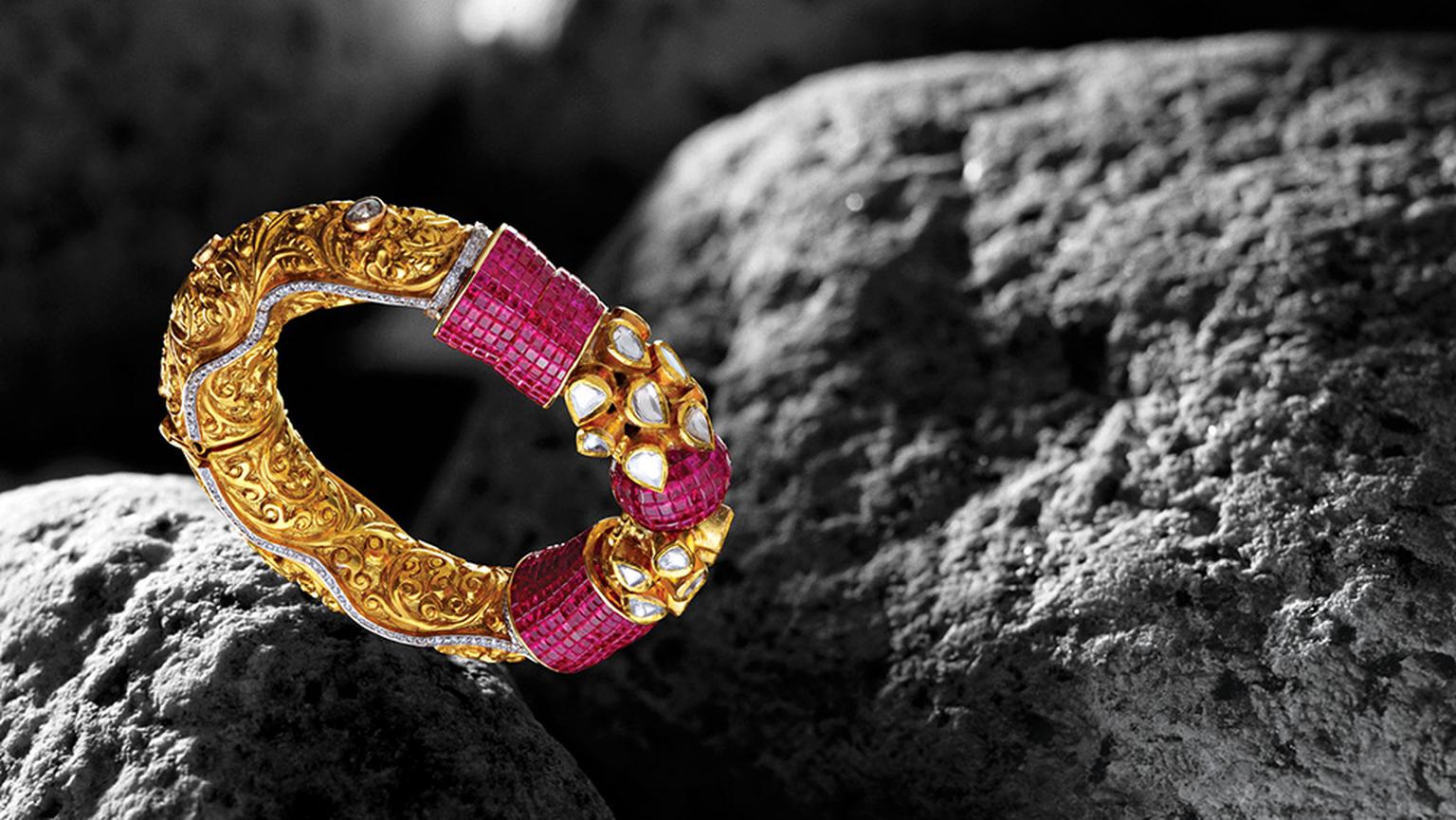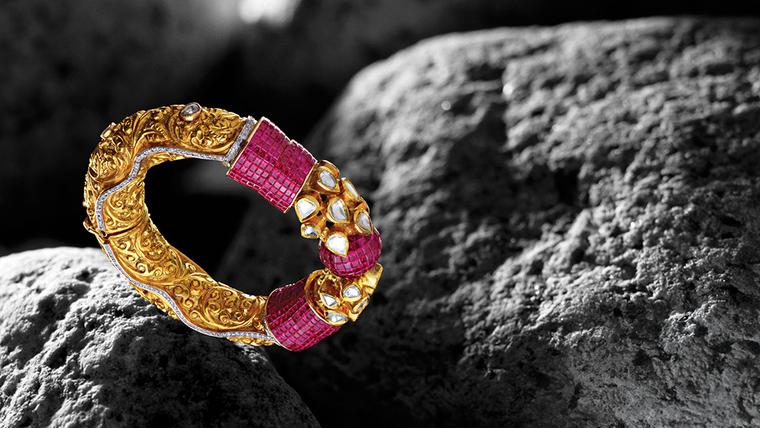 Text by Preeta Agarwal
Patronized by Rajasthan royalty for well over half a century, the latest collection from Birdhichand Ghanshyamdas Jewellers continues the story of a family's passion for innovation in Jaipur, the capital of Rajasthan. Among the oldest jewellery houses in the region, Birdhichand Ghanshyamdas has earned itself a reputation for its classic jewellery, which combines beauty, elegance and imagination. The new collection, Adrishya ('invisible' in Sanskrit), uses a new gem-setting technique to dazzling effect. By hiding the gold in which the gems are set, the ravishing beauty of the precious stones becomes more pronounced. 
The idea first began to take shape when Mr. Yash Agarwal, BG Jewels' creative director, noticed that a ring worn by one his relatives constantly hurt his finger due to the metallic element. 'Adrishya uses the technique of hiding gold in the jewellery while making the precious stones visible. It is a perfect blend of heritage and modernity with both gold and coloured stones used in a beautiful style. Nature was a constant source of inspiration,' says Agarwal. Each of the designs is lined with seamless stacks of precious stones, with no gold visible between each gem. 
The style is clean and crisp, and while many of the designs will go with traditional outfits, most are very versatile and can be worn with just about anything. One of the masterpieces is an exquisite bracelet, bejewelled with light yellow and white diamond polkis, combined with pink rubies and white diamonds in an invisible setting. 
Birdhichand Ghanshyamdas has an inimitable style, playing with colours and stones to create pieces that are unique and distinctive. Whether it's the bold pink sapphire ring or blue sapphire earrings, vibrant gemstones are the recurring theme. The full collection includes an array of necklaces, earrings, bracelets and rings in red rubies, blue sapphires, emeralds and yellow diamonds - dazzling to the eye and delightful to wear. 
Bridhichand Ghanshyamdas pear-shaped earrings with invisible-set rubies and polki diamonds, from the new Adrishya Collection

Bridhichand Ghanshyamdas long earrings with invisible-set rubies and polki diamonds, from the new Adrishya Collection

Bridhichand Ghanshyamdas bold ring with uncut diamonds, brilliant diamonds and invisible-set ruby top, from the new Adrishya Collection

Bridhichand Ghanshyamdas floral earrings with an uncut diamond and invisible-set blue sapphire flowers, from the new Adrishya Collection

Bridhichand Ghanshyamdas bold earrings with invisible-set blue sapphires and polki diamonds, from the new Adrishya Collection

Bridhichand Ghanshyamdas long earrings with invisible-set rubies, semi-precious carved flowers and a combination of uncut and brilliant diamonds, from the new Adrishya Collection

Bridhichand Ghanshyamdas long earrings with invisible-set rubies and a combination of uncut and brilliant diamonds, from the new Adrishya Collection

Bridhichand Ghanshyamdas floral earrings with invisible-set blue sapphires and polki diamonds, from the new Adrishya Collection

Bridhichand Ghanshyamdas bracelet with invisible-set rubies, traditional polki diamonds and embossed yellow gold, from the new Adrishya Collection