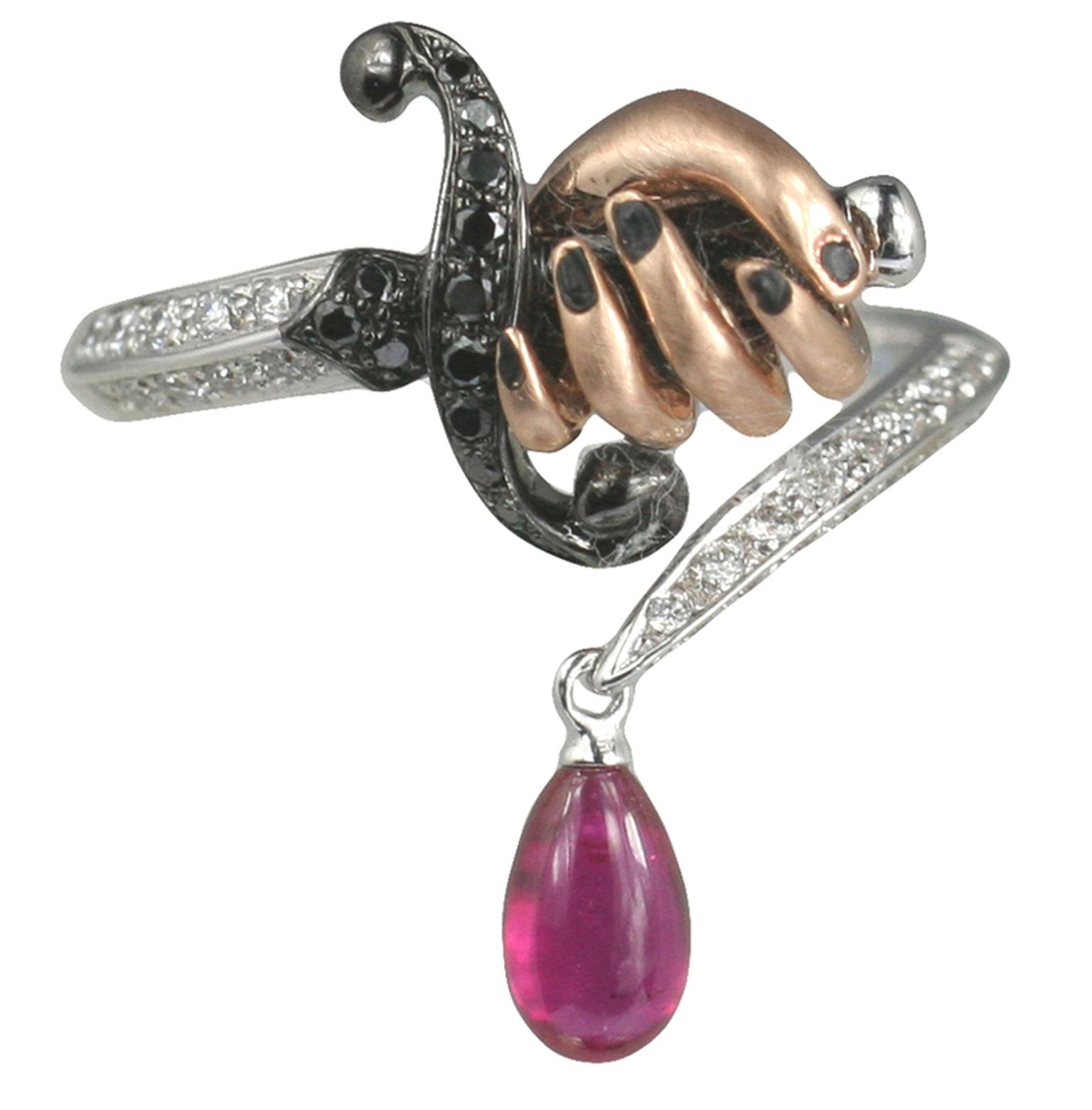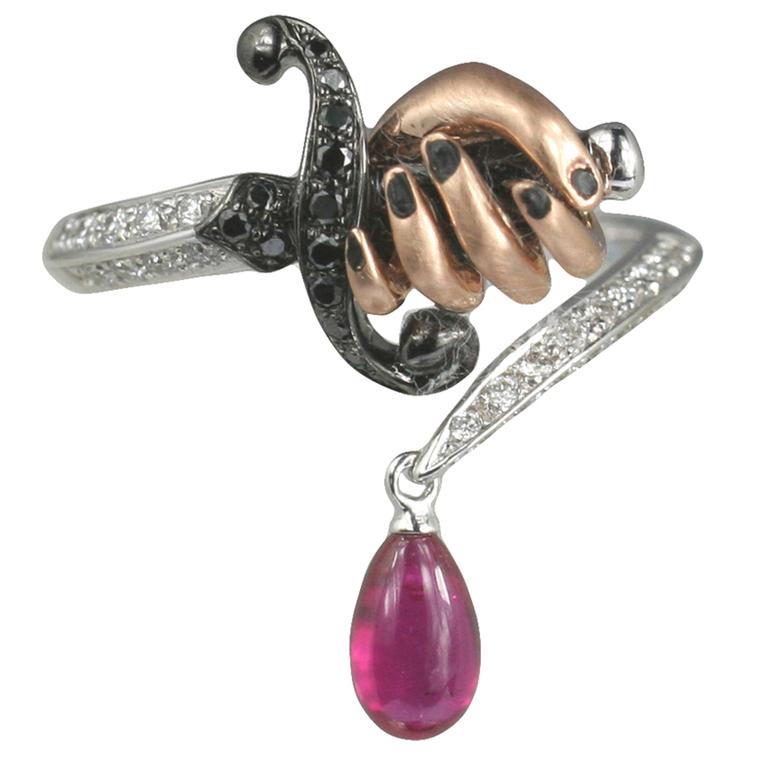 Stephen Webster never goes for the easy option when looking for inspiration for his jewels, and 'Murder She Wrote' is no exception. The underworld of evil doings of femmes fatales has set the tone for jewels that tell a tale of wicked ways of those evil ladies that populate the popular US TV series starring Angela Lansbury.
Smoking guns, secret compartments for stowing heart-stopping venom and poisoned apples are some of the artefacts of these infamous muses. I love the dagger ring that sits across two fingers, dripping a fresh drop of ruby blood. The "Bang" rings and pendants imitate the explosion of gunfire and shimmer daintily when picked out in diamonds.
The mood is fishnet stockings and turned up gabardines and high heels. More Lolita than hard-core Nikita. The Black diamond crucifix earrings may look correct and proper, but closer inspection reveals dagger sharp pointed ends.
From afar the jewels look like pretty sparkling gems, but get closer and each jewel weaves a tale of sinister intent. Webster captures in this collection how a superficial suburban idyll is tainted by the presence of women who are intent on revenge and destruction.  But the women and their weapons and methods of choice are dangerously attractive.
And that is the magic of Stephen Webster: he can make the darkest of deeds desirable. So glamorous gals of the underworld, your dream jewels await. Though I suspect we may see them on the fingers and necks of the good citizens of suburbia.
Stephen Webster. Murder She Wrote Amour-Dillo Ring set in black rhodium plated 18ct White Gold with Blue Sapphires and Black Pave Diamonds. Price from £19,000

Stephen Webster. Murder She Wrote Snap and Pop Ring set in 18ct White Gold with White Diamonds and Black Pave Diamonds. Price from £4,300

Stephen Webster. Murder She Wrote Cross Hoops set in 18ct White Gold with White and Black Pave Diamonds. Price from £4,300

Stephen Webster. Murder She Wrote Bang Stingray Cuff set in 18ct White Gold with Black Opalescent Crystal Haze Quartz and White Pave Diamonds with Black Stingray. Price from £12,400

Stephen Webster. Murder She Wrote Crystal Haze Bang Hoops set in 18ct White Gold with Hematite Quartz Crystal Haze and White Pave Diamonds. Price from £10,800

Stephen Webster. Murder She Wrote Poison Apple Ring set in 18ct Rose Gold with Pave Rubies and White Diamond detailing. Price from £11,250

Stephen Webster. Murder She Wrote Smoking Gun Necklace set in 18ct Yellow Gold with White Diamonds. Price from £2,550

Stephen Webster. Murder She Wrote Dagger Ring set in 18ct White Gold and 18ct Rose Gold hand with Black and White Diamonds and Red Garnet drop. Price clean £2,950