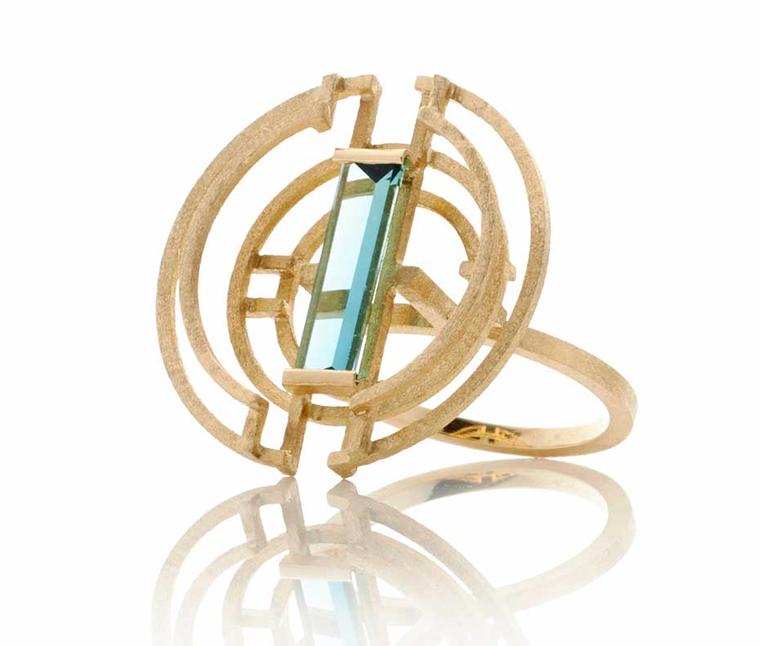 The British Fashion Council has announced the names of two new jewellery designers who will be displaying their work at Rock Vault this September.
Curated by Stephen Webster and running alongside London Fashion Week, Rock Vault is a showcase of some of London's most exciting fine jewellery talent. This year, Shimell and Madden and Beth Gilmore will be joining the line-up that includes returning designers Alice Cicolini, Hannah Martin, Imogen Belfield, Jacqueline Cullen, Jo Hayes Ward, Ornella Iannuzzi, Tomasz Donocik and Yunus & Eliza.
After graduating from Central St Martins and the Royal College of Art, London-based designer Beth Gilmour freelanced for a number of established jewellery brands before setting up her own studio in Bloomsbury. With a quintessentially British design aesthetic, her bold and contemporary pieces display an immaculate attention to detail and innovative touches such as colour-change gemstones. Beth regularly exhibits at London's Goldsmiths' Fair as well as international exhibitions such as the New York Gift Fair and Inhorghenta in Munich.
Bringing together art, craft and fashion, Shimell and Madden create three-dimensional jewellery inspired by science, nature and the concept of time. Emma Madden and Luke Shimell set up their London design studio in 2010, and their minimalist architecture-inspired jewels won Best New Design at the Goldsmiths' Fair last year. For them, creating a piece of jewellery is an experimental and labour-intensive process, drawing on Emma's craft and conceptual design skills as well as Luke's goldsmith experience. 
Between them, the 10 Rock Vault designers will be showcasing jewels made from a stunning array of materials, including Brazilian gemstones, Persian enamel, Whitby jet, pearls and complex, textured rocks. A mix of old and new design processes, from traditional artisan skills to digital technology, come together in what is set to be a thoroughly contemporary exhibition. 
The impact that participating in Rock Vault can have on a fledging designer's career cannot be underestimated. Following last year's exhibition, nine of the jewellers taking part were invited to show within the Stephen Webster ballroom at the Couture Show Las Vegas, putting their wares on the radar of US and international buyers.
Brazilian jeweller Fernando Jorge and Greek/French designer Melanie Georgacopoulos, who have now graduated from the programme, are also testament to the success of Rock Vault. Between them, they now count retailers such as Matches, Fortnum & Mason and Net-a-Porter among their stockists. 
Stephen Webster says: "After five seasons at LFW, three international and two UK retail events, Rock Vault is now established as the premier global mentoring initiative for the best emerging talent in the jewellery industry."
Caroline Rush, CEO of the British Fashion Council, adds: "Rock Vault has become an integral and much-anticipated part of the London Fashion Week schedule. The SS15 selection features 10 of the most inventive fine jewellery designers in Britain. Championed by Stephen with his passion and support for emerging talent, Rock Vault will help these designers realise their full potential on a global stage."
Imogen Belfield Jagged Gems Ring

Ornella Iannuzzi Coral Atoll ring in yellow gold, set with a black crystal Australian opal.

Beth Gilmour one-of-a-kind Diachroma earrings in yellow gold with bi-coloured citrines.

Shimmel and Madden Green Prism ring in yellow gold.