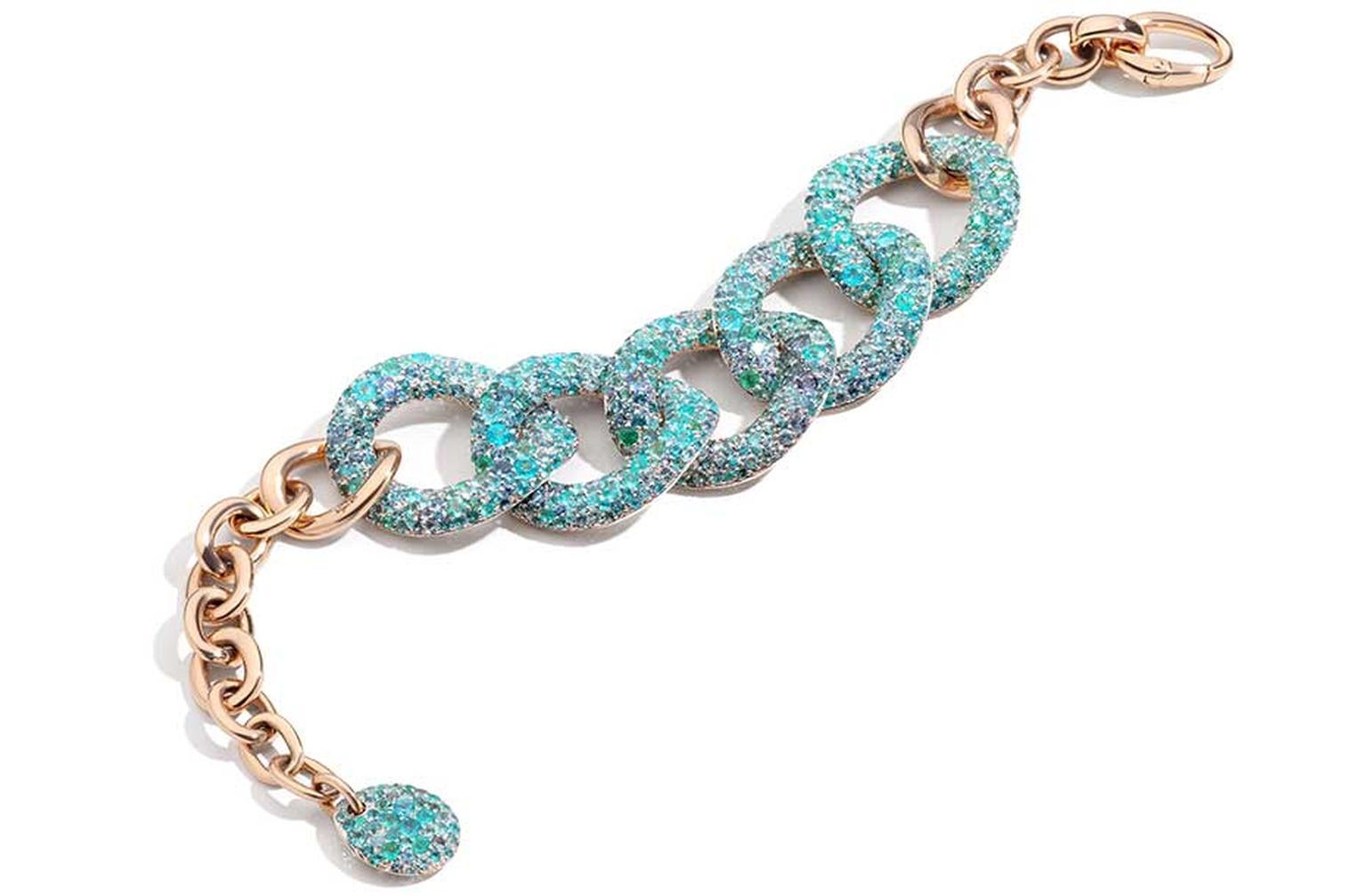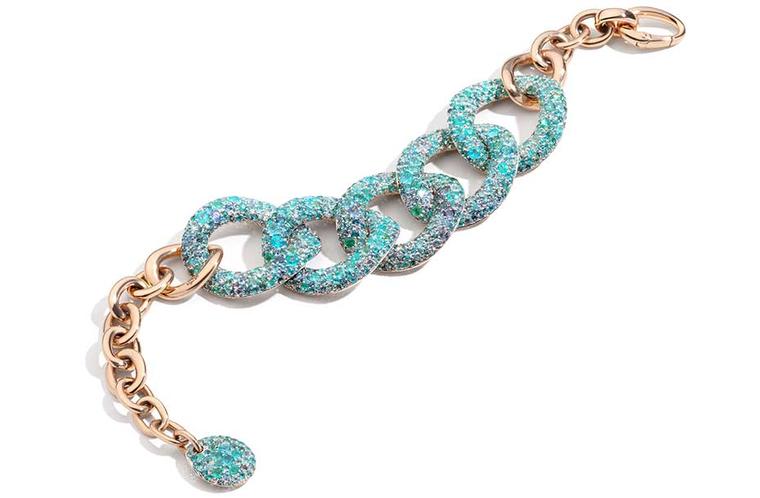 By Maria Doulton in London
Each year the Milanese jewellery house Pomellato adds extra sparkle to its offerings with the unveiling of a new Pom Pom collection. This series of one-off jewels is the haute couture, if you like, of the house's offerings. According to CEO Andrea Morante, Pom Pom is designed to "break the rules of traditional fine jewellery".
In fact, the Pom Pom range was originally launched in 2007 to celebrate the jeweller's 40th anniversary, but the idea was so good that it has since become an annual highlight. Created around colourful stones that appear to burst out of their settings, the jewels have an eccentric and extravagant feel. And as befits such creations, each jewel is a one-off and entirely made in the firm's Milanese workshops.
The theme this year is the colour of the tropics and its lush vegetation all expressed in the rich colours of enticing gemstones. Take the 11 new bracelets: each represents a shimmering colour of the rainbow and is crafted with an unusual form of pavé in which hundreds of irregular sized gems are set in a painstaking process by master craftsmen and gem-setters.
With their distinctive chain design, the bracelets are available in a choice of sapphire, tanzanite, purple sapphire, aquamarine, Paraiba tourmaline, tsavorite, emerald, canary tourmaline, mandarin garnet, red spinel and pink sapphire.
The Cameo gets an Oriental makeover with dragons carved into the cameo shell by craftsmen from Torre del Greco, the ancestral home of hard stone and shell-carvers near Naples.
Rings explode with colour and I am instantly drawn to the intricate pavé of degrade running from red to intense purple in the knot ring. The rushing foam of a jungle waterfall is captured in the tanzanite, sapphire and diamond ring that splashes colour across the hand.
The round cabochon cuts of aquamarine, chrysoprase and chalcedony, held in place by stylised claws, form the 'griffe' rings. With diamonds and other exotic gems fizzing away on the edge of the central stone, this exuberant look is reminiscent of Tropicalism, which was popular in the 1930s in Brazil - think Carmen Miranda in her earlier years.
By combining stylistic freedom with fine craftsmanship, Pomellato has created another innovative collection of one-of-a-kind pieces. Founded in 1967, the jewellery house now has more than 30 boutiques across the world.
Pomellato rose gold and ruby Pom Pom bracelet.

Pomellato Pom Pom collection ring featuring a light-blue cabochon surrounded by aquamarines and a pavé of brown diamonds.

Pomellato Pom Pom griffe ring featuring a chalcedony surrounded by tanzanites and diamonds.

Pomellato Pom Pom griffe ring featuring a green chrysoprase surrounded by cabochon emeralds and diamonds.

Pomellato Pom Pom ring featuring pink tourmalines and diamonds.

Pomellato Pom Pom ring with a pavé of spinels, tourmalines and sapphires arranged in an ombre sequence.

Pomellato Pom Pom Dragon ring in rose gold featuring a band covered with cabochon-cut rubies.

Pomellato rose gold and diamond Pom Pom bracelet.

Pomellato Pom Pom rose gold and tanzanite bracelet.

Pomellato Pom Pom Dragon necklace in rose gold featuring a background of rubies mounted in a large openwork cameo.

Pomellato rose gold gourmette Pom Pom bracelet featuring Paraiba tourmalines.