Most of the jewellery houses found on London's Bond Street or New York's Madison Avenue will have a slick website overflowing with brand history and dancing images, but not too many allow you to "add to basket".
Tiffany & Co. is different. Cruise round the luxuriously oversized images on the home page and while any one of them will have you instantly immersed in the full little-blue-box experience, with videos, sketches and inspiring quotes, more than a few of them will allow you to initiate the journey of one of those famous boxes to your door.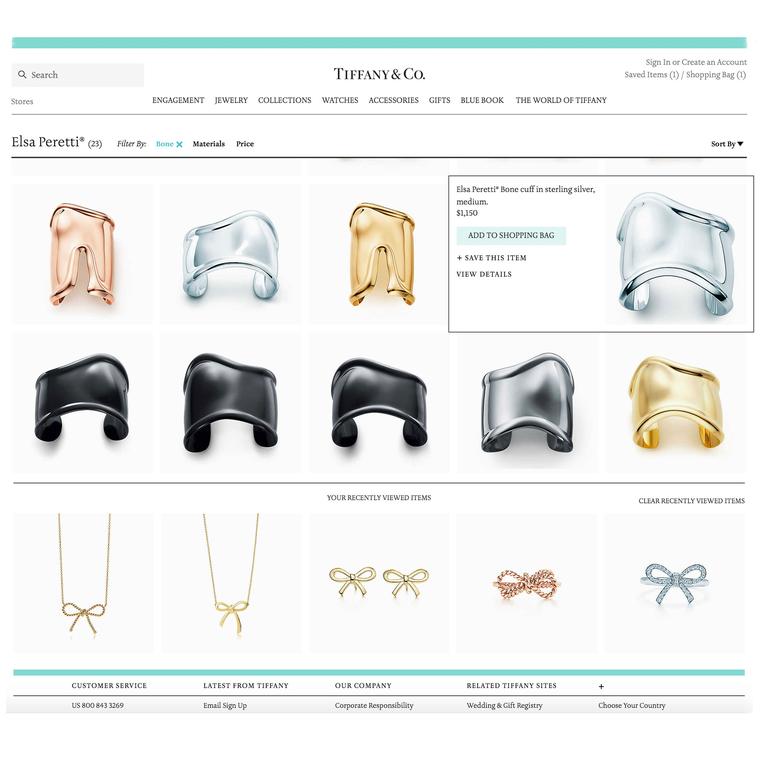 Online has become increasingly important to Tiffany - it has dedicated web stores in 13 countries, and is now ranked by research firm L2 as the most active watch and jewellery brand on Instagram - and shopping the site is a breeze. Just a few clicks is all it takes to get next-day delivery on anything from a pair of Elsa Peretti Bean earrings for £140 to a £79,000 platinum and diamond Victoria necklace. While Tiffany is certainly blazing a trail, there are plenty ready to challenge it with an increasing wattage of serious jewels for sale, lighting up the Internet.
Read more about iconic jewels from Elsa Peretti for Tiffany
One fine jeweller getting very serious online is British brand Boodles. It launched a transactional website three years ago and director James Amos says that since then things have moved rapidly. It is currently in the process of expanding its e-commerce team and will launch a brand-new site next year.
Boodles' top online sale to date was a necklace sold to an overseas first-time customer for £64,000, but Amos says that whether the final total at checkout is large or small, what is vital for every sale is to make sure it comes with the full Boodles experience.
"We often hand deliver to customers to make sure we meet them in person, and usually enclose a hand-written note with any purchase," says Amos. "We aim to stay true to our word about when we will call, and when something will be delivered, to ensure that a customer is never left waiting, which could emphasise the distance between us and them."
Discover the latest collection of Boodles jewellery here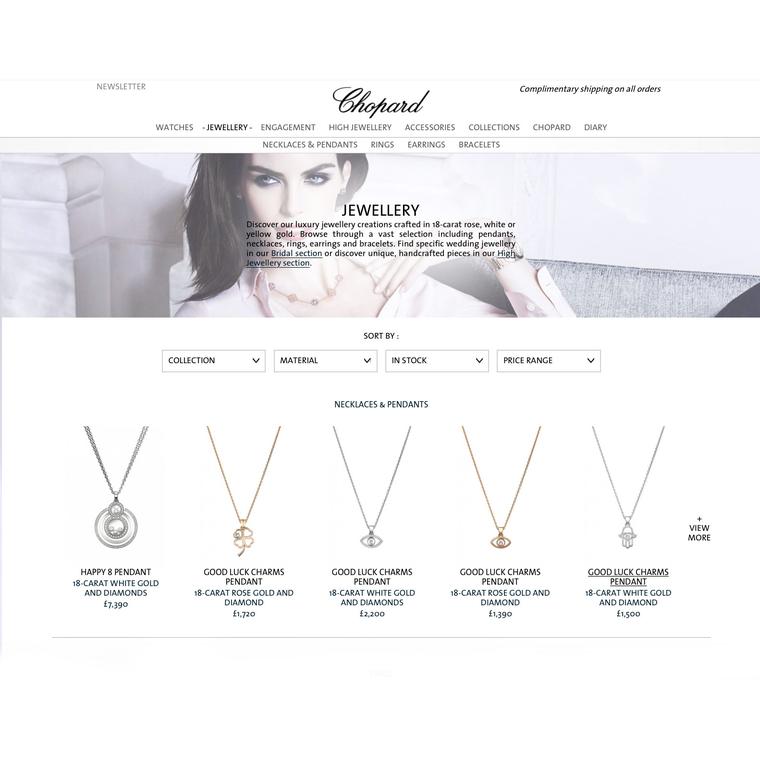 Chopard starting selling direct to the public online two years ago when it launched its US e-boutique, and has followed up this year with a European online store, ensuring both are fully optimised for a range of browsing devices.
Chopard says that more than 50% of its web traffic comes from mobile phones, with many people purchasing some of its more affordable lines via their mobiles. The brand adds that larger sales tend to be made through desktop computers, although "some important sales" have been made on tablets.
Read more about the new Chopard e-boutique in the UK
While many heritage brands are busy adding clicks to bricks, 77 Diamonds started on the internet, specialising in luxurious diamond jewellery that is competitively priced. "Looking for a deal and spending large sums are not mutually exclusive," says managing director Tobias Kormind.
"Some of our larger purchasers are also some of the most price sensitive." A recent major sale came in at just less than US$1 million, with the client flying to 77 Diamonds' showroom on London's Hanover Square to see the jewel before committing.
"Nothing will ever equal the experience of holding a sparkling, beautifully crafted piece of diamond jewellery in your hand," says Kormind. "We realised this barrier early on and were the first to use real product videos on hand and face models as well as a 360-degree spin."
Used to being at the cutting edge of luxury e-tail is Net-a-Porter, and while it is yet to introduce product videos to its jewellery department, fine jewels are becoming increasingly important to its clientele.
"Fine jewellery has grown substantially every season since its launch on Net-a-Porter in 2012," says fine jewellery buyer Sophie Quy, who travels the world in search of new and exciting jewels to appease Net-a-Porter's fashion-savvy audience of early adopters.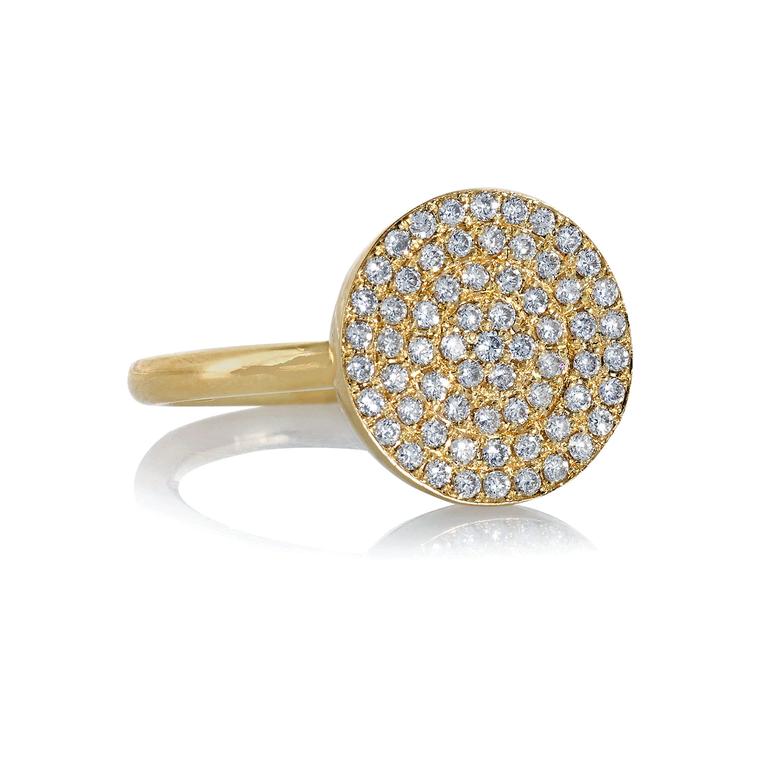 "Our customer comes to us for exciting new pieces, must-have brands and amazing classics from designers they have built emotional connections with. We've really focused on the brand mix and edit and have seen over 100% growth versus last year."
Farfetch, which acts as a portal to connect online shoppers with independent fashion boutiques all over the world, is also picking up on the buzz around fine jewellery and is greeting its rising sales with the personal touch.
"Fine jewellery pieces are usually specialised purchases made through the Farfetch Private Client team," explains buying director Candice Fragis. "They provide everything from personal shopping assistance to access to boutique-only exclusives and products before they are live on the site."
Fragis says the most popular destination for Farfetch fine jewellery packages is the US, which accounts for more than half the sales, and this is a country truly embracing jewellery e-tail, with a pocket of exciting independent online designer jewellery stores emerging. Type any of the following into Google for a guaranteed hit of jewellery lust: Ylang23, Stone & Strand, Twist Online, Plukka.  
But it's not just new jewels vying for your attention online - the antique market is embracing the digital age too. While the LAPADA Association is about to launch a site showcasing the safe contents of its 50 jewellery dealers, 1stdibs, which works in a similar way to Farfetch, is facilitating the sale of 15,000 antiques each month through dealers from 17 countries.
"Jewellery prices on 1stdibs range widely, from £60 for a pair of signed Givenchy costume earrings to millions of pounds for Harry Winston diamond and emerald earrings," notes Cristina Miller, senior vice-president of dealer relations, adding that jewellery is one of its fastest growing categories, up 110% on last year and now representing 18% of its total sales.
The world of fine jewellery, old and new, has never been so accessible, with thousands of designs just a swipe and a tap away. The surf is most definitely up.   
For more on the subject, read Vivienne Becker's article in How to Spend It