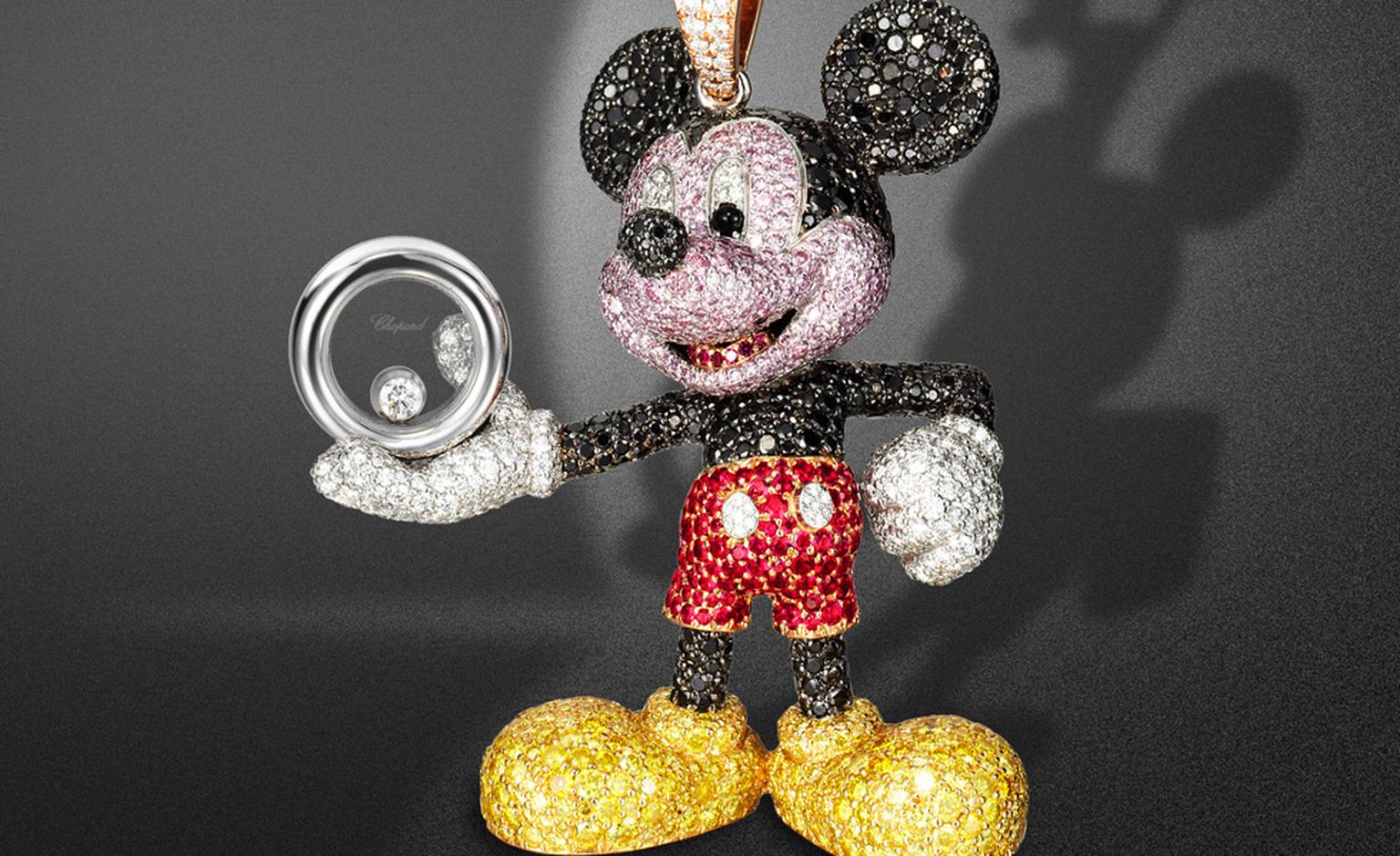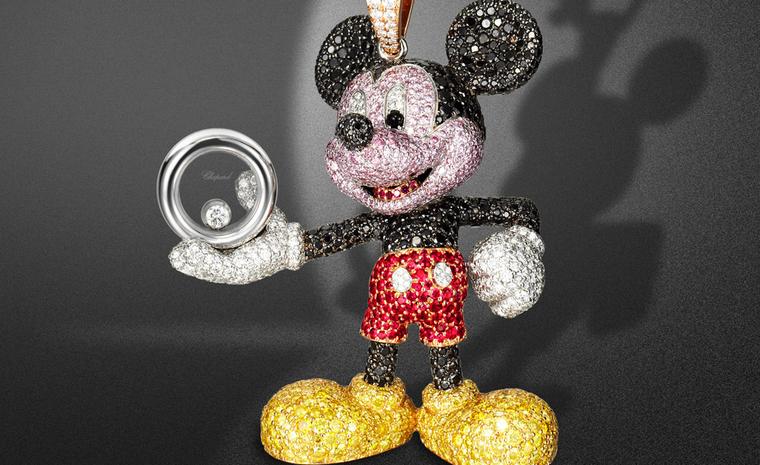 Serious fun to be had with Chopard's Happy Mickey collection launched in London showing the at 80, Mickey is still on sparkling form. Chopard has always had a playful approach to jewellery and the Happy Mickey collection is no exception. The face of the famous little mouse sparkling with black and white diamonds twirls around in pendants and watches and his famous three circle silhouette decorates bracelets, earrings and pendants.  At the launch event at the Electric Cinema in Portobello Road, London, Caroline Scheufele, Co-President of Chopard presented the collection. "We have always been associated with the cinema and celebrities so why not Mickey Mouse, who is the most famous and also immortal celebrity?," says Ms Scheufele, aptly dressed in a Mickey Mouse t-shirt and wearing round her neck, the hefty entirely diamond and ruby set Happy Mickey pendant that sells for over £100,000. Mickey's jaunty shoes are paved in yellow diamonds. "Why should high jewellery always be serious?" asks Ms Scheufele with a smile. "After making so many animal-themed jewels," says Ms Scheufele, "Mickey was not so difficult. But there are so many rules to follow when dealing with Mickey. He comes with pages and pages of instructions. You have to be particularly careful with his nose." Walt Disney spokesperson Carla Bowden explained to me that entertainment company cherry-picked Chopard after researching the jewellery sector and a visit to BaselWorld Fair. Ms Bowden says that Chopard had the reputation and the right values to be the chosen partner for this precious recreation of the world's favourite mouse. Eva Herzigova and Jemma Kidd turned up with their posse of little children and they all put on their velvet Mickey Mouse ears, provided at the entrance, while the children watched vintage Disney cartoons and cut a Mickey Mouse cake.
Happy Mickey pendant. In white, rose and yellow gold set with black, white, yellow and pink diamonds, rubies, onyx cabochons eyes, with one mobile diamond; on a white gold chain set with blue and pink sapphires, emeralds, rubies and amethysts. POA

Chopard Happy Mickey earrings in rose or white gold, each with a mobile diamond.

Chopard Happy Mickey pendants in rose or white gold, each with a mobile white and black diamond and ruby.

Chopard Happy Mickey watch in stainless steel with diamond set bezel, mother of pearl dial and a mobile Mickey set with black and white diamonds.

Time to raise the curtain for Chopard's Happy Mickey collection in association with Disney.

Mickey Mouse is now 80 years old. A poster from 1937

Beaming out, Mickey Mouse in his youth.

An early sketch of Mickey Mouse and the Queen of Hearts.

An early sketch of Mickey Mouse and Minnie in a propeller plane.

Caroline Scheufele & Alexa Chung

The Electric Cinema

Donna Air dons ears before indulging in a cupcake at Chopard's launch of the Happy Mickey collection in London.