South Sea pearls with a lustrous colour akin to spun gold are among the rarest and most sought-after gems in the world.
While pearls are traditionally white in colour, these golden nuggets bring a warmth and opulence to pearl jewellery that will make you marvel at the beauty and power of nature. Produced mainly by the gold-lipped Pinctada maxima oyster in the warm waters off the coasts of Australia, Indonesia and the Philippines, their colour is completely natural and can range from light champagne to the most desirable - and rarest - deep golden hue.
Read more about Australian pearls
Cultured in sheltered environments where the pristine water is kept at a constant temperature, each pearl can take 18-30 months to grow. Like all South Sea pearls they tend to be larger than other pearl types, with an average size of 13mm, although some golden pearls measuring 20-30mm have been found.  
From the classic lines of the golden South Sea pearl range of Boodles jewellery, to the large golden sphere bursting out of Solange Azagury-Partridge's rather scarily named Ball Crusher pearl ring, the creative possibilities ignited by the lustrous gem are virtually endless.
Only the very finest gems qualify for inclusion in the coveted Blue Book range of Tiffany jewellery, and the 2015 instalment includes this pearl necklace featuring honey-hued South Sea pearls held together with a tanzanite-embellished clasp. Pearls that are nothing short of spectacular are also what we have come to expect from Autore jewellery and, once again, the Australian brand delivers with breathtaking pieces such as the Orange Blossom cuff, which won the Couture Design Award this year.
See more winners from the 2015 Couture Design Awards
Another Australian jewellery designer, Margot McKinney has incorporated heart-shaped golden pearls into her typically colourful jewels bursting with rainbow-hued gemstones such as rubies, tsavorites and sapphires. The mesmerising glow of golden South Sea pearls is also perfect for simple, elegant settings that emphasise their warm, shimmering beauty, such as these pearl earrings by Winterson.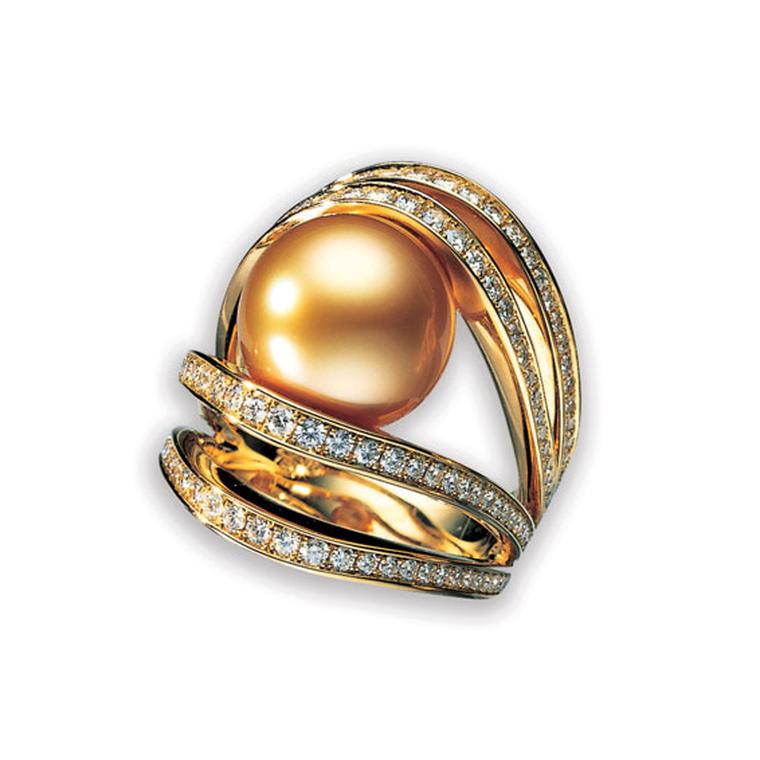 In her new Twist collection, Melanie Georgacopoulos has contrasted the gilded pearls with cool-hued white gold, adding a smattering of white and yellow sapphires for good measure, while German jewellery designer Brigitte Adolph combines them with pale, aquatic green prasiolite stones in a pair of pearl earrings that have future heirloom written all over them.
Japanese pearl expert Mikimoto has also created some stunning golden South Sea pearl jewellery, including the awe-inspiring World of Creativity collection that combines the finest pearls with yellow gold and white diamonds.
Read more about pearl jewellery that won't break the bank
The old saying "All that glitters is not gold" may ring true but, in the case of golden South Sea pearls, these treasures of the sea are more exquisite than any precious metal.