When Frédéric Boucheron first opened his jewellery shop in the Palais Royale arcade in 1858, just across from the Louvre, he couldn't help but notice the ivy slowly overtaking every inch of the handsome buildings. While the Tuileries garden down the road exemplified nature under control, with their neatly clipped hedges creating a geometric formality, Boucheron was fascinated with the wilder side of nature - that which refused to conform.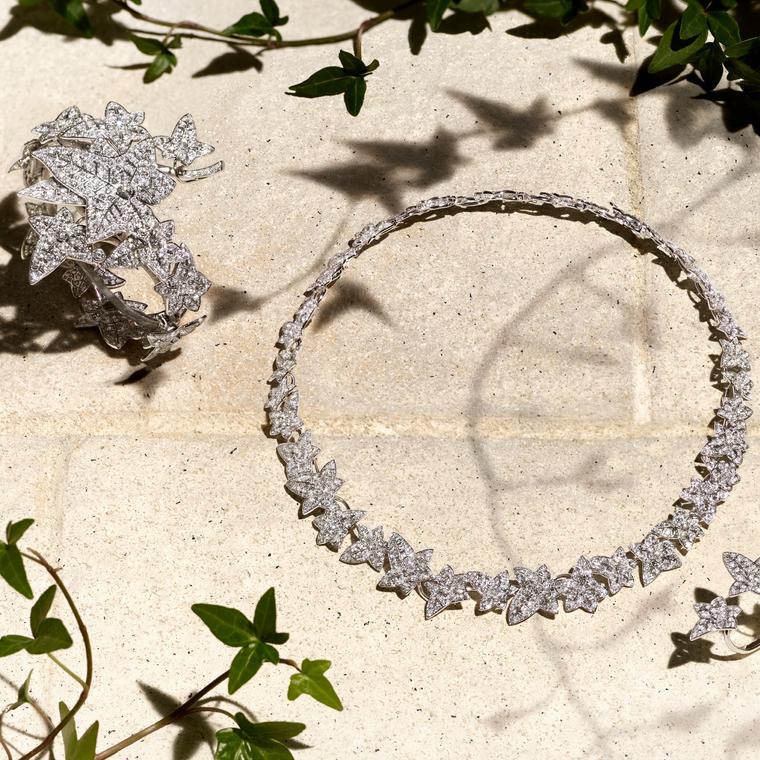 And it is this all-conquering, untamed nature that is celebrated in Boucheron's latest Lierre de Paris - or Paris Ivy - jewels. The seven new designs were presented at Boucheron's newer domicile, which the maison has called home since 1893. On display were historical jewels reminding us of Boucheron's long-standing fascination with nature's less-restrained side, including a necklace made up of freeform vine leaves and a charming Lily of the Valley tiara dating from 1893 that resembles freshly picked flowers.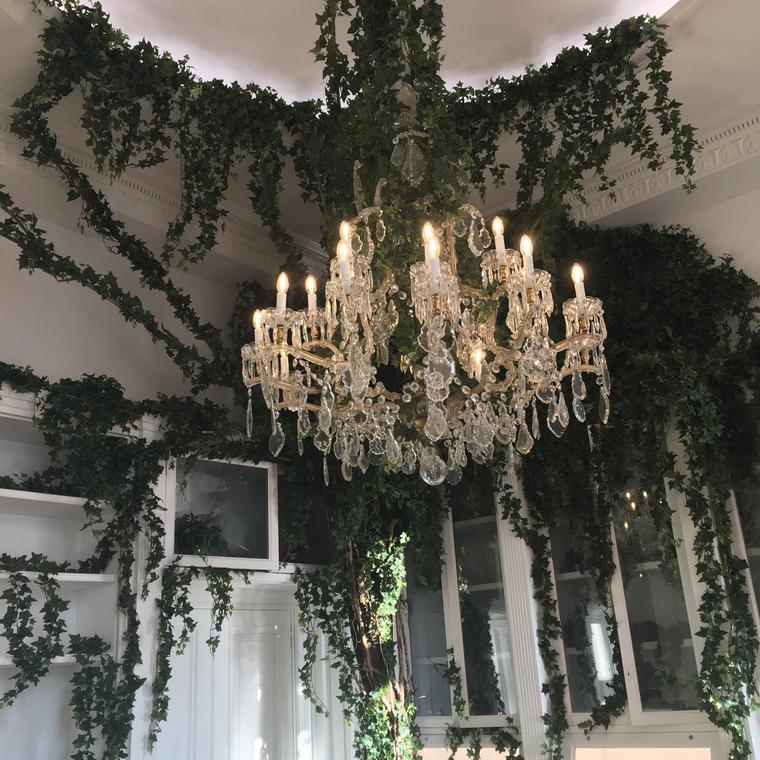 And chez Boucheron, nature has indeed triumphed. As if finally having conquered Place Vendôme, the walls were draped in swags of luxuriant ivy, ferns buckled and displaced the ancient wooden floorboards, and indomitable tendrils invaded even the chandelier.
This spirited embrace of nature was most gloriously celebrated in the Lierre de Paris necklace, below, the masterpiece of the collection. Nine ivy leaves sprouting from a realistic tendril encircle the neck as if it has stealthily crept up on the wearer. Each diamond-laden leaf is set 'en tremblant', which thanks to hidden miniature springs, allows the jewel to shiver with the slightest movement, just like real ivy moving in the breeze.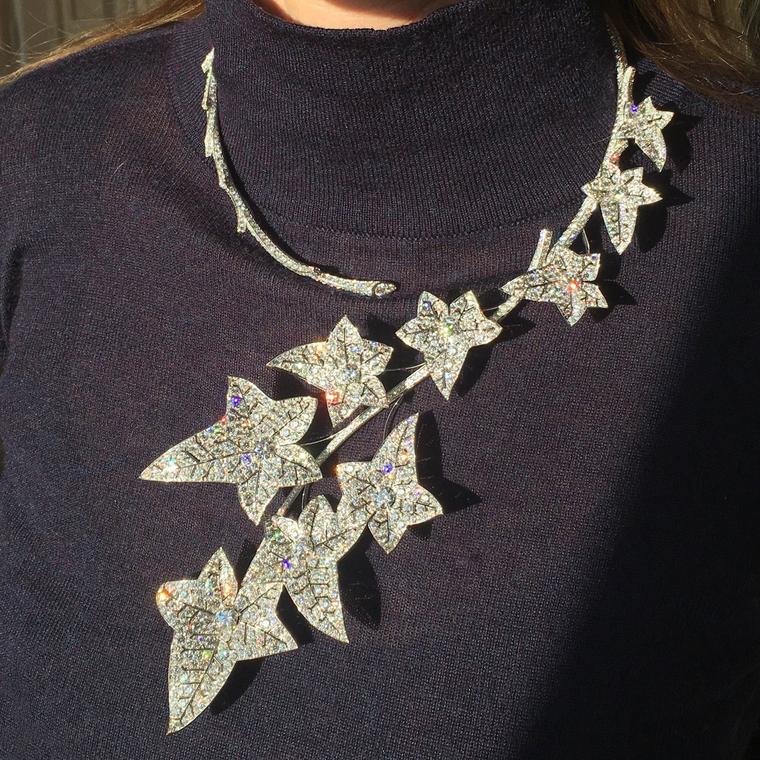 The necklace is in the form of an asymmetrical question mark, another Boucheron speciality since the end of the 19th century. The open form allows for a dramatic sweep around the neck, its solid structure offset by the movement of the individual leaves.
Adding to the lightness of the piece, the gold is worked using the 'ajourée' technique, leaving space in-between the frame to allow light to shine through. Something I easily tested against the bright sunlight streaming in through the floor-to-ceiling French windows on the first floor of 26 Place Vendome, overlooking Napoleon's statue.
The collection also includes a smaller necklace, a ring, a larger, hand-spanning ring, a brooch pendant and earrings, all made with the same meticulous attention to detail . There are also two secret watches, the larger of the two, below, coiling three times around the wrist.
A more traditional white gold automatic wristwatch called the Epure Lierre de Paris also joins the collection, with diamond ivy details on either a black or white mother-of-pearl dial. And for watch aficionados, there is a tourbillon version, the dial of which is set with rough and polished diamonds. 
Mentioned in this article: