When you see the exquisite range of Boghossian jewellery, you'll wish that you had been good all year long in order to convince Father Christmas that you really do deserve a diamond like this. Because once you have seen such breathtaking jewels, they stick in your mind and never let you forget them.
But for some lucky women, there may well be a parcel under the tree wrapped in Boghossian ribbon, particularly if you make sure that he sees this article or start dropping little hints.
1. Saute d'Ange diamond bracelet
Le Ballet Oriental is the newest collection of Boghossian jewellery and if you are stuck for Christmas gift ideas, the Saute d'Ange diamond bracelet fits the bill perfectly. Like an exotic and bejewelled tendril, it twists around the wrist and then over the top of the hand to fasten on the pinkie finger. This very modern marquise-cut diamond bracelet covers the hand in rippling gemstones, while at the centre sits a resplendent 7.38 carat diamond.
Read more about Boghossian's new Le Ballet Oriental collection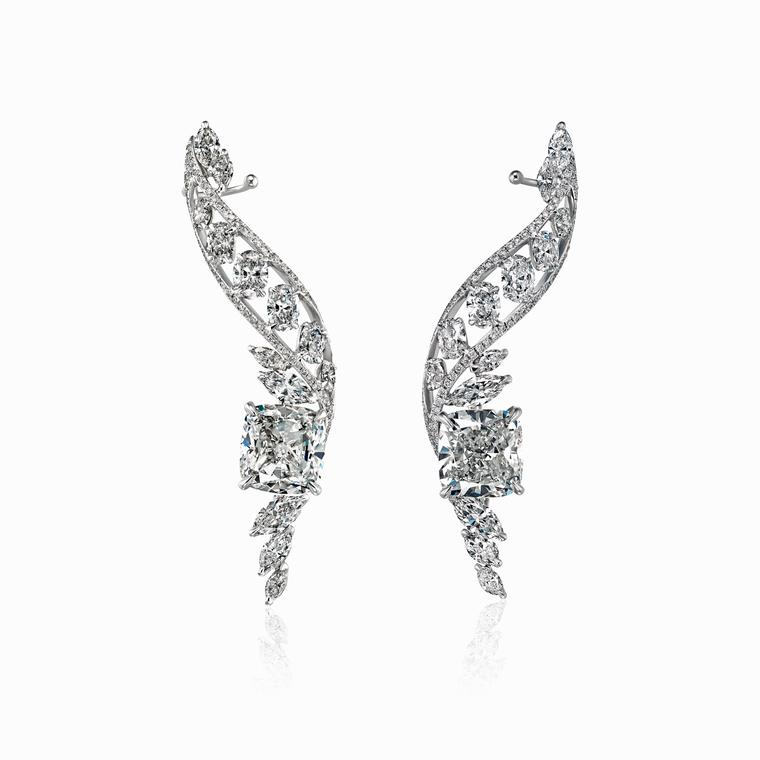 2. Saute d'Ange diamond earrings
Edmond Chin, creative director of Boghossian, was inspired to create Le Ballet Oriental after falling under the spell of the beauty of dance. Chin has deftly captured this hypnotique sensation in the mesmerising Saute d'Ange earrings. Defying gravity and convention, oval-cut diamonds flow along the earlobe and taper into an impressive square, radiant-cut diamond, surrounded by clusters of marquise cuts. A moment of perfectly choreographed harmony is crystalised forever in these unique diamond earrings.
3. Saute d'Ange ruby ring
The opulence of the Orient shines through in this ring with its impressive 14.6 carat ruby. Like a ballet dancer gliding through the air, the ring spans four fingers, casting a shimmering trail of diamond briolettes across the hand. The "wing" of diamonds can be removed and the ruby worn on its own. The effect appears effortless thanks to painstakingly perfect gem setting, which minimises the amount of metal visible - the hard work takes place behind the scenes, invisible to the audience. Chin's sumptuous choreography of precious stones and movement will make for the best Christmas present ever.
Read more about African rubies
4. Reverence ruby bracelet
Like the tutu of a prima ballerina as she takes her final bow, five rows of suspended briolette diamonds totalling 51 carats bring life and movement to this spectacular cuff. The diamonds create a tiered formation that encircle the wrist and are joined for a spectacular finale of graduated rubies, which rise to the centre of the bracelet, culminating in an impressive 3.06 carat Burmese ruby.
5. High Jewellery diamond earrings
I have chosen these diamond earrings as they show just how creative Boghossian is in its approach to even the most traditional jewels, bringing a new grace and lightness to the genre. Thanks to the delicately suspended stones with an additional lower fringe, these marquise-cut diamond earrings appear to hover by the ear as if by magic.
6. High Jewellery yellow diamond ring
Boghossian's sophisticated craftsmanship sets it apart. One of the techniques that the house has refined is the Art of Inlay, which allows stones to appear to melt into each other. By carving a recess into the base stone, a second stone is nestled inside, creating new effects of colour and light. This technique evolved into what Boghossian calls Kissing Diamonds, which sets one stone over the other to create a rich layered effect of pure colour. This is the technique used in this diamond ring that dares to set a rare yellow diamond into a white diamond. Two diamonds in one? Sounds like a winning combination.
Read more about the masters of design at Boghossian