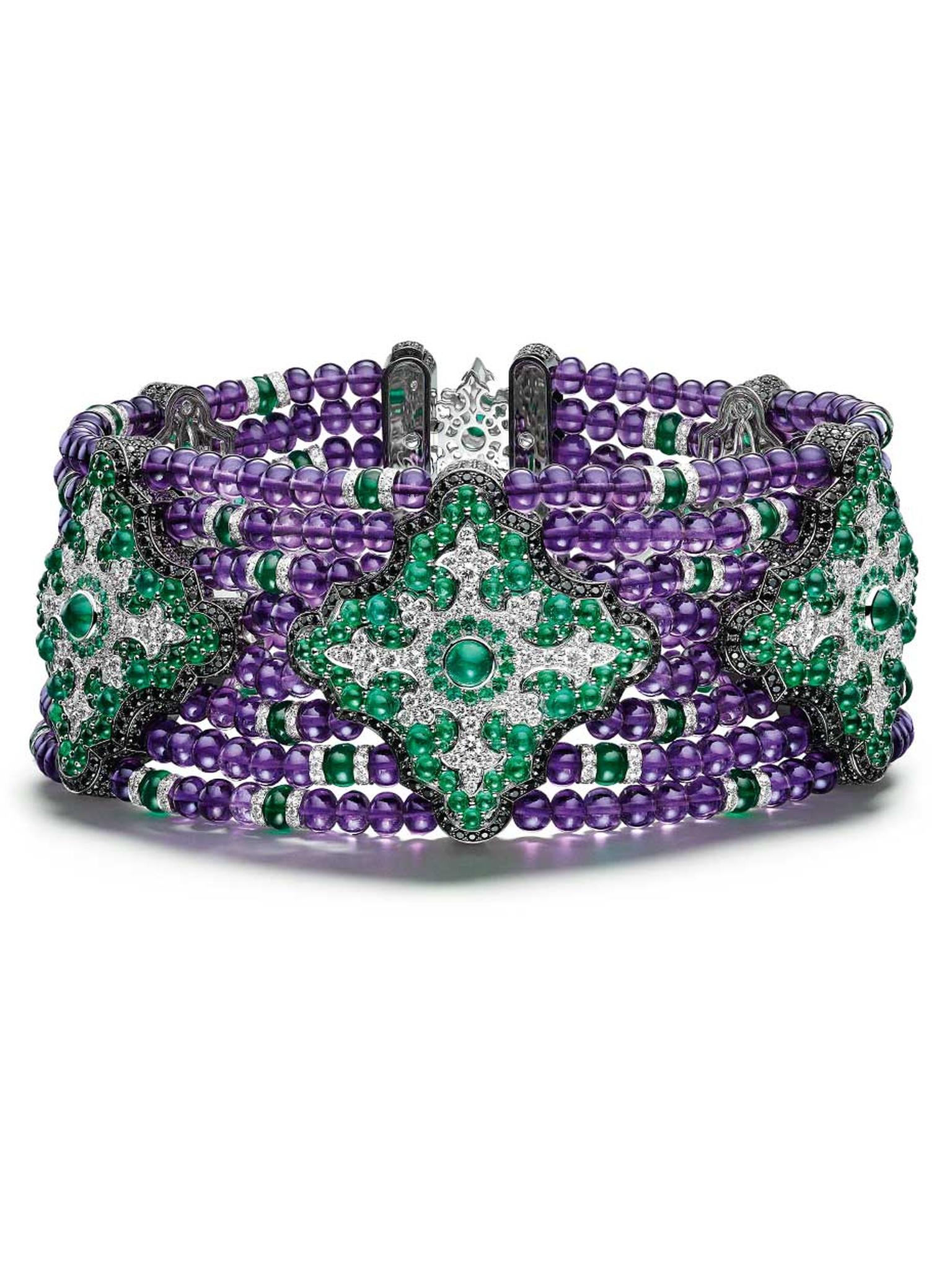 His jewellery brand may be the new kid on the block at the Biennale des Antiquaries, but Giampiero Bodino's eponymous collection speaks of a design flair honed by over 30 years of working behind the scenes for some of the world's most renowned luxury jewellers. 
As creative director for Richemont for the last decade, he has been the artistic force behind brands such as Cartier, Van Cleef & Arpels, Piaget, Vacheron Constantin, Baume & Mercier and Montblanc. You might not have been familiar with his name, but chances are those covetable pieces you were admiring behind the glass counters in Bond Street got the stamp of approval from Bodino.
So when the luxury conglomerate decided to branch out with a high jewellery maison that produces only one-of-a-kind pieces, Bodino was the natural choice to fulfill the vision. Combining his skills as artist, designer and jeweller, the 43 unique pieces he has created for the Biennale are an ode to Italy's rich culture and heritage. The collection sings out with colours and shapes that are inspired by the ancient monuments and awe-inspiring scenery of Bodino's beloved home country. Built around nine different themes, the details are brought to life through diamonds, emeralds, sapphires, pearls, rubies and other precious gems.
The vivid mosaics found in traditional Italian churches are recreated in the Mosaico necklace, which features amethyst and turquoise cabochons, interspersed with brilliant-cut white diamonds. Flowers, leaves and twigs burst out from the Primavera necklace, resplendent in white, yellow, grey and cognac diamonds, together with pink sapphires and emeralds. The juxtaposition between old and new shines through in all of Bodino's work and is particularly evident in pieces such as the Cammeo ring, where a traditional chalcedony cameo is surrounded by an intricate pattern picked out in sparkling diamonds.
"My vision of contemporary high jewellery is deeply linked to the concept of uniqueness, to a one-of-a-kind creation dedicated to a woman in search of a new expression through her jewellery and a deeper sense for her feelings," says Bodino of his work.
Taking a refreshingly understated approach to selling his jewellery, Bodino shuns fancy shop fronts in favour of meeting clients face to face in Villa Mozart in Milan. The impressive Art Deco building, lovingly restored by Bodino, is the jeweller's home, studio and atelier - a place where lifelong dreams and a remarkable creative vision are turned into reality.
To read more stories on the Biennale de Paris this September, please click here.
Giampiero Bodino Cammeo ring in white gold featuring a chalcedony cameo and diamonds. Image by: Laziz Hamani

Giampiero Bodino Rosa dei Venti necklace in white gold featuring emeralds, amethysts, diamonds and black spinels. Image by: Laziz Hamani

Giampiero Bodino Mosaico necklace featuring amethyst cabochons on mother-of-pearl, turquoise cabochons and brilliant-cut diamonds. Image by: Giuseppe Toja

Giampiero Bodino Primavera necklace in white and yellow gold with white, grey, yellow and cognac diamonds, pink sapphires and emeralds. Image by: Laziz Hamani