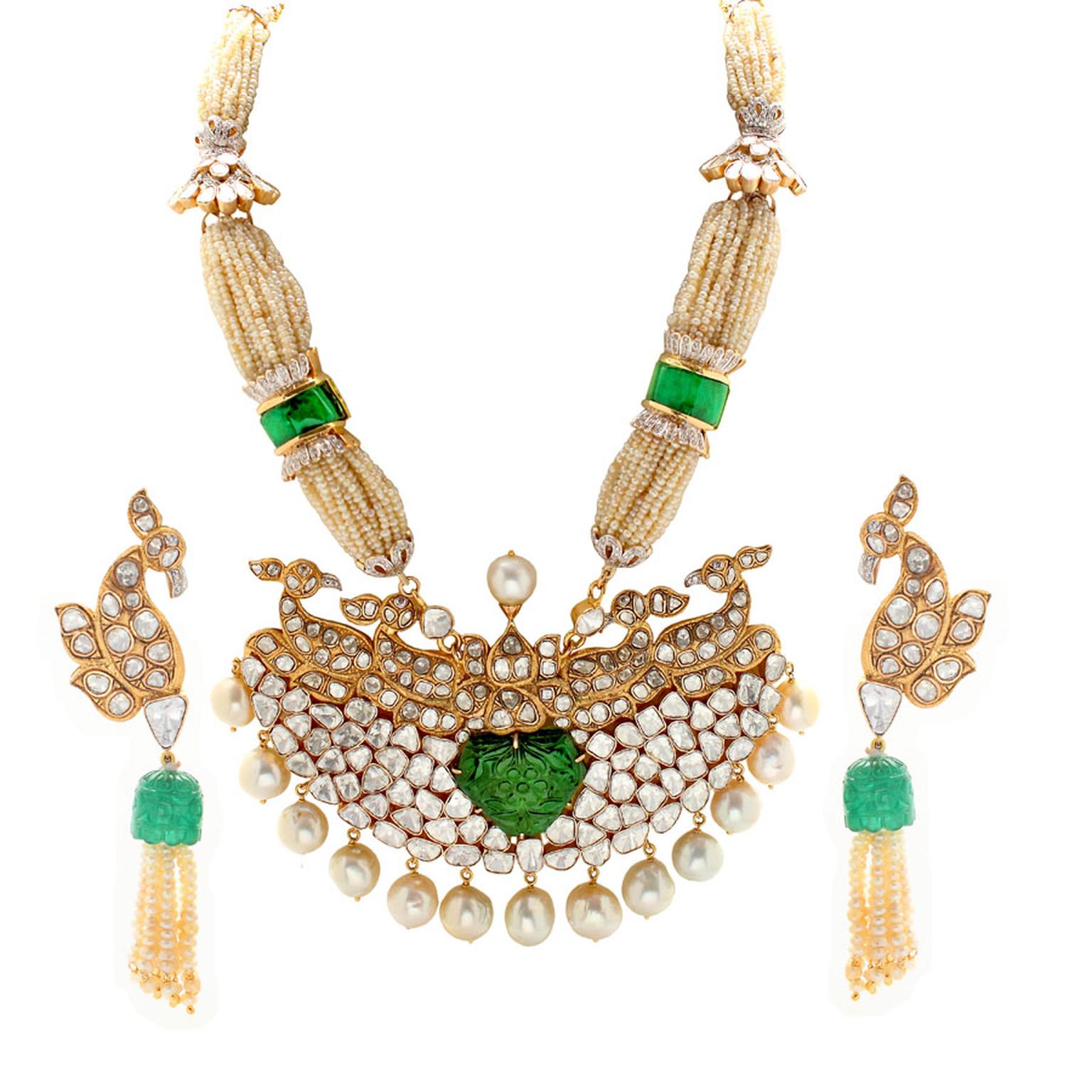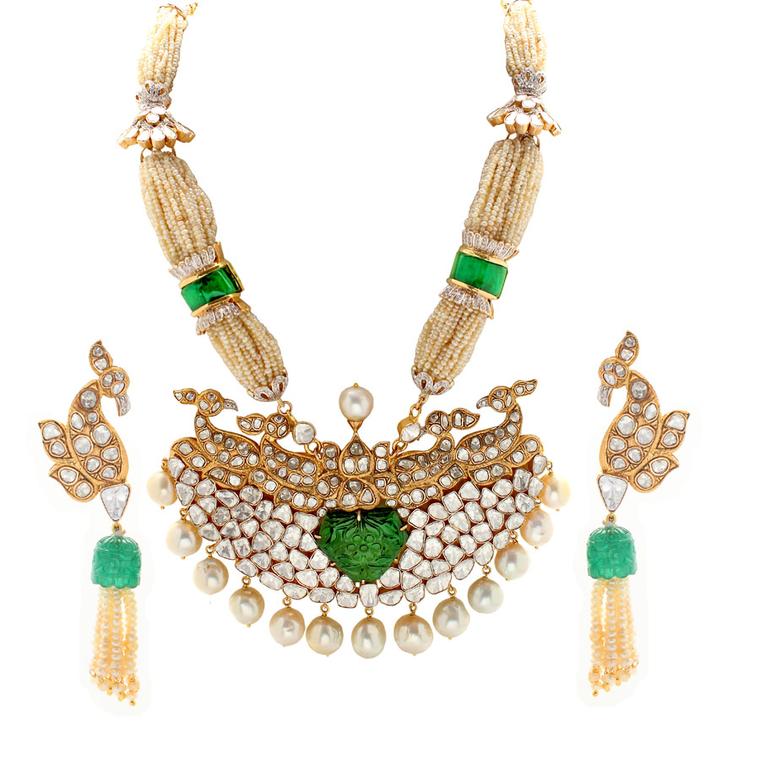 By Preeta Agarwal
Dark rain clouds gather on the horizon to a slow beat of thunder; mellow sunrays pierce through chinks in the cloud cover; raindrops fall one by one on the sun-parched trees; and flocks of splendid peacocks dance under the grey skies - this is a familiar scene in Indian life.  Not only does this scenario occur each monsoon in thousands of forest landscapes, it is also invariably woven into India's psyche through jewellery, folk songs, literature, music, dance and miniature paintings. 
The peacock is not only the national bird of India. In most parts of the country, the peacock dance is considered to signal the rains. What is a mating ritual for this colourful bird is a delightful visual spectacle for humans. So with the onset of the monsoons, we have compiled a selection of some the finest bejewelled peacocks from India, featuring three-dimensional birds, the peacock's exquisite plumage and close-ups of its beautiful crowned head.
Peacocks crafted using traditional techniques such as kundan polki are a common sight among the jewellers across India. But the ones that especially caught my eye were the elaborate necklaces from Mumbai's Anmol Jewellers, together with a mystical peacock armlet set with Gemfields emeralds. The intricate three-dimensional peacock necklace and earrings from Jaipur's Sunita Shekhawat are also worth watching out for, and Shekhawat's enamelled peacock feather cufflinks will add a colourful touch to any shirt.
Amrapali from Jaipur, which has been pioneering the revival of traditional Indian jewellery-making techniques, also offers peacocks among its many jewels, from pretty birds crafted from enamel and pearls to all-diamond peacocks. Another significant jeweller from Jaipur is Birdhichand Ghanshyamdas, whose peacock earrings with invisible setting and polki combinations - from the Aranaya collection - launched last year. And the latest collections from Jewels Emporium, another notable jeweller from Jaipur, feature beautiful peacocks adorned with mother of pearl, carved gemstones and enamel.
Bangalore's Ganjam, known for its exquisite South Indian heritage collection, offers necklaces and armlets (vanki) adorned with elaborately crafted peacock motifs and the stylish Exotica collection, which is in sync with international trends. The collection celebrates the magnificence of the peacock's plumage and distinctive colouring, recreating it using diamonds and gemstones in shades of blue and green: sapphires, tourmalines, peridots, siberlites, onyx and lapis lazulis.
Peacock earrings with briolette-cut gemstones in multiple shades are among the most eagerly awaited jewels from Mira Gulati's brand Mirari, in Delhi. From traditional jhunkis and elaborate kan phool (a large earring that covers the entire ear) to three-dimensional hoops, every piece glorifies the peacock. Her 'Unison' earrings feature two peacocks perched on a diamond ring, their tails merging in a mating dance, and are beautiful works of art.
Farah Khan, famous for her three-dimensional renditions of animals and insects, also has a safe full of amazing peacocks. Necklaces, brooches and rings with studded plumage, infused with her distinct style, are a must-see when visiting Mumbai.
The peacock motif is also used for hand ornaments in India, with two peacocks meeting on the top of the kadha. Chennai-based Jaipur Gems and Delhi-based Entice both offer collections of intricately handcrafted peacock wrist wear.
Sunita Shekhawat's three-dimensional peacock earrings studded with polki, pearls and enamel.

Sunita Shekhwats' peacock feather cufflinks crafted with enamel technique.

Amrapali's gold, diamond and multi gemstones studded peacock earrings.

Amrapali's peacock earrings made in silver, studded with zircons and pearl.

Birdhichand Ghanshyamdas's peacock earrings, from the Aranya collection, set with white diamonds, polki and emerald drops.

Peacock necklace from Jewels Emporium with a studded peacock sitting on a mother of pearl along with emeralds, diamonds, pearls and enamel.

Peacock necklace from Jewels Emporium with carved gemstones, diamonds and enamel.

Earrings from Ganjam's Exotica collection, with coloured gemstones in shades of blue and green, with pear-shaped amethysts as centerpieces.

Mirari's signature peacock earrings from the Essentia collection in various shades of briolette cut gemstones.

Ruby Embrace earrings with a tassel from Mirari's Wedding Wows collection set with brilliant cut diamonds, uncut diamonds, pearls and rubies.

Mirari's Unison earrings depicting love between two peacocks, perched on a diamond ring with their gemstone beaded tails merging.

A unique necklace by Farah Khan with a mix of traditional uncut diamonds with a brilliant cut diamond studded peacock with a blue sapphire body and perched upon a large ruby.