Britain's red carpet night for the stars of the silver screen took place last night at London's Royal Albert Hall with the Duke and Duchess of Cambridge in attendance at the 70th edition of the BAFTAs. This was the first time the royal couple have been together on this red carpet, turning up the heat on the jewellery front, and Kate didn't disappoint. Confirming the red-carpet trend, Kate chose large earrings over a statement necklace worn with her off-the shoulder floral print gown by Alexander McQueen.
The Duchess of Cambridge's large chandelier earrings have us all guessing. According to the Daily Mail, Kensington Palace will not comment on whether they were a loan or from the Duchess' own jewellery box, but they have had previous outings. Our hunch is that the jewels are by a British designer and that the pink stones are morganites – the Duchess has shown a preference for pastel-coloured gems – surrounded by old-cut diamonds.
These classic yet so very Kate earrings were possibly commissioned by the Duchess herself, but no jeweller worth her commission would dare to spill the beans, so we will just have to keep guessing. The articulated diamond bracelet looks like it might be an Art Deco jewel from the Queen's personal collection. She was, of course, wearing her sapphire engagement ring.
Beyond the excitement caused by the Duchess of Cambridge, bold embroidered floral motifs on gowns were the main couture trend, dominated by Alexander McQueen, Gucci, Dior and Tom Ford. With embellished dresses a strong style statement, glamorous earrings to complement the decorative flourishes as opposed to showstopper necklaces marked the night. 
After the Duchess of Cambridge, Emily Blunt was the most polished example of how to pair an elaborate gown with jewels. She wore her Alexander McQueen gown with Lorraine Schwartz jewels. In her lobes were a pair of 50-carat blue sapphire earrings and on her finger, a playful, lifesize, lifelike dragonfly ring that looked as if it had just fluttered out from the Oriental garden embroidered on her dress.
Bulgari picked a winner as Viola Davis, below, raised her prize for Best Supporting Actress wearing a diamond Serpenti bracelet coiling up her arm and matching earrings along with her striped, flowing chiffon Jenny Peckham gown. Felicity Jones chose a more discreet look with Bulgari diamonds studs and ring.
Emma Stone picked up her award for Leading Actress in a Chanel ensemble of dress and trousers with barely any jewellery visible apart from some discreet Tiffany diamond earrings and a pearl anklet.
Bucking the trend for opulent embroidery, Nicole Kidman,top, nominated for her role in Lion, turned up in a sleek, daringly deep-cut, slit-to-the-navel number by Giorgio Armani to show off 67 carats of diamonds in the Harry WinstonCaftan necklace.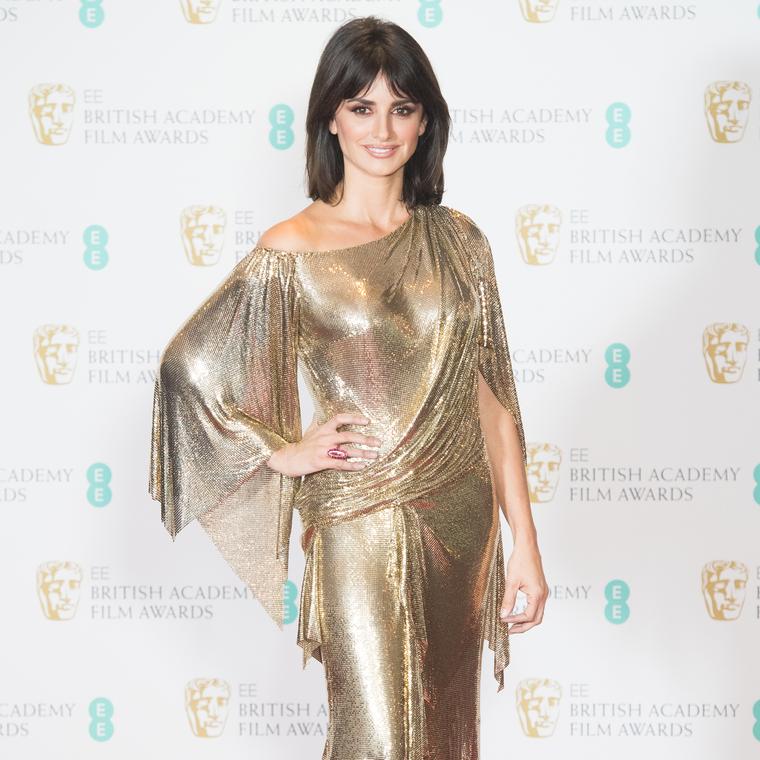 Chopard, never far from a red carpet, bejewelled Penelope Cruz, above, and Isabelle Huppert, below. Cruz, draped in a golden gown of many swags, added a pop of colour with a candy-bright rubellite and diamond ring from the aptly named Chopard Temptations collection. French actress Isabelle Huppert also wore Chopard, with 68 carats of emeralds and 14 carats of diamonds in her lobes alone.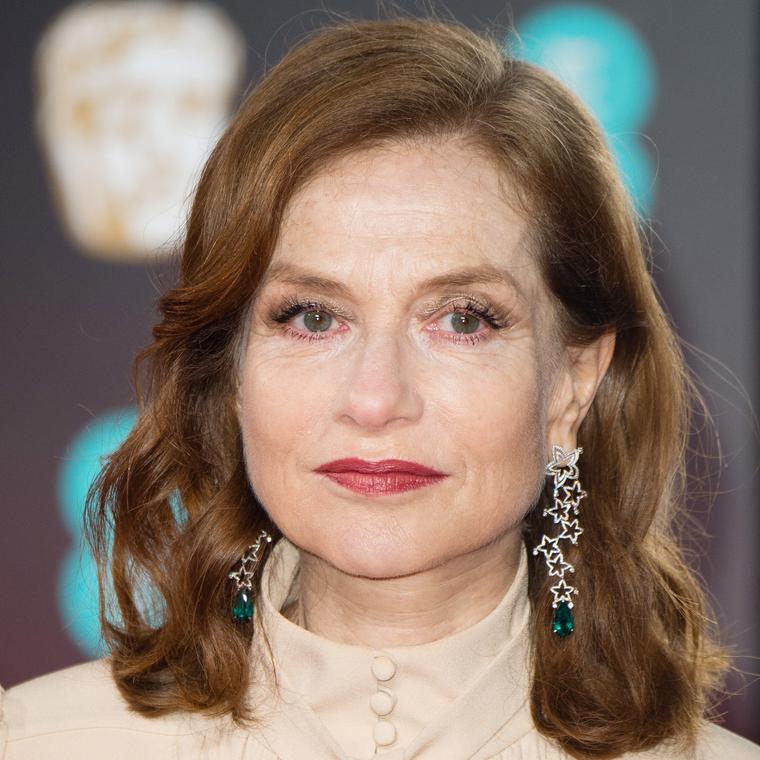 Star Wars heroine Daisy Ridley, below, scrubbed up and shone in chic Roland Mouret, paired with a bold yet simple Cartier Nouvelle Vague black lacquer and diamond cuff and two pairs of diamond earrings in her ears.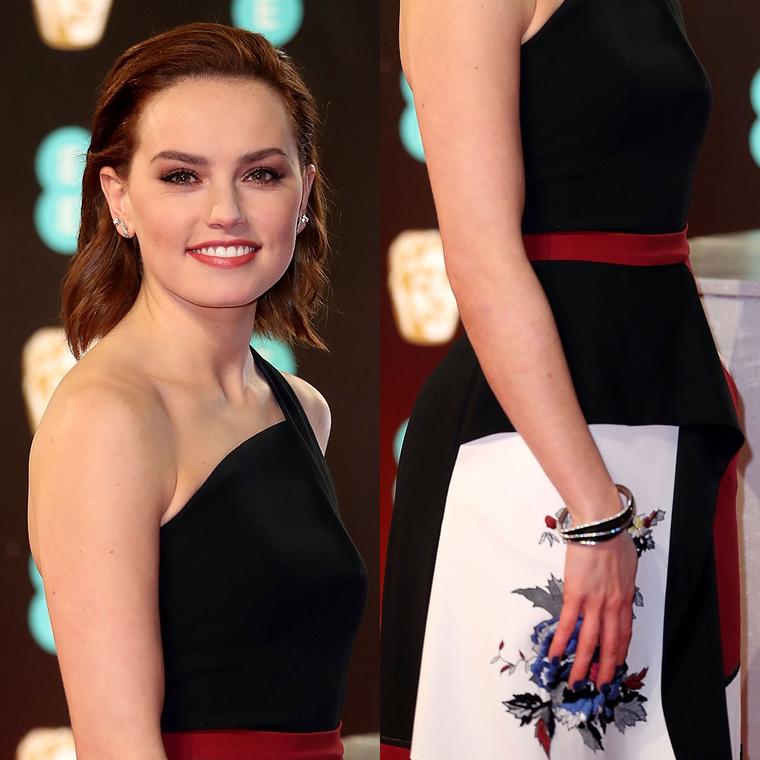 With each publication, JK Rowling grows ever more glamorous and looked a true celebrity on the red carpet in her deep-pink, floor-sweeping Roland Mouret gown. Showing a very personal take on jewellery styles, Rowling chose an edgy Yprem diamond hand bracelet – something of a speciality for this Lebanese jewellery house – with big diamond swirl earrings.
New-to-the-scene jeweller, Kat Florence, sponsored the after party, where Amy Adams posed with her for the obligatory sponsor's shot wearing David Webb jewels and Millie Brady donned a pair of Kat Florence Tropicana diamond drop earrings.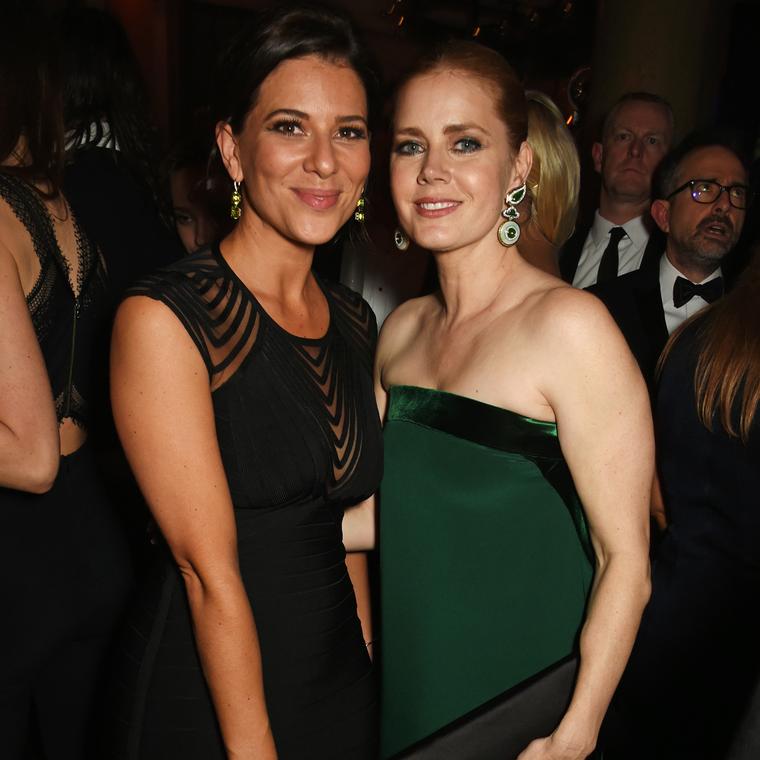 Mentioned in this article: