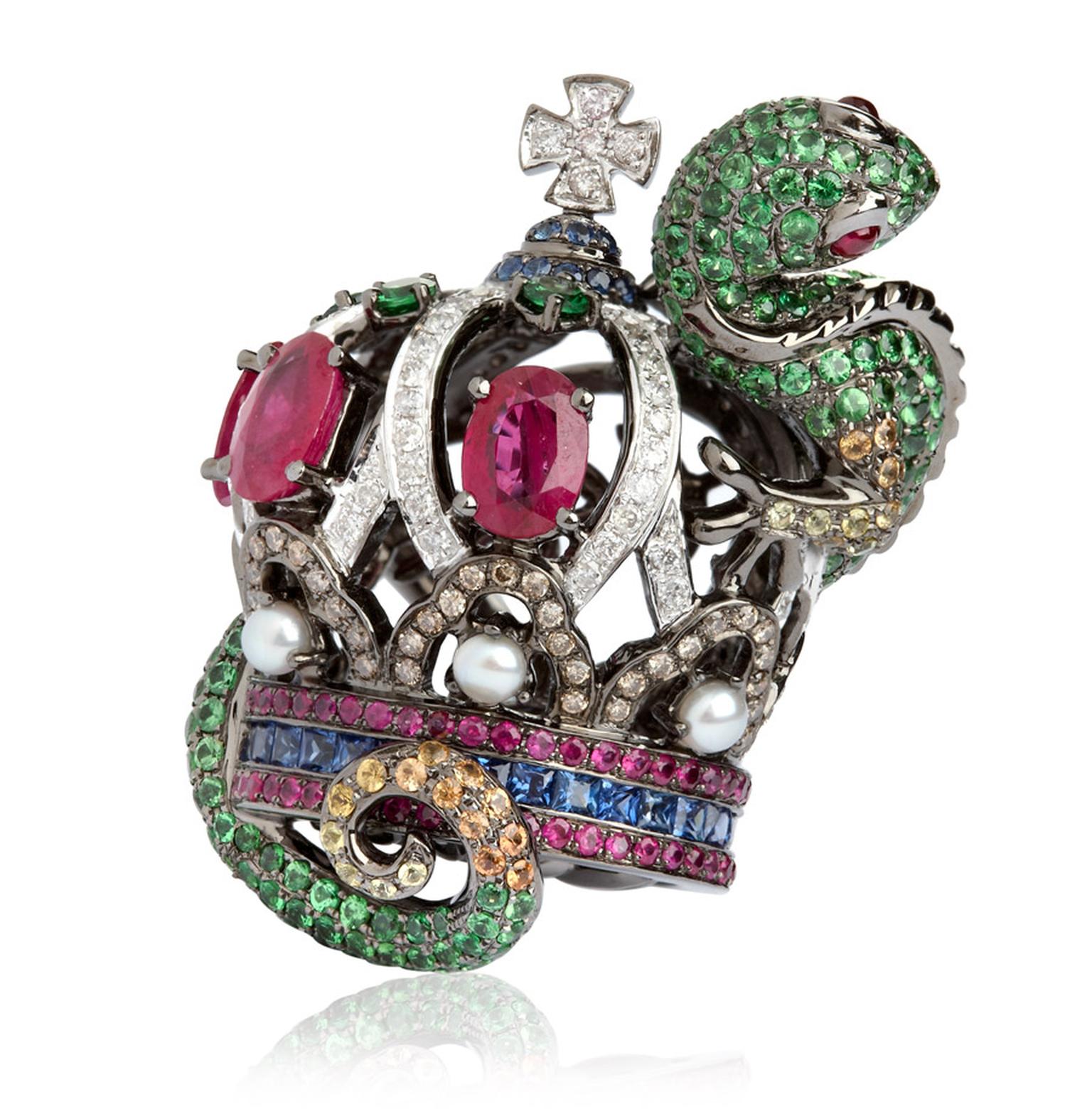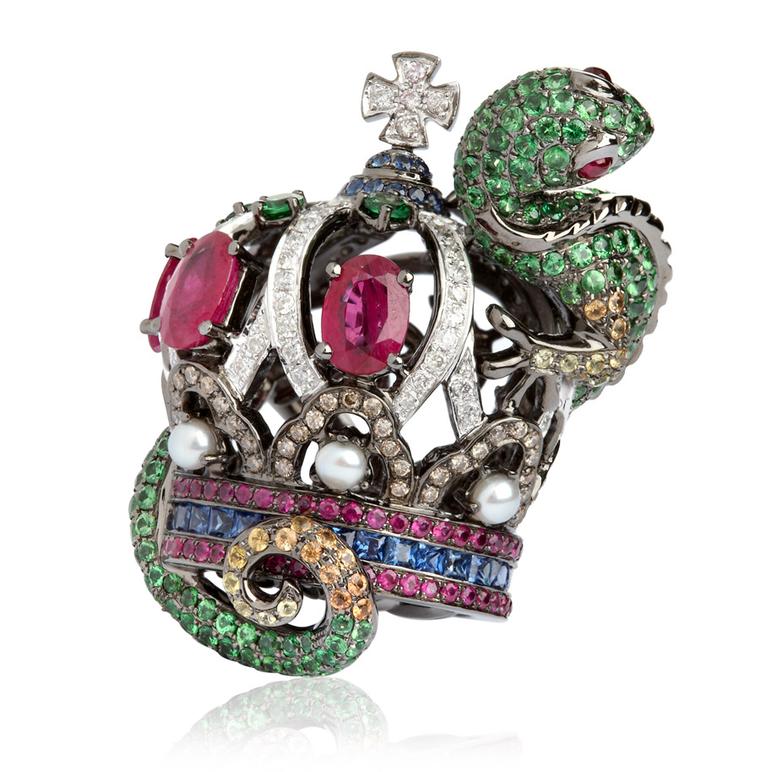 The year is in full swing with both the Olympics and Diamond Jubilee everywhere you look. The flags are already fluttering on most high streets across the land and besides bunting and Union Jacks, and one of the most exhilarating results of this monumental endeavour is the creativity it has inspired in our jewellers. As all things Britannia are inescapable theme of this week with street parties around the country gearing up to take place, what better time than to take a look at some of the pieces created in honour of one monumental reign.
There is also the added bonus of the fact that 2012 has its very own special Diamond Jubilee hallmark for gold and precious metals to mark the Queen's 60 years on the throne. This distinctive mark that sits alongside the statutory stamp, features The Queen wearing an oversized crown. The mark is only available until 1st October and adds a special touch to any jewel stamped this year. I am taking my new ring down to the Assay office to receive it's once in a lifetime stamp. Click here to read more about the Diamond Jubilee Commemorative hallmark.
As her recent Fantasie collection for Annoushka has shown, Wendy Yue has an incredible ability to make whole worlds in small pieces, and her special Jubilee Fantasie pieces do just that. Each ring is brimming with wonderful little details and just the right balance of colour. The rings are all made in 18ct white gold with diamonds, sapphires, garnets and rubies. With their snarling bejewelled beasts, these are some of the more adventurous celebrations of the Jubilee.
Not to be outdone though is Stephen Webster and Garrard, a fusion that sees Webster's edgy designs coupled with the oldest jewellery house in the world, one that has a rich history in royal pieces. It's easy to see where the inspiration has come from for the Diamond Jubilee pendant, each one with the talisman features of the birthstone, with the June pendant an additional pearl is hidden beneath the arch of the crown. These pendants would sit perfectly beside Theo Fennell's Diamond Jubilee collection, most notably the  yellow gold, amethyst, diamond & ruby Coronet Heart Pendant, as well as the accompanying coronet rings with a choice of amethyst of the subtle glow of blue topaz against white gold.
Solange Azagury-Partridge is always one to give tradition a make over and for the Jubilee, the Regalia is a noble set of seven pieces: a ring, band, earrings, necklace, tiara, cuff and brooch. Solange designed this collection to commend and honour Queen Elizabeth II's 60 year reign and has taken inspiration from the Order of Garter, the highest order of chivalry or knighthood. These pieces feature a royal blue ribbon pattern yet at the same time are delicate with their diamond edging. Regalia portrays the union of British tradition, craftsmanship and nobility. These new pieces add to the earlier regal theme of The Aristocrats rings made to commemorate the Royal Wedding last summer. 
Backes & Strauss make a right royal contribution with the lavishly embellished Diamond Jubilee watch. The company, which is the oldest diamond house in the world founded in 1789 in London, has been granted permission by the Lord Chamberlain's Office in Buckingham Palace to use Her Majesty's Royal Cipher. The royal purple dial, which is suitably majestic, is decorated with English roses and surrounded by either one or two rows of diamonds. At twelve o'clock the Roman numerals LX reminds us of the 60th year of Her Majesty's reign. Only 60 of these white gold watches have been made and prices very between £34,300 and £90,000.
Georg Jensen's Diamond Jubilee Collection offers a much quieter approach to celebrating Her Majesty's milestone, with the Regitze Jewellery Collection in white gold with pave-set diamonds in honour of the Jubilee. Regitze Overgaard's latest collection,is about feminine and sparse design, allowing the diamonds and clean shapes to really stand out and create pieces both delicate and bold. The use of pea chains makes each piece flexible, lending a dynamic quality to them all.
Although we have seen her profile on sterling for as long as her reign, it seems apt that the East India Company should produce Diamond Jubilee kilo coins, that have been finished to the highest standard of minting in the world with a 'Proof Finish', allowing for Her Majesty's portrait to be recreated in admirable detail. What coins they must be too, with each one valued at £125,000, representing thousands of hours of craftsmanship. Just by glancing at the jewellery on show here, it's no surprise that a reign lasting so long could inspire such a vast array of unique, colourful, and precious pieces.
Solange Azagury-Partridge 'Regalia' earrings 18ct gold, diamonds and coated with enamel using the traditional guilloche technique. POA

Solange Azagury-Partridge 'Regalia' band 18ct gold, diamonds and coated with enamel using the traditional guilloche technique. POA

Solange Azagury-Partridge 'Regalia' cushion ring in 18ct gold, diamonds and coated with enamel using the traditional guilloche technique. POA

Georg Jensen 18ct white gold Regitze bracelet with diamonds

Georg Jensen Regitze 18ct white gold necklace with diamonds

Georg Jensen Regitze 18ct white gold pendant with diamonds

Georg Jensen Regitze 18ct white gold earhooks with diamonds

January Jubilee Pendant with Garnet by Stephen Webster for Garrard.

June Jubilee Pendant with Pearl by Stephen Webster for Garrard.

September Jubilee Pendant with Sapphire by Stephen Webster for Garrard.

Theo Fennel 18ct Yellow Gold, Amethyst, Diamond & Pearl Coronet Ring £12,500

Theo Fennel 18ct White Gold, Blue Topaz, Diamond & Sapphire Coronet Ring £12,900