Urwerk is not your typical Swiss watch brand, starting with its name. Urwerk is derived from the pairing of the ancient Sumerian city of Ur to the German verb "werk" in an anachronistic medley that perfectly fits this independent brand. Since its foundation in 1997 by designer Martin Frei and watchmaker Felix Baumgartner, Urwerk has shaken watchmaking conventions upside down and inside out, and is renowned for its fleet of futuristically styled luxury watches soaring through space with innovative ways to display the time.
See other futuristic luxury watches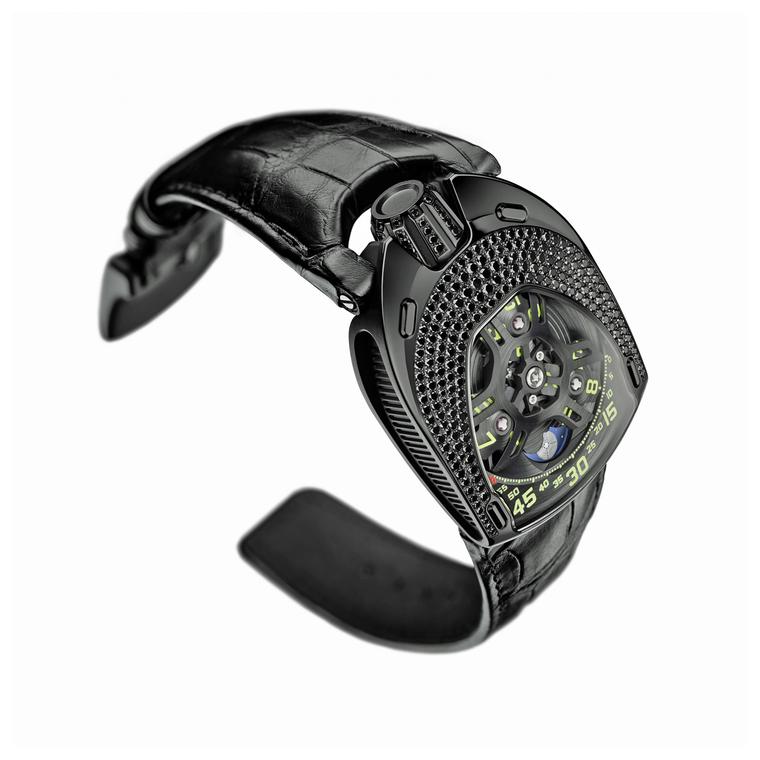 The Ur part of the name was the founders' way of honouring the astonishing fact that calculations and technology developed 6,000 years ago in ancient Mesopotamia are still ruling our lives today. For it was in Sumeria that the earliest sundials cast their shadows and Mesopotamians decided that our hours would be divided into 60 minutes, our years would be composed of 12 months and circles would have 360 degrees.
Walking around Urwerk's HQ in Geneva, I get a glimpse of its eclectic range of inspiration. "Our aim is to bring elements of the culture that we grew up with into haute horlogerie, from sputniks to Dr Spock," says Felix Baumgartner, pointing to the black and white poster of the crew of the Starship Enterprise. At the other end of the spectrum is the 1682 Pope Innocent XI night clock - a rare historical artefact with Mary Magdalen painted on the dial. Thanks to an oil lamp placed inside the wooden clock case, which lit up the cut-out hour numerals, this allowed the Pope to consult the time at night. The revolutionary aspect of the Pope clock is the way the hour numerals have been placed on rotating discs and transit across the upper part of the dial. Known as wandering hours, this invention was adopted by Urwerk and has become a hallmark trait.
See more innovative and modern luxury watches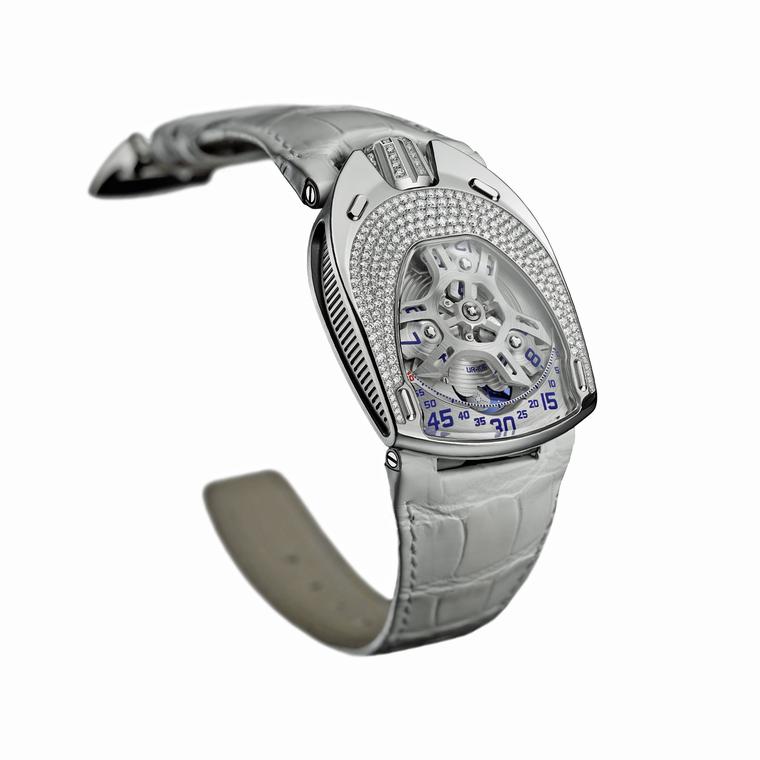 The new UR-106 Lotus is the first range of watches for women from Urwerk and bears the identity traits of its brothers with an asymmetrical case, an oversized crown at 12 o'clock and the distinctive satellite hours. The challenge here was to downsize the complex movement and case construction but, above all, explains Baumgartner "to find the beauty in this new design, which is just as complicated to achieve as a complex movement."
The sleek aerodynamic profile of these ladies' watches, complete with vents on the side of the case, is set with either white or black diamonds and houses an automatic movement powering the satellite hours, minutes and Moon phase indicator. "I like extremes," says Baumgartner when asked about the choice of black and white versions, "and there is good and evil in all of us."
Radical, audacious and inquisitive, this watchmaking duo complements one another to perfection and pushes the boundaries, offering a fresh, stimulating and thoroughly modern approach to watch design. "I grew up with traditional watchmaking," says Baumgartner, whose father restored pendulum clocks, "but Martin Frei set me free. He is an artist and gave me the freedom to do things differently." 
Read about more original watches in our feature on unusual times