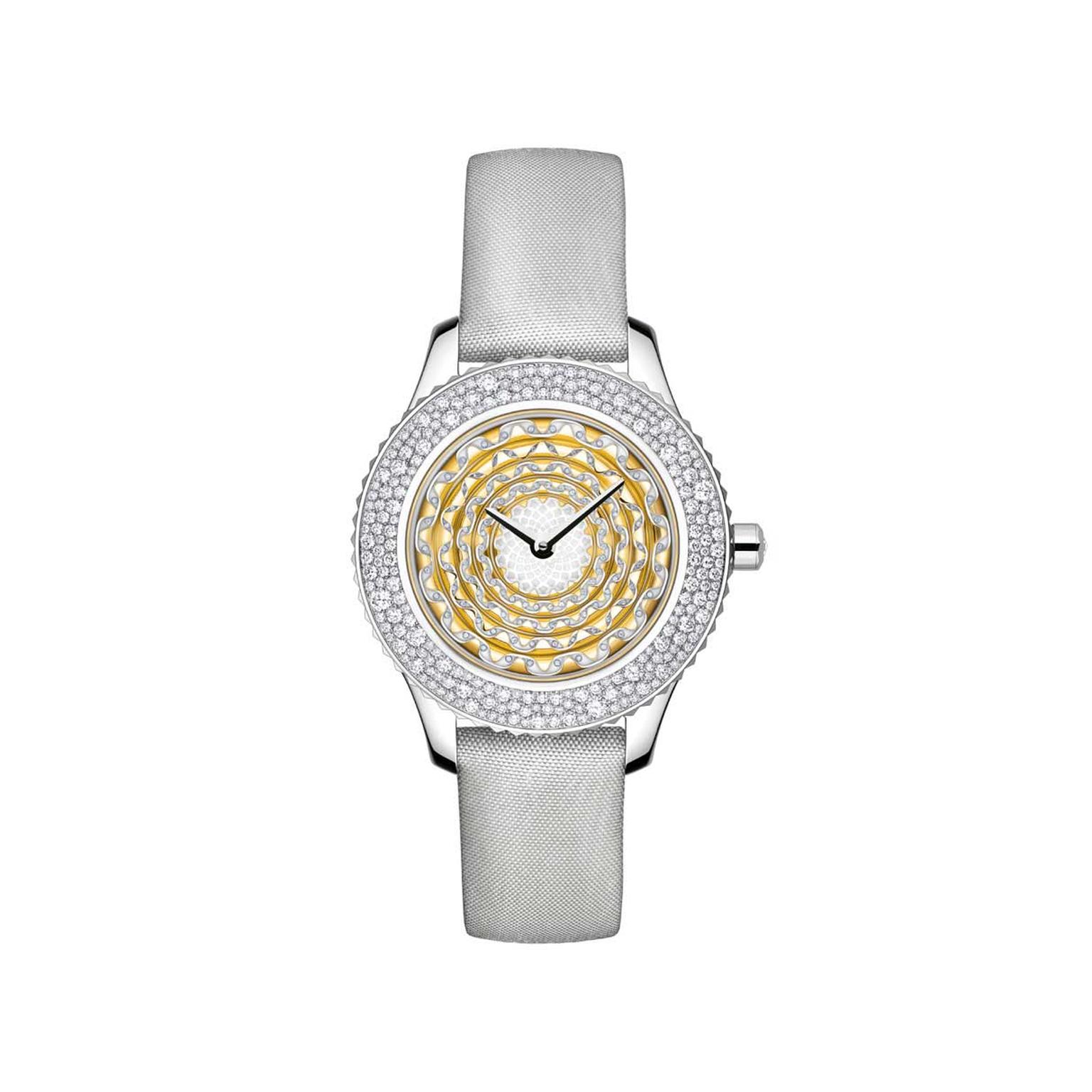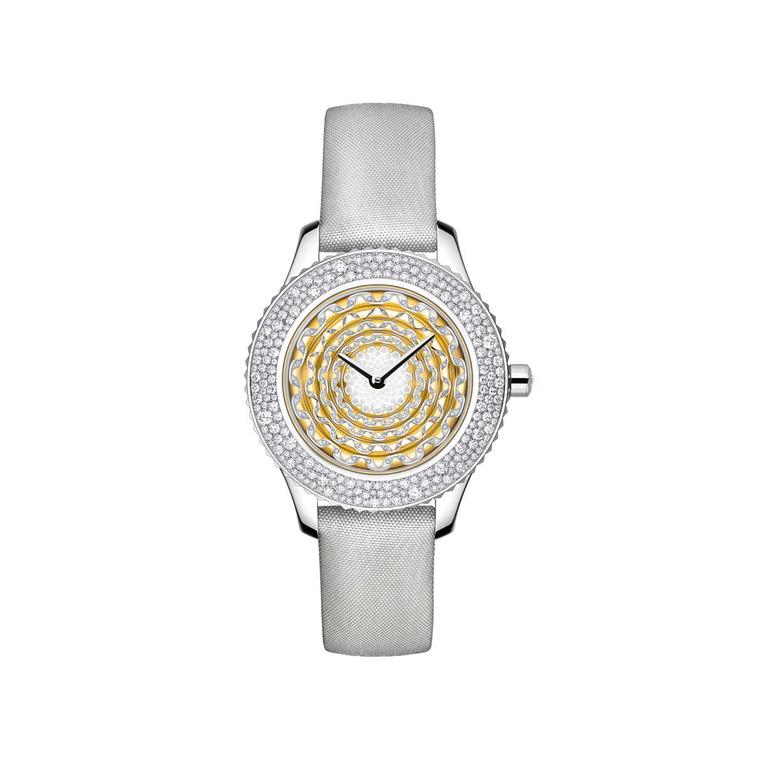 By Rebecca Doulton
The new Grand Soir Frou-Frou collection of Dior watches translates the Maison's talent in bringing out the fluidity of fabrics and breathing femininity into its creations with bows, ruffles and frills. When Christian Dior presented his first couture collection in 1947, his intention was to give women back a generous dose of femininity, seduction and fun. Following the rationing and general gloom generated by the Second World War, Dior's New Look was a breath of fresh air, proposing stylised silhouettes with cinched waists and generous pleated skirts, which didn't skimp on fabric.
The very name of the new Frou-Frou ladies' watches gives us an idea of the spirit behind these timepieces, evokeing the feminine frills, ribbons and ruffles that enhanced Dior's sculptural designs. These watches pay tribute to Dior's haute couture magic and are all one-of-a-kind pieces exquisitely cut from white, yellow and rose gold, decorated with diamonds and engraved mother-of-pearl, presented on a smooth silver satin strap.
View more unique Dior watches for women
Christian Dior was also a passionate gardener and loved flowers. The dial of watch no. 40 is all about motion and reminds me of a wonderful gold dandelion. Emanating from the centre of the dial, the flower releases its diamond spray of seeds onto the lustrous mother-of-pearl dial. The baguette-cut diamonds on the bezel act like a rigid Elizabethan ruff collar, containing the swirling scene on the dial. With Dior watch no. 42, the hand-painted pink gold petals fan out and overlap one another, like the dense corolla of a chrysanthemum. Dior applied his architectural studies to create garments with "skirts as wide as corollas". 
In the dictionary, one definition of the French word frou-frou is the rustling sound generated by the silk fabric of a woman's skirt - and skirts were definitely Christian Dior's forte. To achieve the extra swing, volume and wonderful rustle, the skirts were lined with percale or taffeta. The white and yellow gold Grand Soir Frou-Frou watch no. 41 offers voyeurs a peek at the architecture underneath a voluminous skirt. Four frilly petticoats in yellow gold with wavy ruffles and diamonds emanate from the central mother-of-pearl decoration, giving the skirt its volume, and grow in circumference to meet the snow-set bezel.  
Discover how mother-of-pearl watch dials are made
The curvaceous motifs on the mother-of-pearl dial of model no.39 could well represent the stylised figure of a woman's silhouette. "I wanted my dresses to be 'constructed', moulded on the curves of the female body whose contours they would stylise. I accentuated the waist, the volume of the hips, I emphasised the bust," explained Monsieur Dior about his designs. Starting with the head at the centre, the bust and hips form a figure eight, which also happened to be Monsieur Dior's lucky number.
All these unique Dior Soir watches for women are presented in 33mm white gold cases with rose and yellow gold details on the dial. The bezels are either snow-set or set with baguette-cut diamonds, and the crown is illuminated with a rose-cut diamond. On the reverse side, a transparent sapphire crystal and mother-of-pearl caseback open a window on to the automatic movement developed for Dior by Swiss watchmaker Zenith, with a gold oscillating weight powering the watch for 50 hours. As befits a watch with these haute couture credentials, no detail has been overlooked, and each creation is beautifully finished from whichever angle you choose to view.
Read about fashion watches
Dior Grand Soir no. 42 Frou-Frou watch with a white gold case and a pink gold bezel set with baguette-cut diamonds, featuring an engraved opaline dial decorated with pink gold motifs and diamonds. 

Dior Grand Soir Frou-Frou no. 40 ladies' watch in a 33mm white gold case with a yellow gold bezel set with baguette-cut diamonds. The mother-of-pearl dial is set with diamonds and decorated with yellow gold motifs.

DIor Grand Soir Frou-Frou watch model no.39 comes in a 33mm white gold case with a snow-set diamond bezel and a hand-engraved mother-of-pearl dial with diamonds and hand-painted gold decorations. 

The Dior Grand Soir Frou-Frou watch collection translates the Maison's talent to bring out the fluidity of fabrics and breathe femininity into its creations with bows, ruffles and frills. Pictured here is model no. 41.