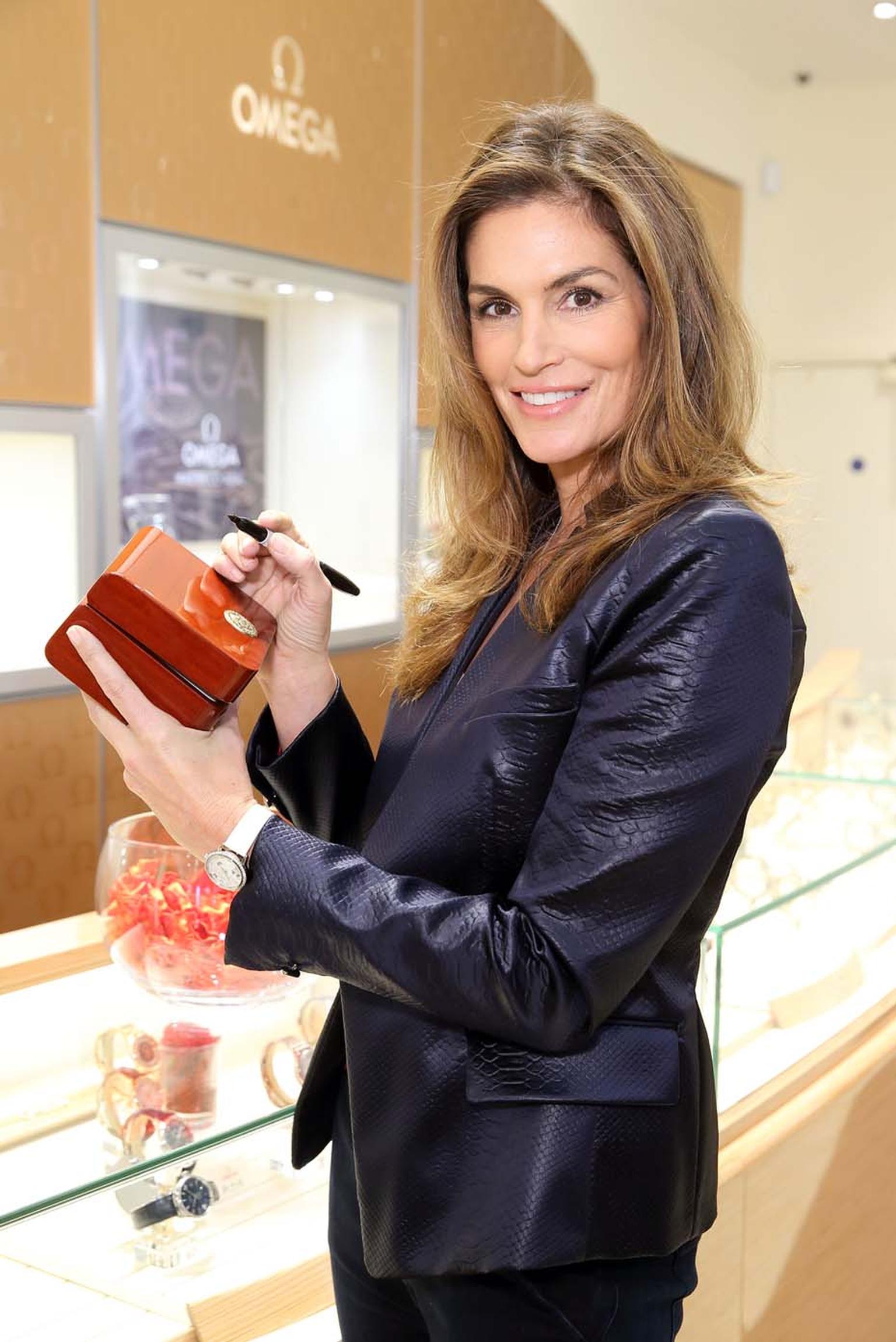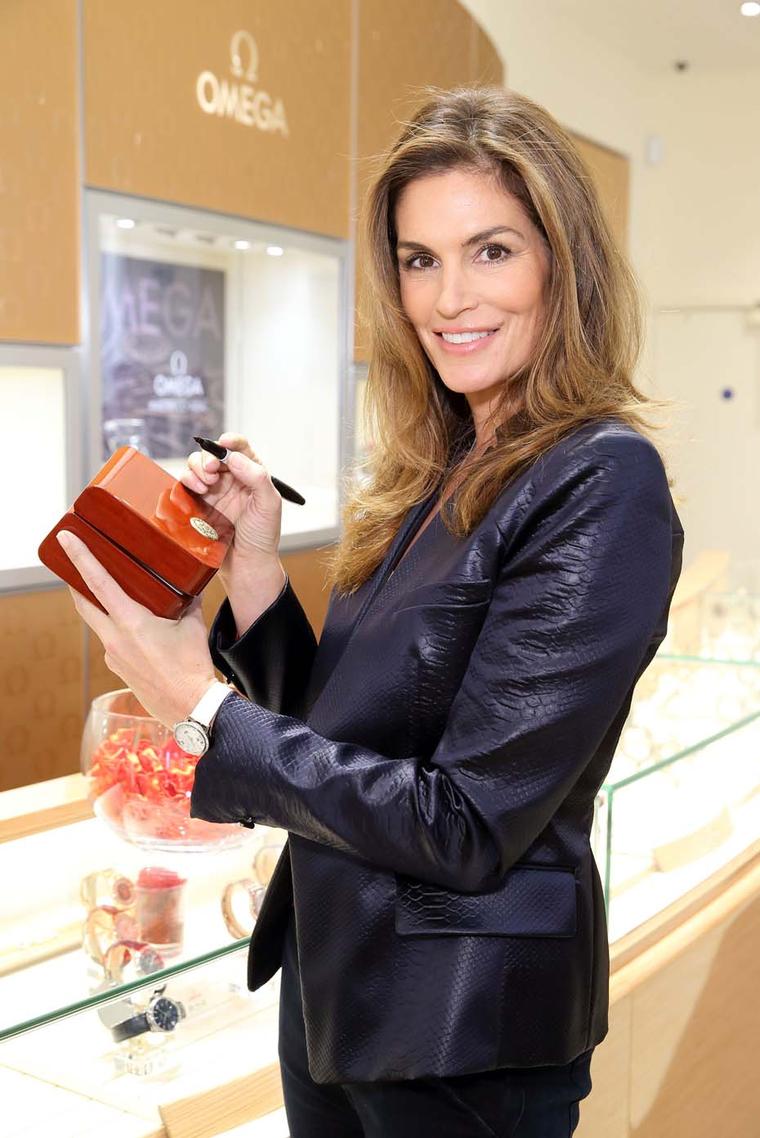 By Maria Doulton in London
Cindy Crawford, the supermodel, business woman and, of course, Omega brand ambassador was in London last week to open the Swiss watch house's newest boutique on Oxford Street.
After cutting the traditional red ribbon alongside Omega President Stephen Urquhart in front of a bank of photographers, Cindy Crawford spent time talking about her long-standing relationship with Omega. Crawford was in fact Omega's first brand ambassador, a relationship that began almost 20 years ago when, in 1995, she became the face of the My Choice campaign. "I have been married to Omega longer than to my husband," joked Crawford. Shortly after, Omega began its association with the James Bond films, another enduring relationship that, together with Crawford, has propelled Omega into the public conscience like few other luxury brands.
Wearing a sleek blue quilted jacket and tailored jeans, Crawford spoke of her interest in watches. "What I didn't realise before I went to Switzerland and saw the watches being made was what went into the movements, but now I have an appreciation of the mechanics as well. The pieces are the size of a dot and it is incredible to watch these guys putting them together."
Crawford fully appreciates the fashion angle of watches. "Watches, in terms of a fashion statement, are even more important now because you don't need to wear a watch any more because we all have our phones with us all the time. A watch is a fashion statement. In fact, when I travel I don't reset the time because they are like a piece of jewellery, which is why it is fun to have more than one."
Crawford was wearing a white Omega DeVille Prestige watch with butterflies etched on the mother-of-pearl dial. With its white satin strap, the watch was a statement accessory against her all blue outfit. Her only other accessories were a white gold diamond Constellation pendant and a slender gold ring on her finger.
Crawford recommends that your first watch should be one that you can wear all the time. Living in Los Angeles where the atmosphere is so relaxed, Crawford wears a gold Omega Aquaterra watch everyday but likes o change to a pearl and diamond Omega Ladymatic for evening. "I like to mix it up and I wear a DeVille on a brown strap for a more business look but this white one is cute."
Crawford's nearly 20-year relationship with Omega is likely a record for the longevity of a celebrity/brand contract. "Why it originally made sense is because it was an international brand and their core qualities of tradition, quality and timelessness were qualities that I felt I wanted to be aligned with," explains Crawford. "I have literally been around the world with these guys more than once. And my relationship with Omega has evolved over the years. For example, last September we went to Peru with Orbis, a charity that Omega has partnered with. They go into poor countries with eye surgeons in a plane fitted out like an operating theatre. I was able to take my daughter and it just was an incredible experience to be with a company that of course makes watches but also is very philanthropic and lets me be their ambassador on charity projects. It has been amazing to be able to share this with my own family."
And if you have any doubts that celebrity endorsement is a good thing for Omega, hear Crawford's words: "I have been with Omega for so long now that people just look at me and they think Omega. I like partnering with a brand and knowing there is a long-term commitment, it makes both parties look good."
Omega ambassador Cindy Crawford cuts the traditional red ribbon alongside Omega President Stephen Urquhart, right, to officially open the brand's flagship boutique on London's Oxford Street.

Cindy Crawford has been an ambassador for Omega since 1995, longer than any of the company's other ambassadors. She was pictured at the Omega boutique opening in London wearing a white Omega DeVille Prestige watch with a mother-of-pearl dial.

The new two-storey, 244sq m boutique features eight floor-to-ceiling glass windows, making it the ideal showcase to present Omega's newest collections.

Omega chose Cindy Crawford to join its family for her style and for sharing many of Omega's values, such as quality, reliability and a strong sense of tradition.

The white Omega De Ville Prestige watch, with butterflies etched on the mother-of-pearl dial, worn by Cindy Crawford to the opening of the Omega boutique in London last week.

Omega's longest-standing brand ambassador, Cindy Crawford, was in London last week to open the Swiss watch house's newest boutique on Oxford Street.