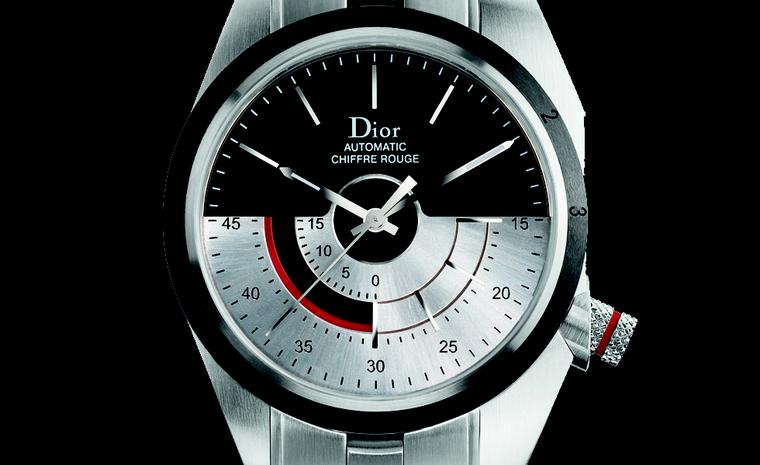 The Chiffre Rouge from Dior picks up on details from Dior Homme tailoring and transforms them into design cues for this most masculine of Dior's watches. I had one of those "Aha!, now I get it," moments when I saw the pictures of men's tailoring that inspired the new collection of  Dior Chiffre Rouge watches. I have to confess that I had seen every version of the Chiffre Rouge since it was launched in 2004  under the guidance of then Dior Homme designer Hedi Slimane, but it wasn't until I saw the pictures of the suits and the watches together that I had my light bulb moment. Yes, call me slow, but now I am fully bathed in the light of Dior's inspirations. The first models were handsome chronographs powered by an El Primero movement from sister LVMH brand Zenith. But what set the Chiffre Rouge apart is the Parisian touch and embellishments like the asymetric line running through the metal bracelet or  a smoky-dark sapphire glass back. These and other couture-clever details such as a slightly off-centre crown marked a coming together of Dior and quality calibers. Since then, the Chiffre Rouge has maintained its basic case shape but evolved to incorporate variations such as the not-so subtle all-gold I03 limited edition twinkling with diamond details such as the winding crown set with miniature baguette diamonds and four square diamonds on the dial. This year sees the Chiffre Rouge M01 with the Dior Inversé calibre that places the rotor on the dial so that you can watch it swing around as you go about your day. The Chiffre Rouge A03 on a slate grey alligator strap with a sun-brushed dial is a very classic looking watch with a whiff of daring provided by the crown at 4 o'clock. The more macho of the three is the Chiffre RougeA02 chronograph with a night-sky blue dial. And how considerate of those designers at Dior to solve the problem of finding the ideal suit to go with the watch.
Chiffre Rouge. A02. POA.

Chiffre Rouge. A03 POA.

Chiffre Rouge. A01. POA.

Chiffre Rouge MO1 Metal - Close up. POA.