The House of Chaumet has a flair for distilling that unique Parisian blend of cosmopolitan elegance in everything it touches. And with more than 235 years under its belt as purveyor of the finest jewellery to French royals and mortals alike, Chaumet watches have the upper hand when it comes to exquisitely feminine timekeeping.
This autumn, four new models have joined the Liens de Chaumet watch collection, each of them linking beautifully back to the Maison's rich heritage. The Liens motif, from the French word for link, is one of Chaumet's most enduring emblems and was, in turn, declined from the classic sentimentality of 17th century jewellery where simple knots and bows spoke the language of love and commitment.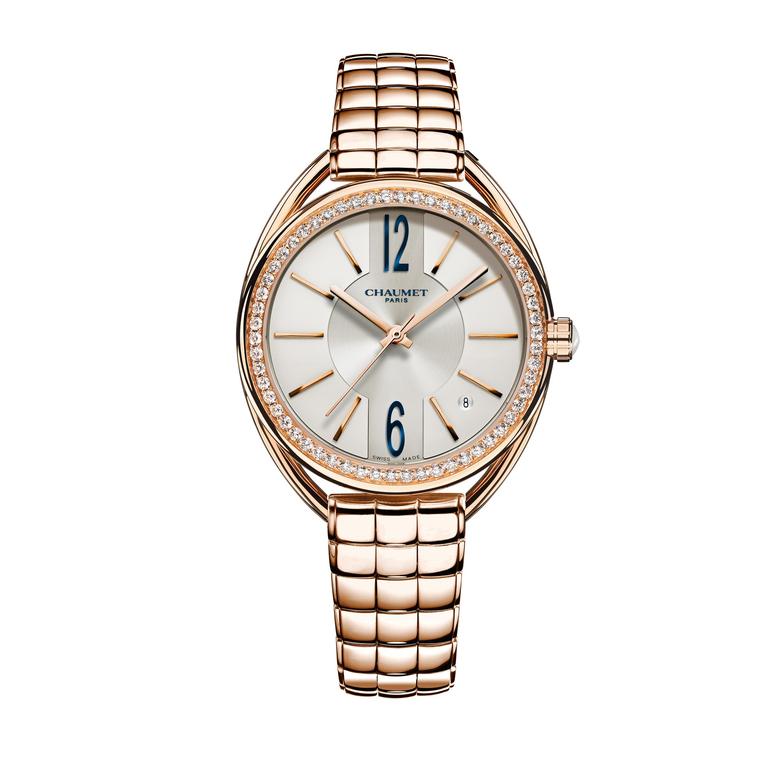 The intertwined symbol, or lien, lends its name to these Chaumet watches and has been subtly incorporated into their profile. Not immediately obvious, the X motif forms an independent elliptical shape, which hugs the case at 3 and 9 o'clock, and holds the alligator strap in place showing how well this simple shape translates in a more contemporary language.  
Chaumet's watchmaking credentials, which date back to 1780, are on a par with the Maison's jewellery, as a pair of high jewellery watches from 1811 attest. These bracelet watches studded with emeralds, diamonds and pearls were equipped with a sophisticated calendar watch movement made by none other than Breguet - the leading watchmaker of the age. The pair of ladies' watches, designed to be worn on each wrist simultaneously, formed part of Princess Augusta of Bavaria's trousseau given to her by her mother-in-law Empress Joséphine, an assiduous client of Chaumet. This flair for combining high jewellery and impeccable movements has transcended to the 33mm models of the Chaumet Liens watch collection, which are equipped with first-class Swiss mechanical automatic movements.
The new high jewellery diamond watch is simply spectacular. Paving every surface of the 33mm gold case and the peripheral links, 501 brilliant-cut diamonds work their magic. An ideal cocktail watch, the fully pavéd model is presented on a sleek black satin bracelet. The 33mm pink gold model has also been embellished with diamonds on the bezel and links, and features a silvery white sunray brushed dial. If you look closely at the centre you will see a circle intersected by two rectangles at 12 and 6 o'clock - a shape reminiscent of the centre of Place Vendôme, home to Chaumet's flagship boutique at no. 12. 
Another version in 33mm warm pink gold is presented on a supple gold bracelet with diamonds on the bezel and, like her sisters, is set with a cabochon mother-of-pearl in the crown. Smaller and sportier, the 27mm Chaumet watch in stainless steel and yellow gold comes with a quartz movement and retails for under than a third of the price of the 33mm mechanical models. 
Mentioned in this article: