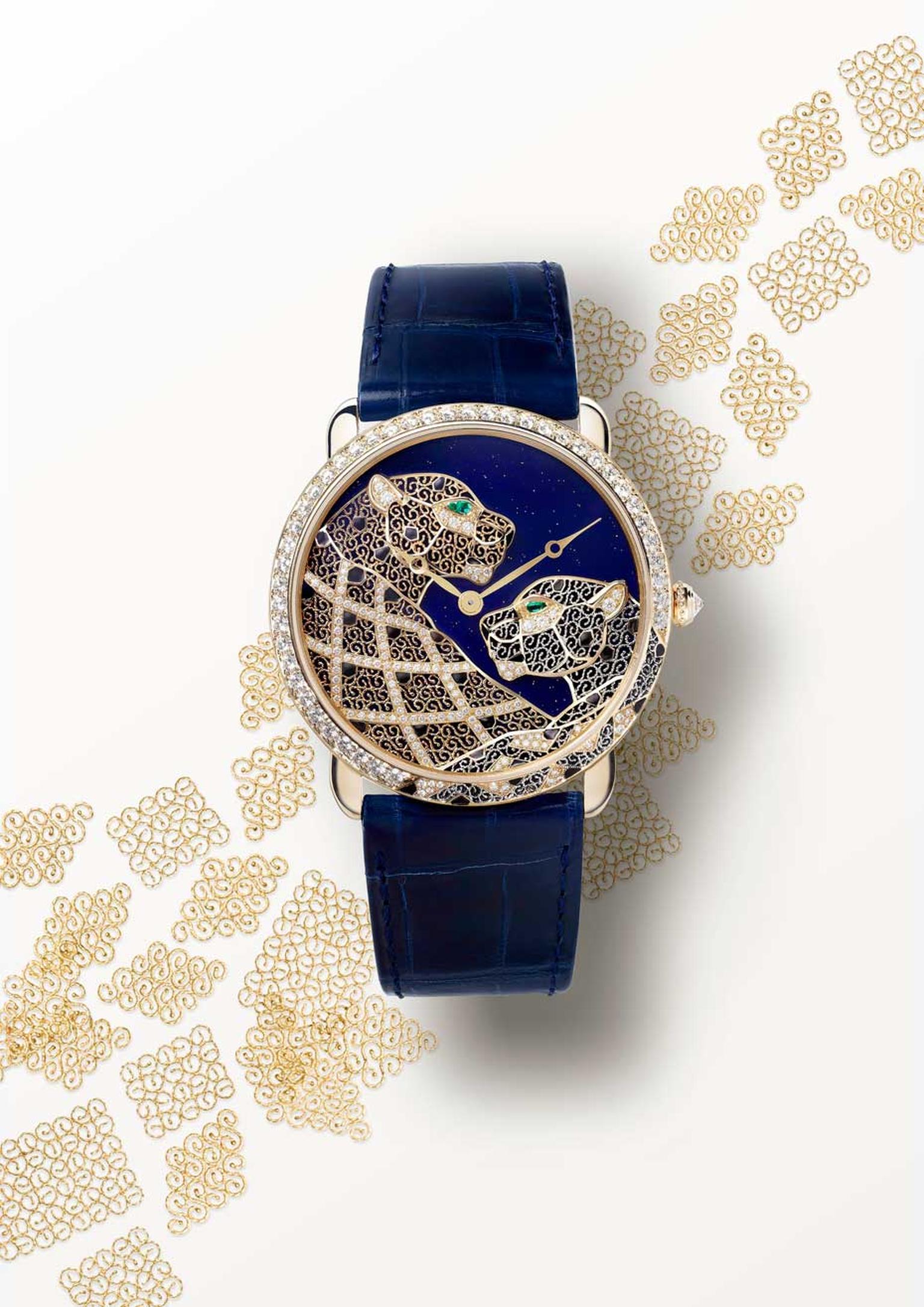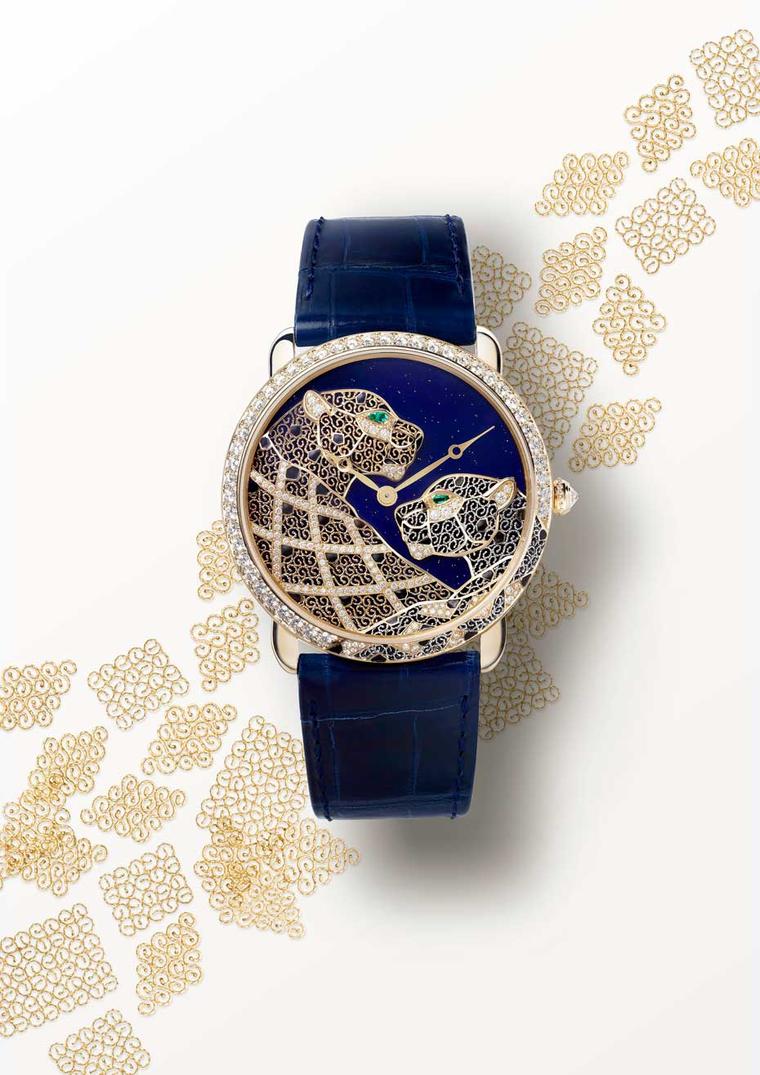 By Rebecca Doulton
Cartier has invested heavily in its watchmaking division to bring it on a par with the outstanding design and creativity of its high jewellery pieces. With a giant manufacturing set-up in La Chaux-de-Fonds, the maison equips its Cartier watches with precision Swiss movements. And just up from this state-of-the-art facility, Cartier has acquired a rustic farmhouse - entirely remodelled - for its Métiers d'Art headquarters. Set in an idyllic location, rare artistic crafts used in watchmaking are practised, perpetuated and rescued from extinction.
One such craft is the art of filigree - an ancient technique of goldsmithing thought to have originated in Sumeria in 3000 B.C. - in which fine, thread-like wires of gold or silver are twisted and flattened with a hammer, shaped to form a motif, and then soldered to create light, airy patterns, similar at times to lace.  
The Ronde Louis Cartier XL watch in a 42mm yellow gold case was chosen to showcase the two filigree panthers depicted against a midnight-blue sky twinkling with stars. Cartier's craftsmen worked with beaten gold and platinum micro-wires to create the lacy bodies of the majestic panthers, who gaze longingly at one another with their emerald eyes. Their spots have been recreated with black lacquer, and their coats highlighted with diamonds. A nice touch is the way the smaller panther's lacy coat extends out from the watch dial to invade a portion of the diamond-set bezel.
A solitary and very intense panther gazes out from the dial of the 42mm rose gold Rotonde de Cartier watch. This impressive work of damascening - the art of inlaying or encrusting precious metals onto a metal surface - is responsible for the almost life-like volumes of the panther. Three different colours of gold wire - rose, yellow and white - were hammered into the spaces cut into the gold dial to create the feline's supple coat, while the spots have been artistically applied in black lacquer.
Both Cartier watches are fitted with in-house manual-winding movements, with the filigree panther limited to 20 pieces, the damascened panther to 50. 
See more animal watches here
It took craftsmen at Cartier more than a month of work to create this lacework watch.

The art of filigree - an ancient technique of goldsmithing thought to have originated in Sumeria in 3000 B.C. - is preserved at Cartier's Maison des Métiers d'Art. Beaten gold and platinum micro-wires are twisted, rolled, curled and cut into little rings, and then soldered together.

Cartier's new Maison des Métiers d'Art in La Chaux-de-Fonds is a haven for rare artistic crafts.

Some of the tools used by craftsmen at Cartier's Maison des Métiers d'Art.

Rotonde de Cartier damascened panther watch showcases the art of inlaying precious metals onto a metal surface that is responsible for the almost life-like volumes of the panther. (Nils

[email protected]

)

Rotonde de Cartier 42mm rose gold watch features a solitary panther brought to life thanks to the art of damascening in which different colours of gold wire are hammered into the spaces cut into the gold dial to create the feline's supple golden coat. (Nils

[email protected]

)

The Ronde Louis Cartier XL filigree watch reinvents the centuries-old technique of filigree, in which fine, thread-like wires of gold or silver are twisted and flattened with a hammer, shaped to form a motif, and then soldered to create light, airy patterns, similar to lace. (Nils

[email protected]

)

Ronde Louis Cartier XL watch in a 42mm yellow gold case was chosen to showcase the two majestic filigree panthers created from beaten gold and platinum micro-wires. (Nils

[email protected]

)