While watching the seemingly endless display of strapless, off-the-shoulder and plunging deep v gowns arrive on the red carpet at the recent 2015 Prime Time Emmy Awards, I was amazed at how many stars donned a completely bare décolletage and could have used a little something around the neck. Sure, I'm always up for alluring elongated earrings and brooches scattered creatively in the hair and on the waist of a dress, but these gowns begged for singular statement necklaces, and very few showed up.
But then I attended three antique fairs in New York and was delighted to see how many show-stopping antique necklaces were on view, making a statement about what the Georgian through Art Deco periods were all about - regal workmanship, artful detailing, and a way of working colour that was refined and feminine, creating pieces that stand out yet never detract from the person wearing them.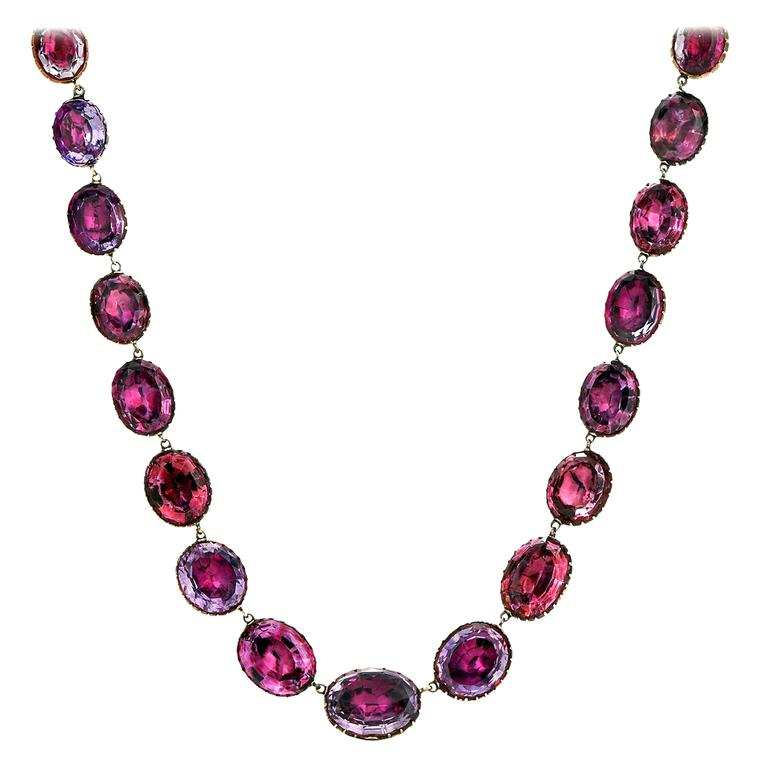 Antique shops throughout the UK, Europe and the US are also placing emphasis on various styles throughout the ages. Riviere necklaces are always in style and those from the Georgian period in particular, with collet silver-topped gold settings and foil-backed gemstones in garnet, amethyst and multi-colour harlequin as well as antique paste, are being snapped up by collectors. These are usually short and individually set in a continuous row of graduating stones. Later versions, from the Victorian period through modern times, are designed with open settings and are primarily set with diamonds in cuts ranging from old-mine, then European and, in the mid to late 20th century, brilliant cut. 
The Regent period saw a definitive shift from day necklaces featuring cameos, intaglios and various agates, to evening necklaces, and focused on choker-length foliate motifs with diamonds surrounding foil-backed vivid gems. Portuguese and Spanish designs featured ornate gold work such as cannetille and repoussé, which set off coloured gemstones such as pink topaz, citrine, aquamarine and chrysoberyl.
Victorian fringe necklaces are also quite popular among both the novice and the consummate vintage jewellery enthusiast. These are defined by a single row of diamond or gem-set dangles, floral patterns or Etruscan revival motifs.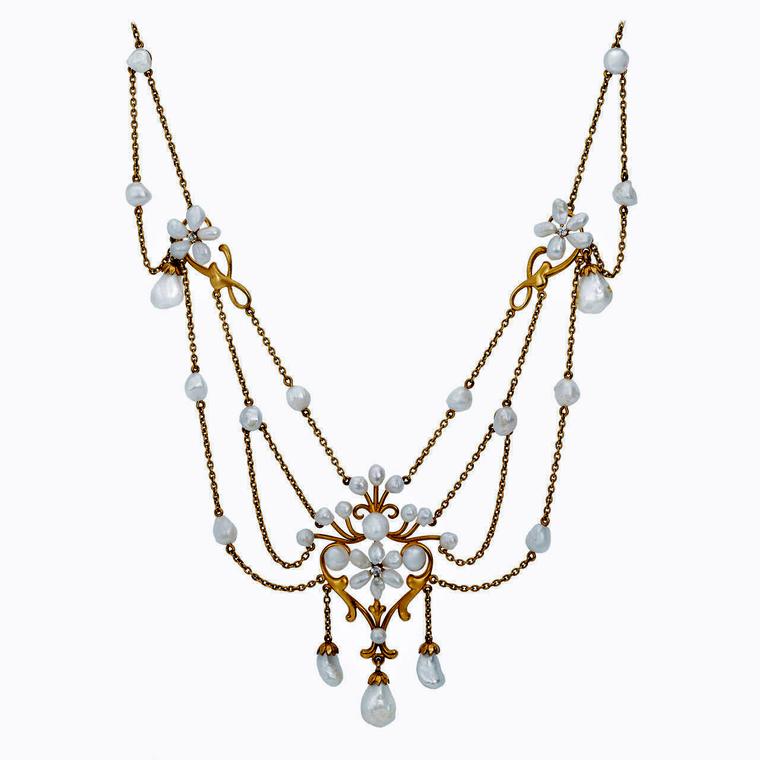 Swag necklaces with chains that dip and loop with simple gemstones and naturalistic motifs cross over from Victorian into Art Nouveau designs. Lavaliers also span different periods. The Art Nouveau styles were worked in gold and various forms of enameling, ethereal or stylised creatures, and an intriguing mix of gemstones, while the Edwardian/Belle Époque eras displayed all white, ultra-delicate garland motifs of platinum, diamonds and pearls. A twist on the lavalier is the negligee, which suspends a pair of asymmetrical pendant drops from unequal lengths of fine chain, which often connected to a thin diamond bar. The drops could be natural pearls or rubies, diamonds or sapphires or a combination of two different stones. 
These negligees eventually became more linear rather than fluid as the Art Deco period called for more streamlined designs. And the thoroughly modern and Roaring Twenties danced the night away with the sautoir, which was a long chain of diamonds or pearls that dipped into one or two tassels at the end.
I am hoping once red carpet award season in the US rolls around in early 2016, we will see some of these classic antique beauties bejewel the necks of contemporary celebrities and make a statement about the style of our times.
Mentioned in this article: