(1)
Gaelle Khouri Soft Deconstruction Perpetuity palm bracelet/ring
Dividing her time between Beirut and London, Lebanese jewellery designer Gaelle Khouri's conceptual new collection, Soft Deconstruction, explores the cyclical nature of our innermost thoughts. While the design elements are deceptively simple - predominantly circles and ellipses - the jewels are anything but. A completely fresh take on the hand bracelet, rows of blue sapphires set into blacked silver, adjoined to a gold band, orbit the hand in perpetuity.
£1,400
(2)
Mike Joseph Waterfall cuff/hand bracelet
This sculptural hand bracelet by Mike Joseph spins a web of white gold chains across the front of the hand. The outer edges, which sweep seductively across the front of the hand towards the forefinger and wrist, are crafted from rose gold, with a single rose-cut diamond at each end. A newcomer to the world of fine jewellery, founder Mike Saatji, who divides his time between Bangkok and Italy, won a Couture Design Award in 2015 for a similarly delicate creation featuring the same complex mechanism that allows the gold to be extremely malleable whilst holding its shape when worn.
$3,999
(3)
Yeprem Flirt diamond hand bracelet
No one does hand bracelets better than Yeprem, the Lebanese jewellery house that has made it quite normal to dream of bejewelling our hands with diamonds. I have tried on some of the more elaborate designs and can attest to them being exceptionally comfortable to wear, not to mention incredibly cool (Rihanna loves them, ditto Madonna). Part ring, part palm bracelet, the Flirt weaves its way around the fingers before creeping around the front of the hand, culminating in clusters of marquise-cut diamonds.
$11,500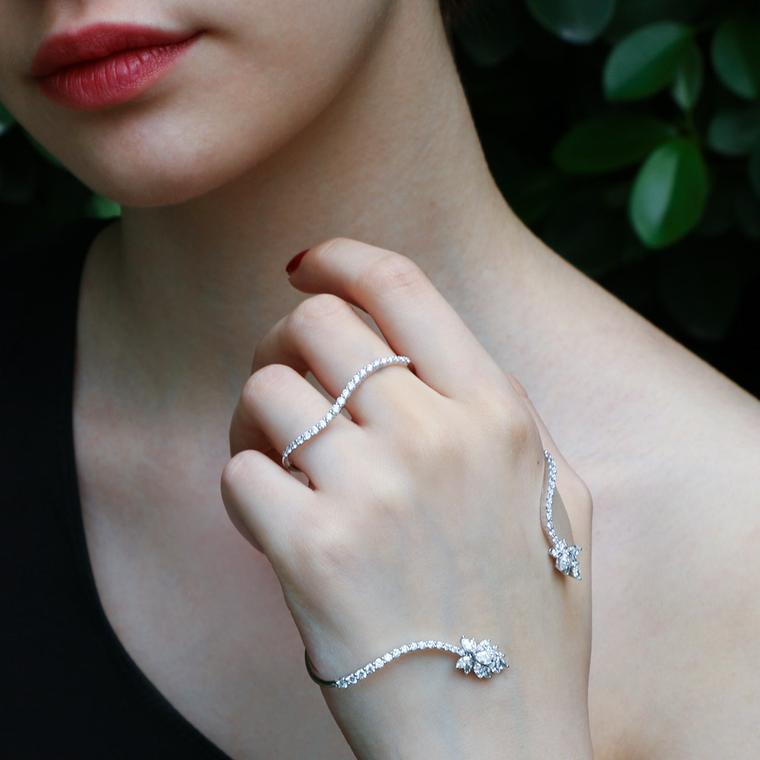 (4)
Delfina Delettrez Kiss My Hand bracelet
From oversized brooches depicting cartoon-like faces to single earrings with Dali-esque lips all in a row, Delfina Delettrez's surrealist-inspired jewels are her trademark. This Kiss My Hand bracelet, new for autumn/winter, is understated for Delettrez, but not all customers are brave enough to embrace the giant brooch trend. Instead, they can slip on this pink sapphire hand bracelet and, in the most delicate of ways, still feel like they are defying convention. 
£1,500
(5)
Lily Gabriella Infinitas palm bracelet in rose gold with sapphires
Bored of traditional bangles? Then try a palm bracelet, which slips over the fingers, secures firmly around the hand and is so comfortable you will forget you're wearing it. Born into jewellery royalty - her grandmother is Lily Safra, a Brazilian-born philanthropist with an enviable collection of jewels - Lily Gabriella's Infinitas palm cuff is a modern take on the infinity symbol, with undulating waves of rose gold encircling the hand, set with blue sapphires.
£10,000
Mentioned in this article: