As the only gem created by a living organism, pearl jewellery has long been coveted for its beauty and rarity. The value of a pearl is determined by a combination of factors including its lustre, colour, size, symmetry and lack of inclusions. As the price of natural pearls has rocketed in recent years, it will come as no surprise that the world's most expensive pearls are valued at many millions.
From Cleopatra and Elizabeth Taylor to Coco Chanel and Audrey Hepburn, pearl jewellery has been draped around the necks of some of the most iconic women in history. Natural pearls signed by Cartier seem to be a winning combination when it comes to record-breaking pearls, as all the jewels in the top five meet this criteria.
The most expensive pearl in the world 
The world's most expensive pearl, which Hollywood actor Richard Burton bought for Elizabeth Taylor's 37th birthday, was set into a custom-designed Cartier necklace. Named La Peregrina, Burton spent $37,000 on it in 1969. 42 years later, this record-breaking pearl necklace had increased in value by more than 300 times, selling for $11.8 million at Christie's New York in 2011.
With a recorded history that dates back 550 years, the pear-shaped La Peregrina is widely considered to be one of the most important pearls in the world, and it once belonged to royal dignitaries such as King Philip II of Spain and Queen Mary I. It is now the pièce-de-résistance in a double-strand natural pearl necklace, which also features diamonds and rubies set into floral patterns. This necklace also features in the most expensive jewels ever to sell in jewellery history.
The second most expensive pearl jewel
The world's second most expensive pearl jewellery was sold at Christie's for $7.1 million in 2007. The Baroda two-strand pearl necklace was created from 68 pearls that were once set into an historic seven-strand pearl necklace belonging to the Maharajas of India. The colour-matched pearls are unusually large, with a diameter of 10 to 16mm, and the necklace is fastened with a cushion-cut diamond clasp designed by Cartier.
The third most expensive pearl jewel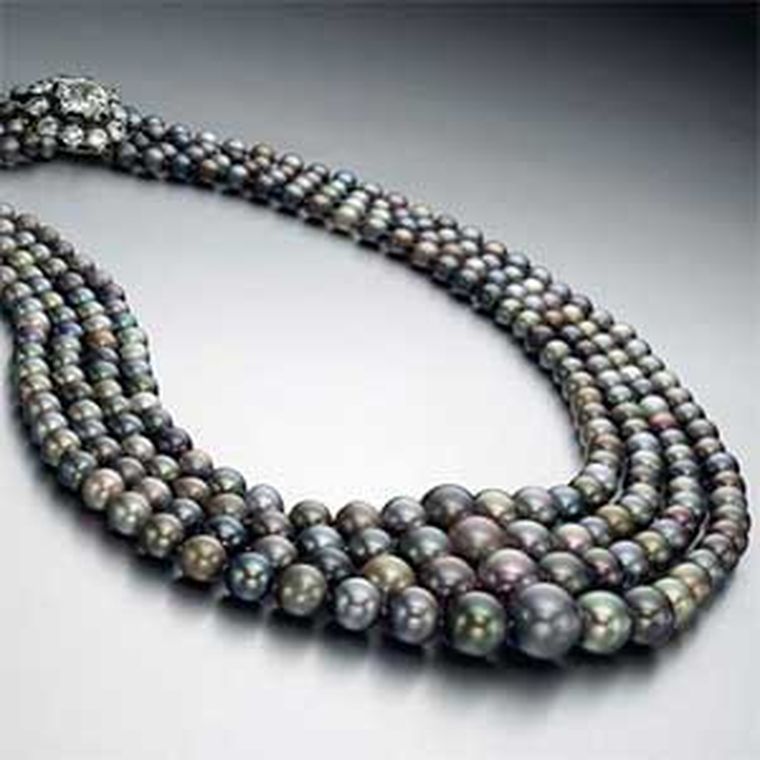 In third place is this four-strand natural pearl necklace, set with perfectly graduated, lustrous black saltwater gems. This spectacular necklace achieved a new world record for a coloured pearl necklace when it sold for just over $5 million at Christie's Magnificent Jewels sale in New York on April 14. The buyer chose to remain anonymous. 
The fourth most expensive pearl jewel
In fourth place is a single-strand pearl necklace with impeccable royal provenance, which was sold by Sotheby's for $4.82 million in 2007. The so-called Duchess of Windsor pearl necklace used to belong to Queen Mary, wife of King George V, who gave it to her son the Duke of Windsor. There are several photographs of the Duchess wearing the 14-inch necklace, which is made up of 28 natural pearls with a Cartier diamond clasp. When the Duchess of Windsor's jewellery collection was auctioned in 1987, US fashion designer Calvin Klein bought the necklace as a gift for his then wife, Kelly.
The fifth most expensive pearl jewel
Rounding up our top five most valuable pearl jewels in the world is this double-strand pearl necklace that fetched $3.7 million when it was sold by Christie's in 2012.
Held together with a Cartier diamond clasp, the necklace is made up of 120 white or light cream pearls ranging in size from 6.5 to 12.25mm.
Also worthy of a special mention is The Gulf Pearl Parure, a natural pearl and diamond necklace, earrings, ring and bracelet designed by Harry Winston. With a total of 193 natural saltwater pearls accompanied by a whopping 160 carats of diamonds, it sold for $4.2 million at Christie's Geneva in 2006, but it doesn't make our top five because a parure is a collection of jewels, not a single piece.
Mentioned in this article: