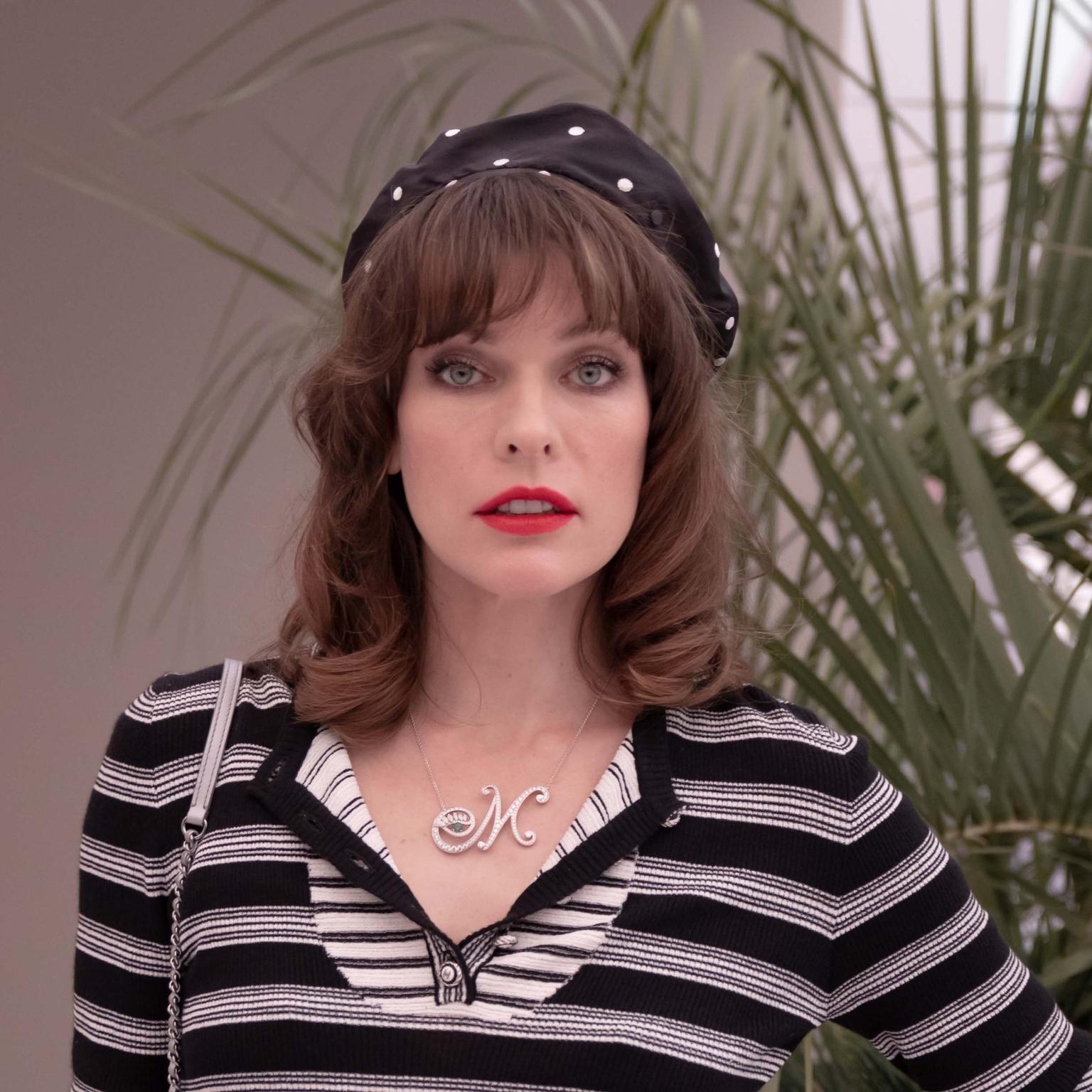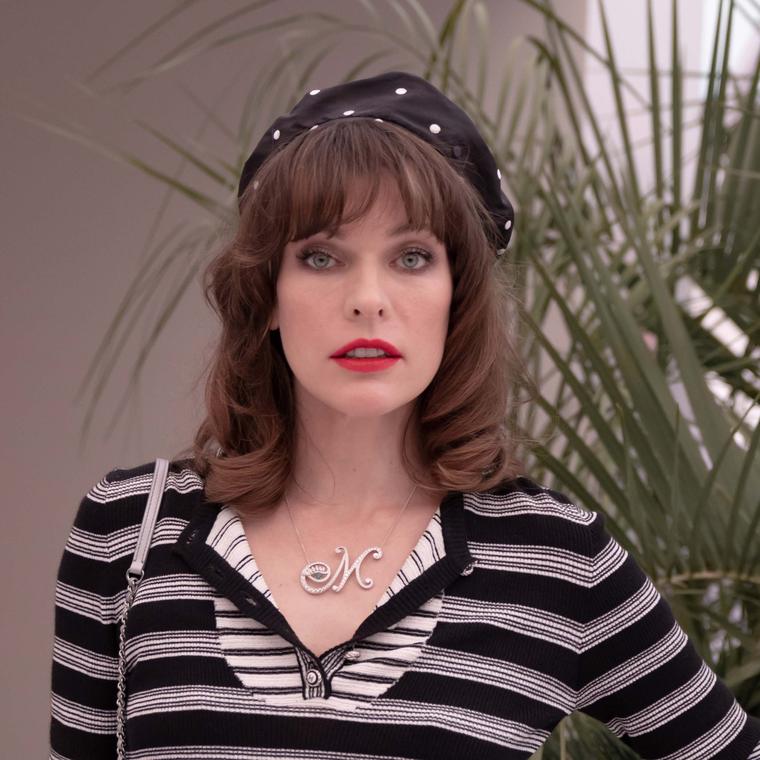 It was a pleasure to talk to the fine jewellery designer Nigora Tabayer, who has recently launched both an eponymous brand and her debut Eye Collection. Following a global launch in Paris at the Crillon Hotel, with 50 VIP dinner guests, including her friends and models-for-the-night Caroline Vreeland and Coco Rocha , I was intrigued to find out more about Tabayer's upbringing in Central Asia and how her culture, and lifelong love of jewels, inspired the new collection of jewels featuring the protective eye. I caught up with her while she was in Miami.                                                                   
Nigora Tabayer was inspired to transform the iconic eye motif into a high-end luxury jewellery masterpiece featuring the wearer's initial, making each pendant unique to its owner.

Each piece in Nigora Tabayer's Eye Collection, including the sensational diamond bracelet, was crafted for the designer by renowned London jewellery house Graff.

Nigora Tabayer has taken the symbolic eye motif and transformed it into a beautiful jewellery collection set with the finest diamonds and emeralds.

Interwoven into the unique design of Nigora's Tabayer's Eye Collection emerald and diamond initial pendants is a precious eye to offer protection.

A selection of emerald and diamond Eye Collection pendants from Nigora Tabayer's debut fine jewellery collection.

Nigora Tabayer's Eye Collection pendants elegantly incorporate the protective eye into diamond-set letters of the alphabet.

As someone who loves wearing sets of jewels, Nigora Tabayer has also added a spectacular diamond bracelet to the Eye Collection.

The exquisite diamond bracelet from Nigora Tabayer's debut Eye Collection.

The inspiration for the Eye Collection came from Nigora Tabayer's childhood, when her mother would dress her in a simple bracelet featuring the talismanic eye, which is worn for protection in Central Asia, the Middle East, Turkey and Greece.

Building on the success of her debut Eye Collection, the designer from Central Asia, Nigora Tabayer, plans to launch a second fine jewellery collection in the very near future.

Fine jewellery designer Nigora Tabayer wears her Eye Collection necklace featuring the letter N every day. Larger, more luxurious models are available for evening wear.

 Milla Jovovich is wearing a beautiful letter M for Milla necklace from Nigora Tabayer at Cannes Festival
Tell me about your family associations with eye jewellery?
Growing up in Central Asia, the symbol of the eye is everywhere. In Central Asia and the Middle East, Turkey and Greece, it is a representation of protection.  As a young girl, my mother would dress me and place a bracelet with the eye on my wrist. It never looked just right. I asked her why I had to wear it and she said: "It is our tradition and we have this to guard us. Your grandmother believed it was special and the tradition was passed on to me. Now, I am passing it on to you." It was a simple bracelet on a green elastic band, with a green eye.  I remember it so well.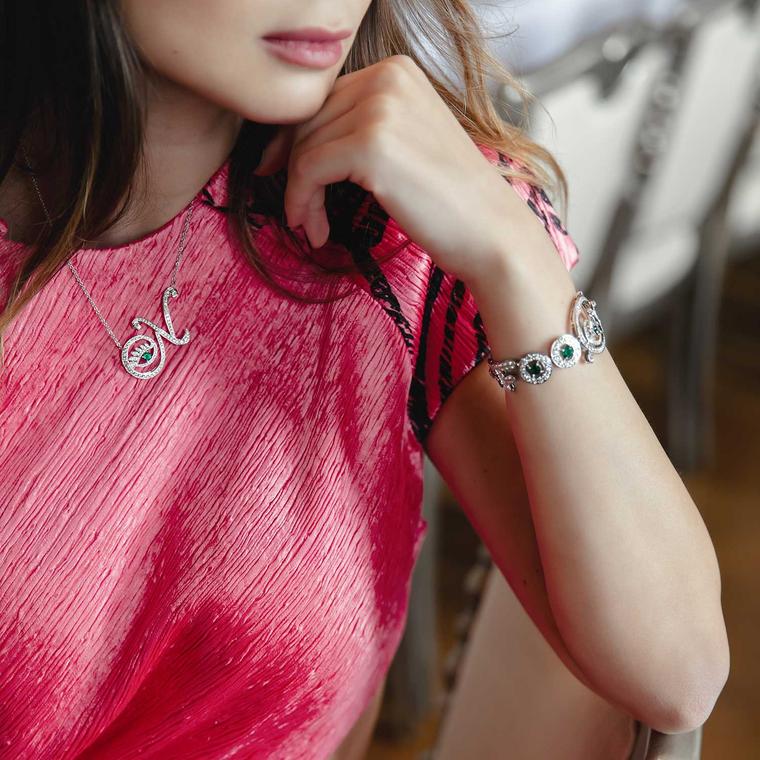 Why did you choose to use the eye as the theme for your first jewellery collection?
I will never forget the first time my mother and I had a meaningful conversation about designing jewellery. We thought carefully for some time and, finally, the Eye Collection was born.
The symbolism and meaning of the eye dates back more than 5,000 years and it is taken extremely seriously in cultures that believe in curses. You wear an eye to protect your energy because, if a person curses you, intentionally or not, the eye acts as a distraction, and the curse is absorbed by the eye instead.
I started with the eye, but eventually it transformed it into a high-end, luxury masterpiece, unique to each individual owner, which is why I linked it to the idea of the alphabet and, more specifically, the wearer's initial.
What ignited your passion for design?
I studied business management in Florida, but after graduation I realised that wasn't where my passion lay. My father always told me to follow my heart, and since I was a girl, I was always interested in design.  My father is an architect and my mother a fashion designer, so I think it is in my DNA.
It would have been more logical to follow in my mother's footsteps and enter the world of fashion design, but I was drawn in a slightly different direction. My mother truly is still my inspiration. Everyday, she would pick me up from school and take me to her office. This is where my passion for design was first sparked, surrounded by fabrics, designs and the creative atmosphere in the atelier. My mother encouraged me from a very young age to develop my creativity by giving me pens and paper to imagine with.  From that moment on, I knew that designing would be in my future.
I travel a lot and go to many high-end jewellery shows and events. I regularly get to meet the creators, which adds fuel to my passion for jewellery design. I can't help but be inspired by jewellery.  Creatively, I feel that I can bring much more to the world of jewellery than to the world of fashion.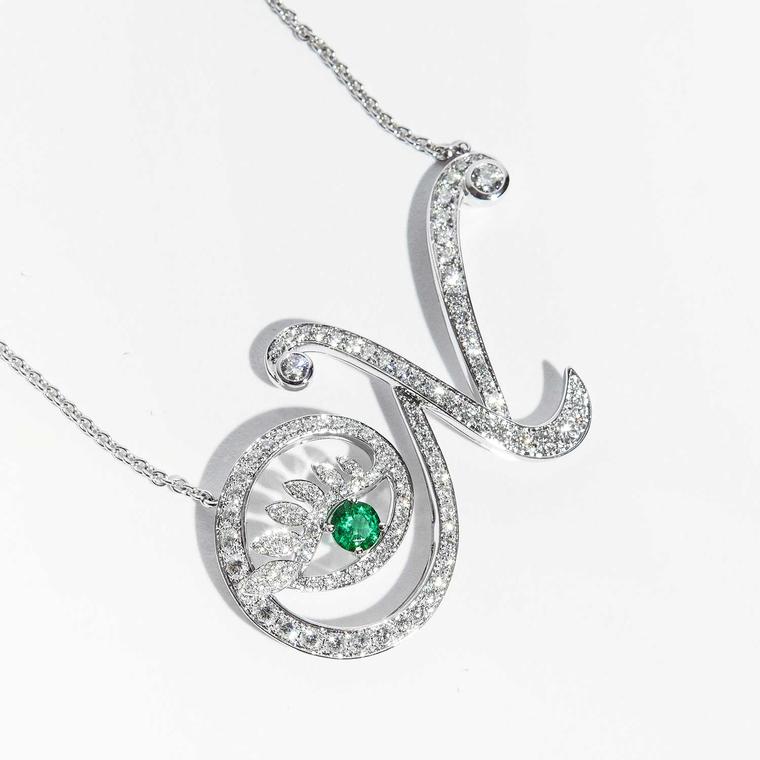 How did you come to design your first piece of jewellery?
Five years ago, my mother challenged me to design my own piece of jewellery which featured an elaborate letter N for Nigora. The first scroll of the N looped around the eye, as well as a green emerald iris complete with diamond-set eyelashes.
I have always appreciated beautifully made jewellery and have been a very good client of the jeweller, Graff.  It was a great honour when the London jewellery house offered to manufacture my necklace for me. My mother loved it, so I designed one for her as well, which then developed into a collection of letters featuring the entire alphabet.
 I take a lot of pride in my designs and if a stone is not set in the perfect way or the colour is not quite right, the finished jewel won't be a success.
In total, I have made 31 pieces featuring letters of the alphabet as well as a spectacular diamond bracelet. I feel very privileged that my jewellery journey began with Graff and I would love to continue working with them, but there are many opportunities out there and I would like to collaborate with other jewellery houses in the future. It was always my plan to work with different jewellers, and I am now working on my second collection.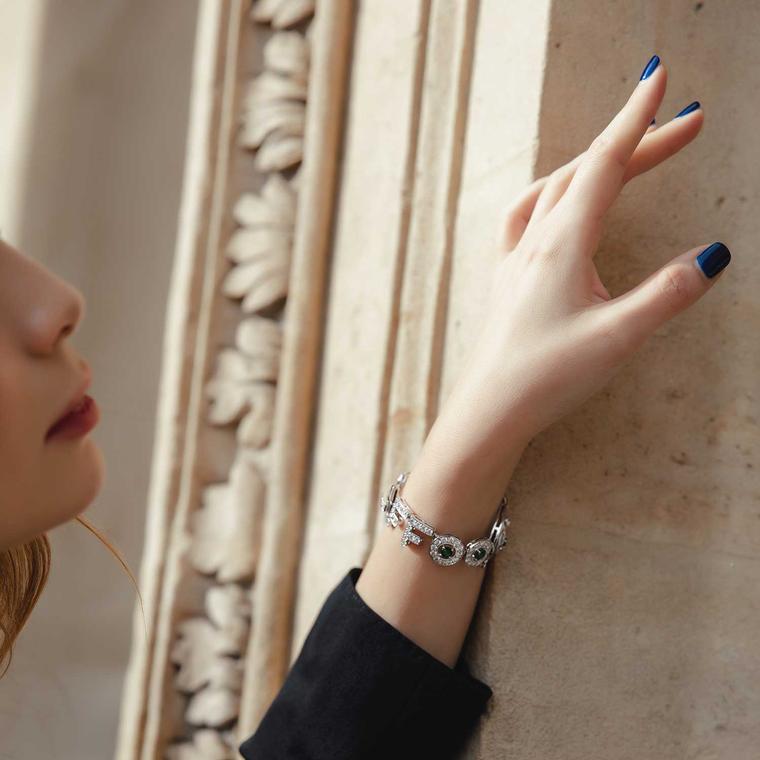 Is the Eye Collection for day or for night?
The pieces I designed featuring letters of the alphabet and the eye are designed to be worn by day and by night. For a special occasion, or when I'm going out for dinner, I always struggle to find the right balance between my smaller everyday jewels and more elaborate pieces.  Because my designs are very luxurious, beautifully made and extremely high quality in terms of the gold, diamonds and gemstones, they look fabulous worn with almost anything (especially chandelier earrings). 
I have designed the alphabet necklaces in two sizes – smaller for everyday and a larger design for occasions that require a bolder statement. I own both sizes and wear the smaller version all the time. The bigger size, I save for evenings.
The design for the bracelet came later because I wanted to combine the necklace with another beautiful jewel, also set with exquisite stones. I love to wear sets of jewels.
What is your favourite stone and why?
That is such a hard question but I would have to say diamonds because it is my birthstone, which is April. Pairing sapphires and diamonds together is a design I love as well.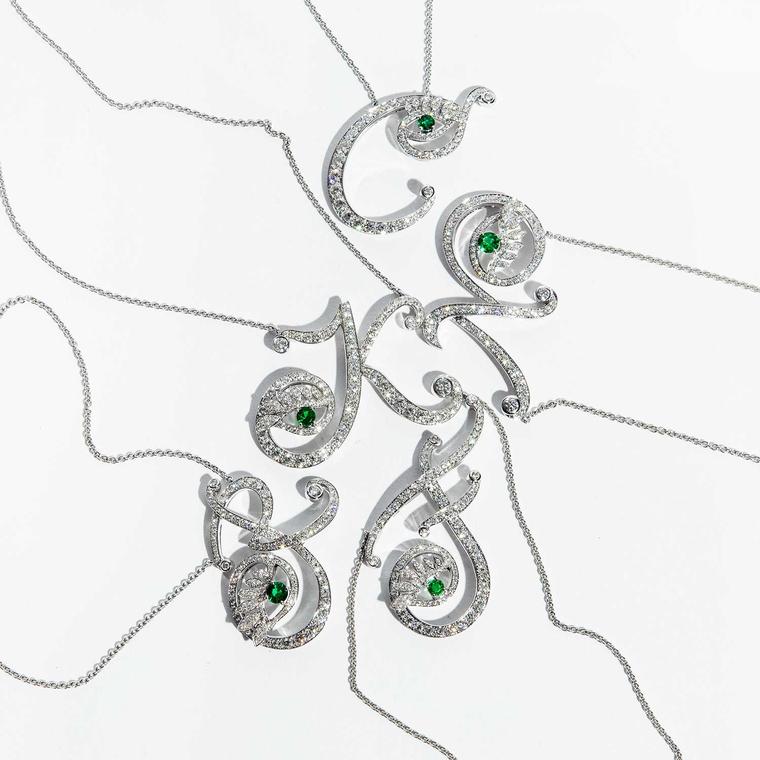 Could you describe the Nigora Tabayer woman who wears your jewellery?
The woman who wears my pieces is modern, confident and independent, but with a hint of fragility.  I see my jewels as an exceptional accessory to her beauty.
What are the three favourite pieces in your jewellery box?
My favourite jewels are those that have been passed down to me by my grandmothers on both sides. One piece I am especially fond of is an antique platinum bracelet, which is set with a pear shape rose cut brown-yellow diamond. Natural pearls encircle the diamond and I feel very lucky to own it. I like to wear it with pearl and diamond earrings.
I love the idea of jewels as heirlooms and I approach my own jewellery choices from this angle rather than following trends.
Which are your favourite places in the world?
I like to feed my creativity on my travels. It keeps me inspired.  In the winter, I head to St Moritz with my family, and on to the Maldives for some sunshine, followed by a bit of time in London.  I spend summers in Italy and the rest of my time in the USA. The museums and ancient sites in Italy are not just beautiful to look at, the history is fascinating too. 
What is next for Nigora Tabayer?
The launch of my second collection, which is yet to be revealed but is already very important to me. Recently I have been thinking about designing a special set starting with earrings. It will be the first time I have created a pair of earrings and they will be red carpet wear – very high end. I envisage them being a very limited series, but for now, I can't tell you any more than that!