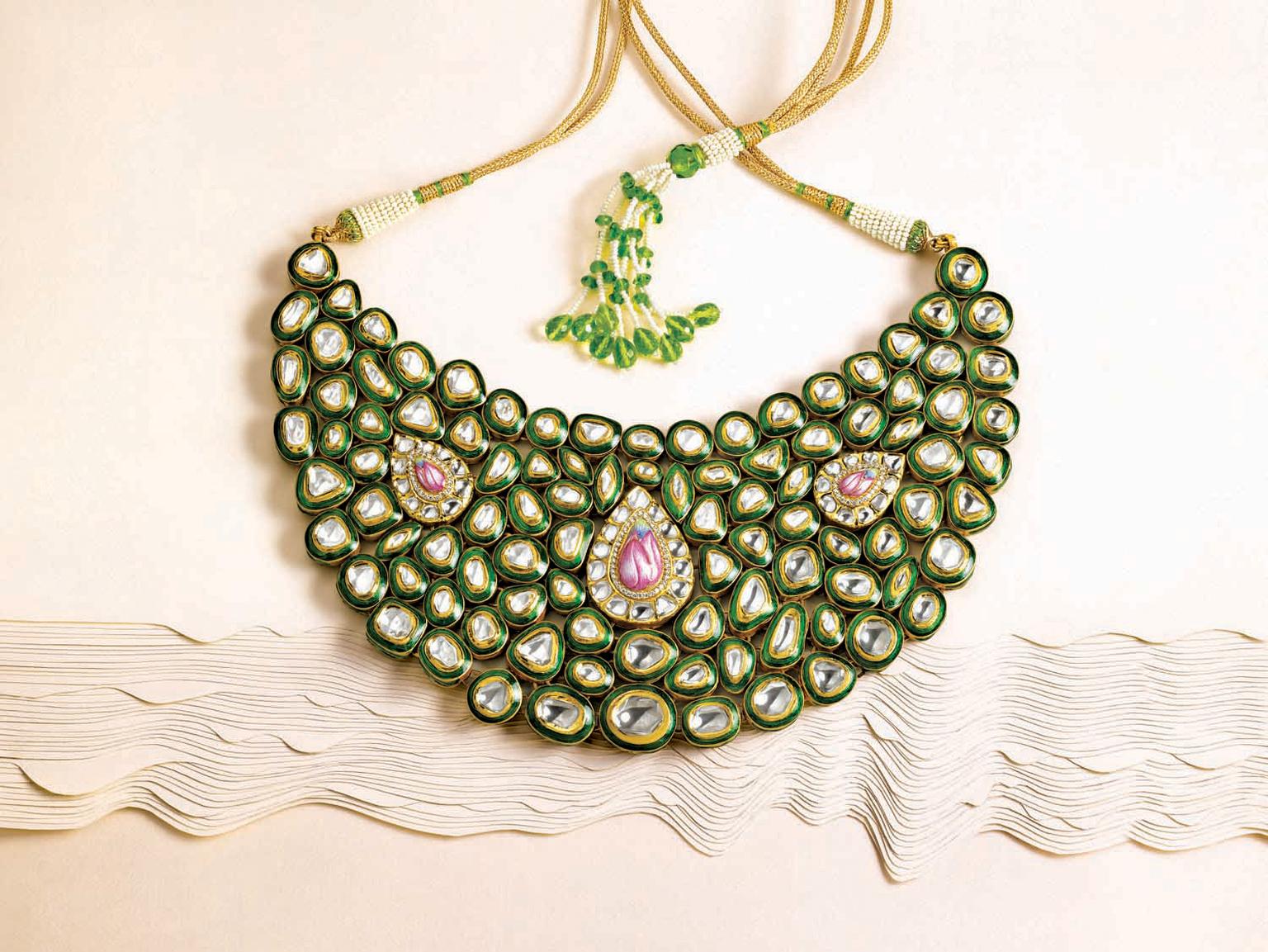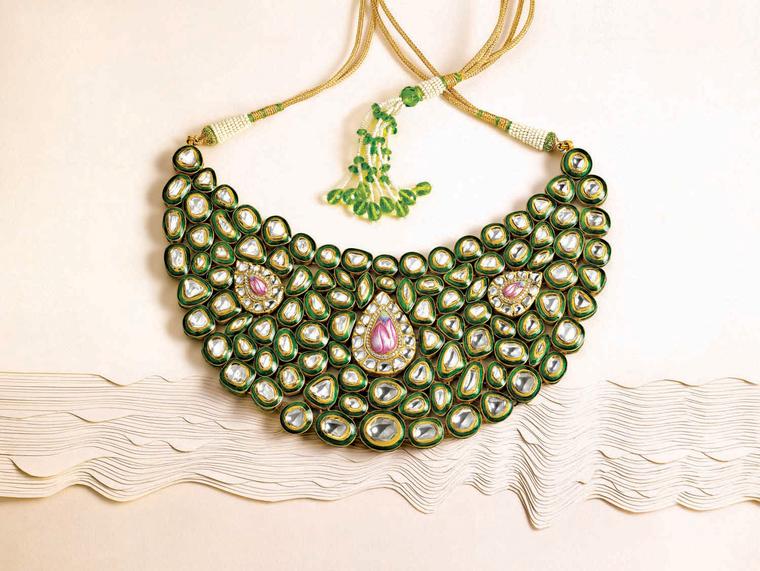 Text by Preeta Agarwal 
Zoya, 'The Exquisite Diamond Boutique', from the House of Tata, recently launched a new jewellery collection, Banaras, inspired by lavish rituals, floating lamps at dusk, the River Ganges and the divine lotus, all of which are common sights in the city of Banaras (Varanasi). The religious capital of India and one of the oldest cities in the world, Banaras is famous for its ancient historic, cultural and religious heritage. Spread out along the banks of the Ganges River, with over 23,000 temples, large and small, and more than 80 ghats (a series of steps leading down to a body of water), the city provided plenty of picturesque references for the designers at Zoya to translate into magnificent jewels.
Zoya's Banaras collection took a year to perfect and boasts many striking statement pieces incorporating materials and techniques rarely used before now. While there is a profusion of 22ct yellow gold, polkis and diamonds, there are also exquisite stones, including malachite, turquoise and pink opals, and ancient techniques such as Partaj, Chitai (engraving) and intricate Banarasi Meenakari (enamelling) on display. Stones such as turquoise mirror the river and the bird-filled sky. Yellow gold depicts the perfect sunrise against a backdrop of flowing water and the earthiness of the ghats.  
Lotuses that bloom in the sacred water, petals glistening with dewdrops, inspire many pieces. The lotus form has been crafted using various techniques to create both two- and three-dimensional interpretations. Other works of art include magical chandelier earrings ending in white polkis, inspired by the elaborate lamps used for the Ganga Aarti, a religious ritual performed on the banks of the sacred river.
Echoes of the domes and spires that dot the landscape of Banaras can be seen in the stiff Hansli necklace, which is typical Indian neckwear, while unevenly arranged polkis interspersed with lotus motifs illustrate the scenic beauty of the river filled with numerous floating lamps and lotus flowers on religious days. Together, they create the silhouette of a large Indiandiya (lamp).
Zoya's Banaras collection was launched alongside a collection of famous Banarasi saris from Taj Khazana, which are regarded as among the finest in India. The exquisite saris stir up images of sheer organzas and georgettes with intricate zari embellishments and priceless brocades. Lined with motifs of the temples that rise over the ghats and the diyas bearing the wishes and prayers of millions of devotees, together with Zoya's exceptional jewels, they encapsulate the mystical allure of this holy city.
Kalyani Chawla, vice president of Dior India, in a Banarasi sari and Zoya's diya necklace at the launch of the new Banaras collection

Parvathy Omanakuttan, Miss India World 2008, in a Banarasi sari and jewellery from Zoya's new Banaras collection

Zoya pendant and earrings set in yellow gold with polki diamonds and turquoise depicting birds against the sky

Zoya earrings in yellow gold with polki diamonds and turquoise

Zoya lotus earrings in yellow gold with pink enamel and polki diamonds

Zoya cuff in yellow gold with pink enamel and polki diamonds

Zoya necklace in yellow gold with pink enamel and polki diamonds

Zoya lotus earrings in yellow gold with polki diamonds, pink opals and green enamel

Zoya yellow gold lotus ring with polki diamond-studded petals

Zoya yellow gold lotus ring with polki diamonds

Zoya polki diamond string necklace with enameled lotus motifs on the reverse

Zoya lotus and ambi (paisley) inspired pendant in yellow gold with polki diamond and enamel work