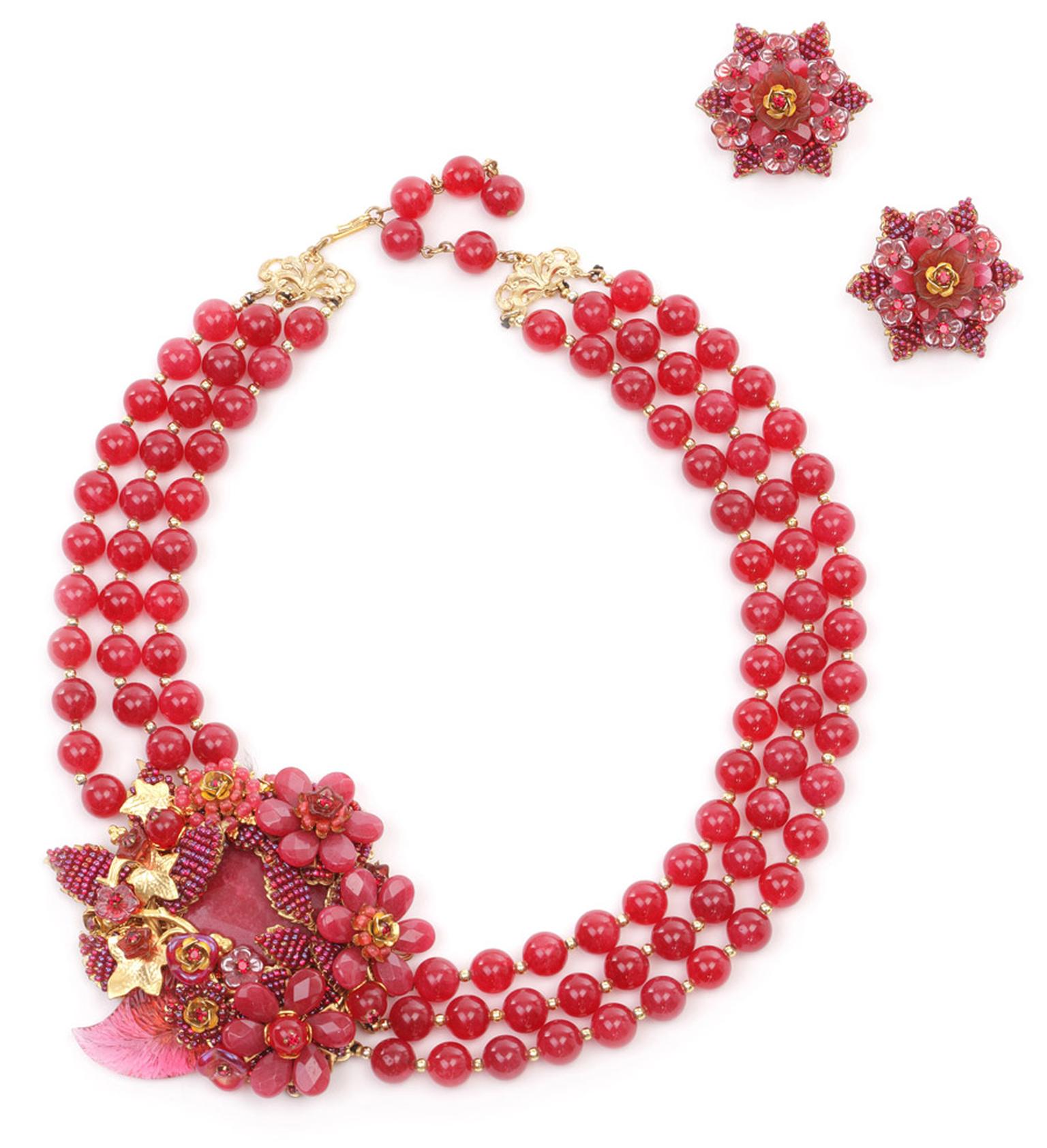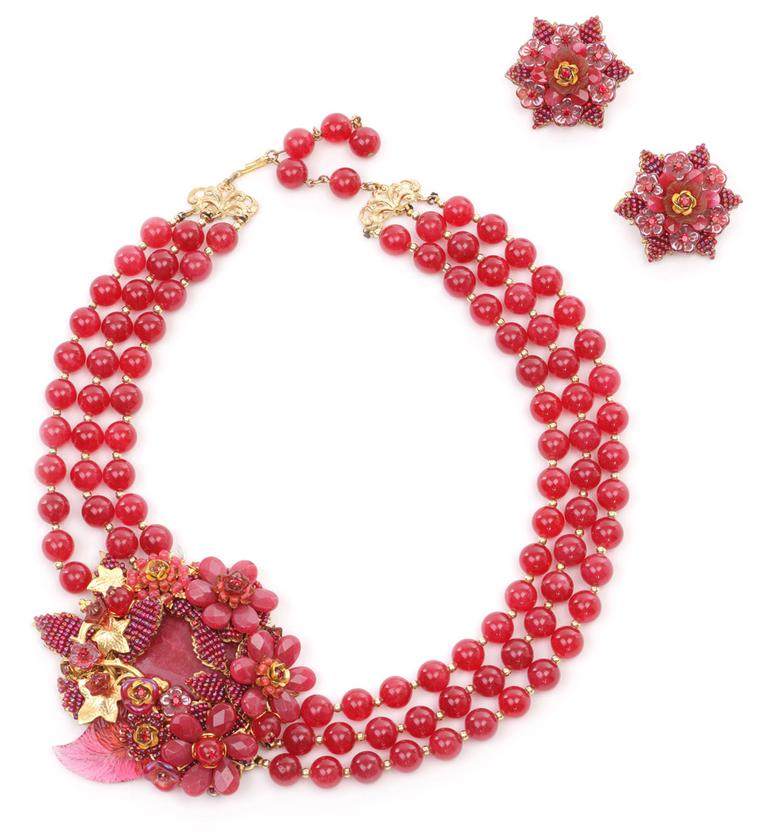 It's been almost two decades since the vintage bug hit the high street and since then we've seen a multitude of pretenders, selling what are essentially second-hand wares rather than unique, individual and genuinely vintage pieces that carry with them heritage, charm, and a one-of-a-kind quality not found anywhere else. Self-labelled curators of a heritage lifestyle, Vintage Seekers are most definitely the latter, and here we see a collection that certainly holds true to that ethos.
One of the pleasures of looking at pieces such as these is the wide array of designers, styles and time periods on display. It seems almost strange to say so so soon, but jewellery from the 1980s is already earning itself vintage prestige and here are two pieces from Stanley Hagler NYC. The red choker and earrings feature an intricate jewelled flower cluster with a variety of beads against gilded bronze leaves; chokers were a rarity for Hagler and to have such a necklace chest-piece from him adds to what is already an exceptional find. Also available is Stanley Hagler's Bee Swarm bib style necklace. Just how did Stanley Hagler come up with the idea of setting a swarm of bees lose on your décolletage? It is this playfulness and sense of humour that sets this piece apart. And I love the fact that the stones he has chosen are honey coloured.
Stanley Hagler established his company after working as a business advisor to Miriam Haskell, who's Red Crystal bib is arguably the stand out piece here. Not only would the cascade of red beads create a dramatic statement against a simple dress, they would also make a nice sound as you move. The Aurora Borealis crystals developed by Swarovski in the 1950's give this necklace a certain zeitgeist. When Mr Swarovski invented these opal like stones in his Tyrol HQ, he realised their potential as much more than just another bead and so took them to Mr Christian Dior himself who immediately adopted them and adorned both his couture and jewels with them and others followed suit.
I am a sucker for pearls and the Mosell Coral Syle Gold tone necklace piece makes good use of them. As with fine jewellery, details make the difference and this set is so beautifully made that each little golden branch of coral seems to squirm with life and that gives this jewel the X Factor. It's free flowing shape captures the feeling of the early days of the jet set and their love of Mediterranean destinations. This is vintage 1950s through and through, and even with a couple of imperceptible missing stones, this is a great example of why Mosell's pieces are so sought after.
Once one of the luxurious mainstays of Broadway and Hollywood during the first half of the twentieth century, Trifari's Crystal Choker is intended to look like fine jewellery and sticks to the rules. It is no surprise that Trifari's main designer, Alfred Philippe, also worked for the big jewellery maisons, so no clowning around here but proper grown up jewellery that looks like the real deal. So much so that Trifari has gone to the trouble of choosing different cuts of 'diamonds' to create the effect of a random organic pattern that reminds me of drops of dew. This design and production rigour - akin to how fine jewellery is created - makes this piece a keeper.
Another piece from the 1980s is the Lawrence 'Larry' Vrba Jade and Pearl necklace and earrings, with so much va va voom it could drink its very own Martini. A heady mix of styles that is at once Renaissance, oriental and yet thoroughly modern, a powerful cocktail that the freedom of costume jewellery allows. I can see this worn with a turban à la Liz Taylor and it looks like the kind of jewel that likes to stay out late so this is one for me. Like Stanley Helger, Vrba had his ties to Miriam Haskell, making his own jewellery after being Head Designer for Haskell.
Finally, with all the incredible pieces on display and prices to match them, it's fair to say that there are always gems for the more budget-conscious jewellery consumer, and this unmarked articulated frog pin is certainly one: it may be a bit of fun, but what exquisite fun it is! While some animal brooches can be kitsch, this little amphibian pulls off the right balance between comical and stylish. The mottled effect of his blue-green skin gives him a realistic touch yet the stylised shape of his body gives him a more sophisticated air and his little legs move and make the diamonds sparkle - so cute.
Vintage Seekers proudly put heritage back into vintage couture, and with jewellery like this it's a pleasure to see someone doing it so well. 
Unmarked Articulated Bejewelled Frog - £150

Jade and Pearl necklace and earrings by Lawrence Vrba - £1,750

Miriam Haskell Red Crystal Bib, c.1958-1950 - £4,000

Mosell Coral-Style Gold Tone Necklace and Earrings with Pearls - £675

Stanley Hagler Bee Swarm collar, bracelet and earrings, 1960s - £2,500

Trifari Crystal choker, 1950s

Stanley Hagler N.Y.C. Red choker and earrings, 1980s - £1,650