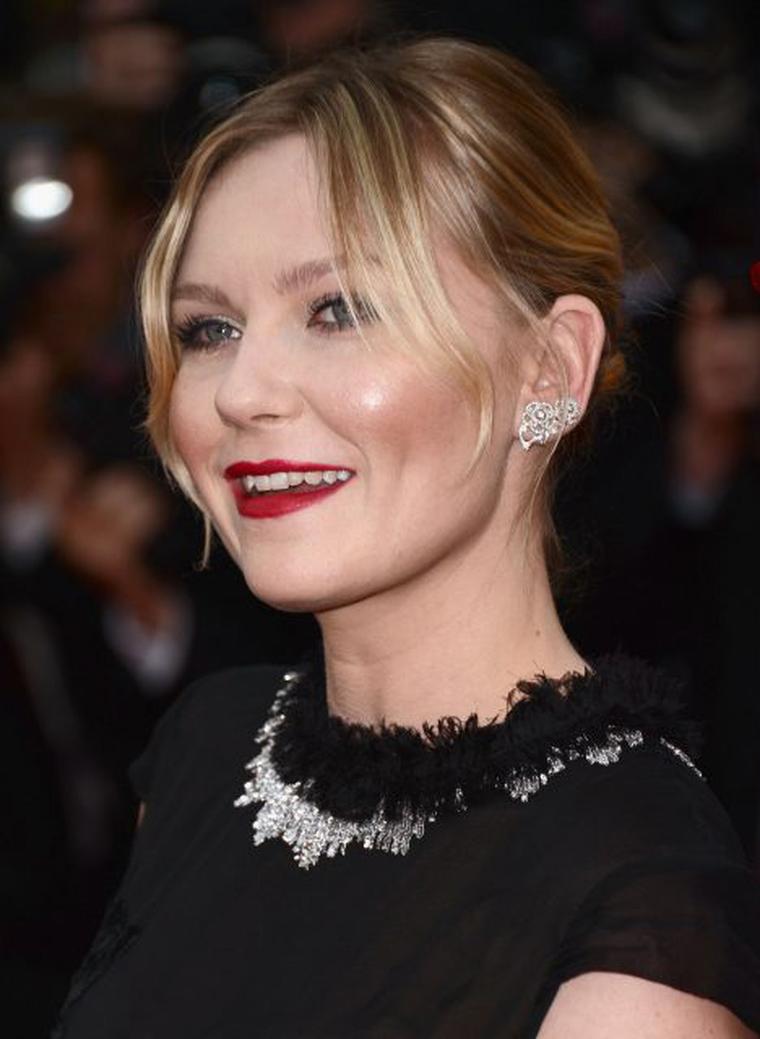 With the recent launch of Harry Winston's Sunflower collection (read about it here) and Boodles' new Maymay jewels (read more here), floral jewels have emerged as a big jewellery trend this year, and the Cannes red carpet was abloom with them.
Red carpet favourite Kirsten Dunst wore dainty Chanel 'Camélia Brodé' earrings that looked more like petite ear cuffs, while the baby-faced Delphine Chaneac chose a gorgeous Avakian sapphire and diamond ring in the shape of a flower. 
Marion Cotillard made a dramatic entrance on the red carpet in Chopard's new Green Carpet jewels, which incorporate delicate flowers and are as intricate as a piece of Chantilly lace. The pretty earrings and bracelet came with a serious message attached. Launched in collaboration with Eco-Age and its founder Livia Firth, who initiated the Green Carpet Challenge, they are among the first entirely ethical jewels to appear on the Cannes red carpet (read more about Chopard's new Green Carpet Collection here).
Florals may be a hot trend for 2013, but like all fashions, they've been done before. Jessica Chastain had the honour of wearing some of Elizabeth Taylor's Bulgari jewels at one of the highest-profile events of the festival. Hosted by Bulgari and Twentieth Century Fox, the star-studded event paid tribute to the 50th anniversary of 'Cleopatra' starring Elizabeth Taylor and Richard Burton and saw Chastain draped in Taylor's Bulgari jewels for the day, including an 'en tremblant' brooch, dating from 1960 and worn in her hair, featuring a bouquet of diamond and emerald flowers.
Actress Delphine Chaneac walked the red carpet wearing Avakian jewellery, including a floral ring, at the premier of 'Le Pass' over the weekend at Cannes.

Paris Hilton wore Avakian floral diamond earrings and a matching ring to the after-party of Sofia Coppola's latest movie 'The Bling Ring', in which the socialite features.

Zhang Ziyi at the amfAR gala in Cannes wearing floral diamond earrings and a matching ring by Mouawad.

Jessica Chastain wears Elizabeth Taylor's Bulgari 'en tremblant' emerald and diamond brooch in her hair.

Selita Ebanks wore Chopard diamonds and a canary yellow Cadena Gabriela gown dripping in diamonds along the shoulder blades.

Jessica Chastain wore Elizabeth Taylor's diamond and emerald 'en tremblant' brooch by Bulgari in her hair at the Cannes Film Festival 2013. She is also wearing Elizabeth Taylor's emerald and diamond ring.

Marion Cotillard proudly wears Chopard's Green Carpet Collection jewels, all sustainably sourced, to the premiere of 'Blood Ties' at the 66th Cannes Film Festival 2013.

A prime-time outing for these jewels, which were made in response to Livia Firth's Green Carpet Challenge for sustainable fashion and jewels.

Bulgari 'en tremblant' brooch in platinum, emeralds and diamonds from 1960. The brooch was probably given to Elizabeth Taylor by Eddie Fisher, her husband at the time, and was worn on countless occasions as well as in the film Boom! both as a brooch and hair ornament.

The floral drop Avakian earrings worn by Paris Hilton to the after-party of Sofia Coppola's latest movie 'The Bling Ring'.

The flower ring, set with a 2ct sapphire and rose-cut and round diamonds totalling 6ct, that Daphne Chaneac wore at Cannes.

Zhang Ziyi wore a stunning diamond set by Mouawad to the star-studded amfAR charity benefit at Cannes, with over 21ct of diamonds worth US$1 million.