For the first time in Tiffany & Co.'s 178-year history, the brand has collaborated with another store on a capsule collection of Tiffany jewellery. And rather than picking a traditional luxury retailer, it has joined forces with the edgy cool-hunters at Dover Street Market.
For three months only, a special collection of Tiffany jewellery entitled Out of Retirement will be sold at Dover Street Market's fashionable boutiques in London, New York and Tokyo. The eight jewels and 10 gifts in the collection are revivals of archived Tiffany designs - as the brand likes to say, its jewels are never discontinued, they are simply retired.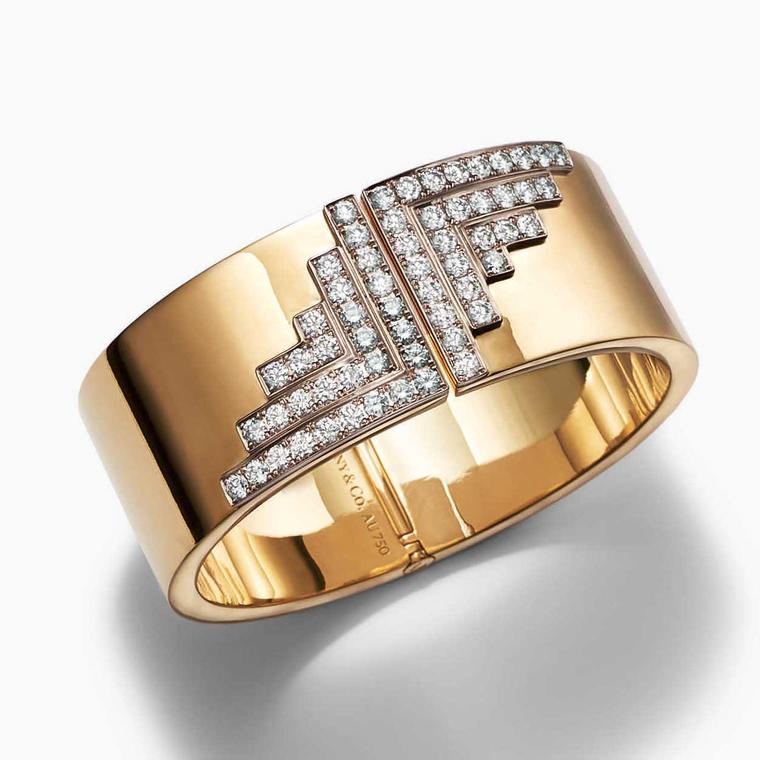 The designs have been lifted from the Tiffany & Co. Blue Book collections - annual presentations of its most daring designs from the 1940s, 50s, 70s and Noughties - yet each jewel looks completely modern and fresh.
"I love the idea of Out of Retirement gifts," says Tiffany design director Francesca Amfitheatrof, who worked with Dover Street Market to curate the collection. "The essence of Tiffany jewellery has always been about modernity and beautiful material, and these pieces feel just as contemporary today as when they were first made. They are rich with the charm and wit that is an intrinsic part of the company."
Find out why we can't get enough of Tiffany jewellery
There is a strong geometric edge to the jewellery selected for Out of Retirement, which can be felt in the strict lines of the yellow gold Rectangle and Pyramid rings from 1971, and the diamond and tsavorite-set yellow gold studs from 1973. The diamond-hinged yellow gold cuff, also from 1973, adds to this with decorative stacks of diamond-set right angles.
Humour has a role to play in Out of Retirement too, with the silverware in the collection eliciting smiles and raised eyebrows from onlookers. In Dover Street Market London a tiny, but perfectly formed, silver Chinese takeaway box sits next to a solid silver party hat and party horn, the latter of which were designed to celebrate the Millennium.    
This presentation of Tiffany jewellery has been carefully thought through, with jewels placed within scenes of beach parties or viewed through magnifying glasses. Each location is slightly different but the displays in Tokyo, New York and London have each taken inspiration from the work of Gene Moore, who dressed Tiffany's windows from 1955 to 1994. Moore was well known for his whimsical and witty designs, and often collaborated with the likes of Andy Warhol and Jasper Johns.
"We have been humbled and honoured to provide the spaces in all our Dover Street Markets for what we hope will be the beginning of a long-standing relationship," says Adrian Joffe, chief executive of Comme des Garcons, which owns Dover Street Market, who describes himself as a long-term admirer of Tiffany jewellery.
While the relationship between the luxury jeweller and the hip department store might be set to last, Out of Retirement won't, and with rumours of a near-sell out in the first few days, you'll have to be quick to catch one of these designs before they are retired once again.
Read about why Dover Street Market is the coolest destination for jewellery in London
Mentioned in this article: