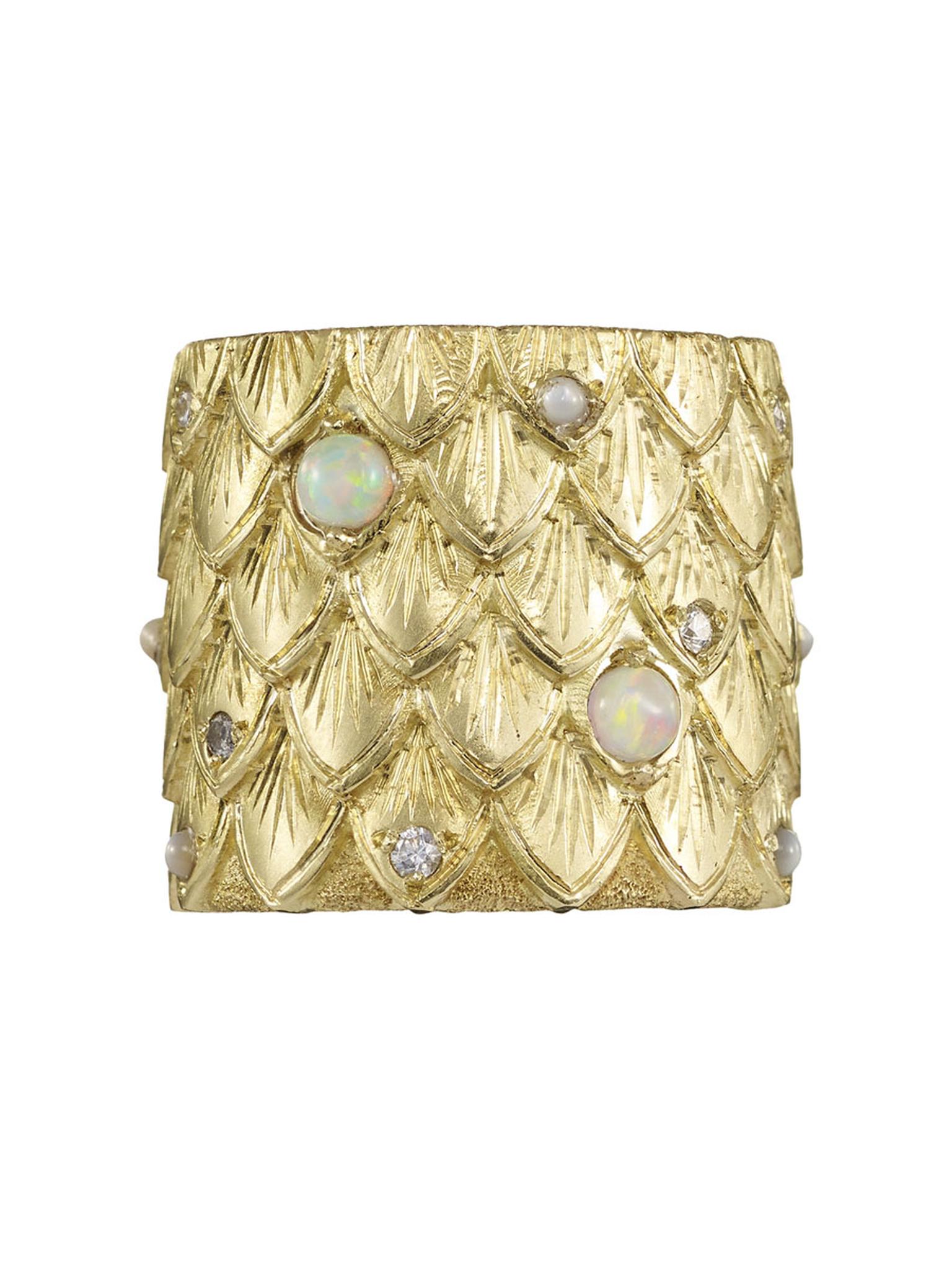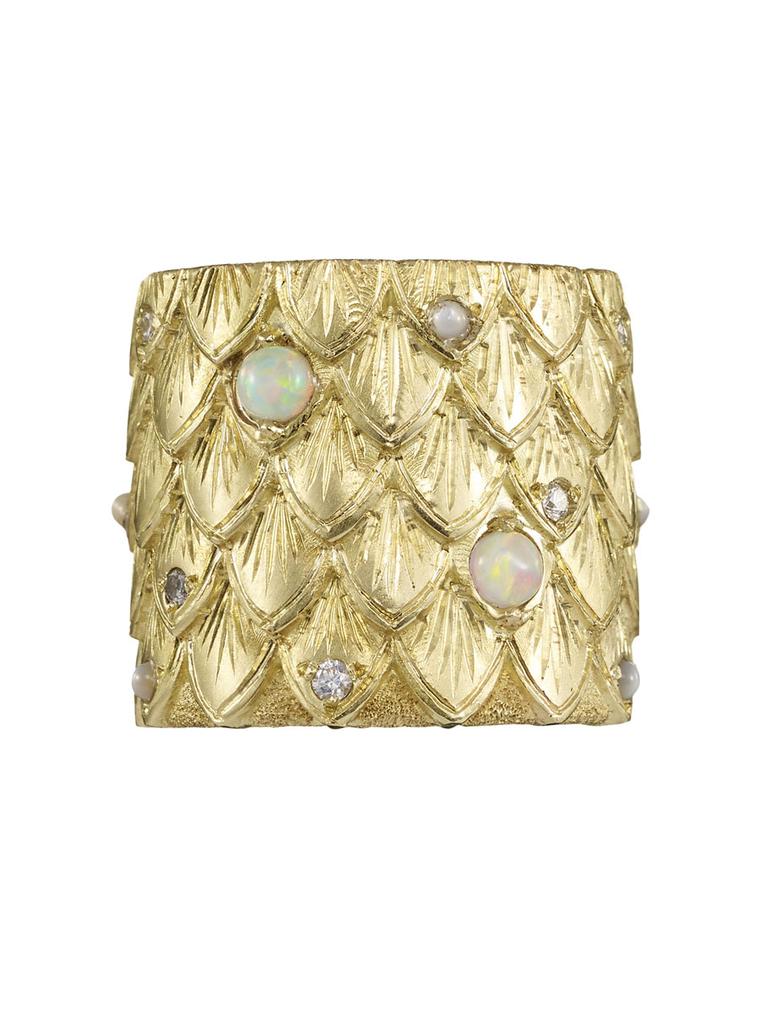 Following on from her immensely popular 'Woven' gold and silk bracelets and the perennially popular 'Tropicalia' collection, this year Carolina Bucci presents the 'Gitane' collection. Loosely based around the wisdom of the owl and all things gypsy, the collection manages to have both an old-world folk charm and a touch of glamour reminiscent of the screen sirens of the 50s, such as Sophia Loren and Claudia Cardinale, who both embraced the gypsy luxe look to smouldering effect.

'Gitane', which means gypsy woman in French, has an exotic and mystical allure, and the owl is a symbol of wisdom and mystery. The predominant colours are the blue of turquoise, the milky glow of opals and a sprinkle of diamonds. Big hoop earrings and little wands of gold that appear dipped in precious crystals add to the dramatic Romany look. And are those crescent moons or wide smiles that grace gem-set across-the-fingers rings and pendants? Simple, round ear studs are set with orbs of opal or turquoise, like the peeping eyes of the night owl.

The blonde, willowy Carolina Bucci, who comes from a family of Florentine jewellers, was on hand to present the collection. Carolina is no newcomer to the world of jewellery. In fact, 125 years ago Carolina's great-grandfather made gold pocket-watch chains, and today her father runs the same workshops in Florence that create, by hand, all of the jewels that bear the Carolina Bucci logo.

What sets Carolina Bucci's jewels apart is a savvy mix of solid craftsmanship and contemporary design, with a lightness of touch. With antennae finely tuned to what women really want and an uncanny sense of fashion that only an Italian could have, she manages to make fresh-looking jewels that are of the moment yet will be cherished for generations.

Whether it is a bejewelled bird at the end of a gold chain, woven-gold friendship bracelet or individual feathers etched into textured gold rings and cuffs, the charm of the owl is evident in these very wearable jewels, which will bring out the gypsy woman in anyone who wears them.
The wisdom of the night owl is at the centre of Carolina Bucci's new Gitane collection.

A woven silk and gold bracelet with an owl pendant from Carolina Bucci's Gitane collection.

These earrings with turquoise and topaz highlights mimic the shape of an owl's plummage in Carolina Bucci's Gitane collection.

The same Carolina Bucci earrings in white gold with turquoise and topaz highlights.

The tips of an owl's wings are the motif found on this ring, set with diamonds and a pink sapphire.

Owl feathers in white gold dangle from a long chain in these earrings from Carolina Bucci's Gitane collection.

Hoop earrings play a major role in the Gitane collection by Carolina Bucci, which taps into all things gypsy.

An across-the-finger ring set with tsavorites, opals and diamonds, from Carolina Bucci's Gitane collection.

Earrings in the form of delicate wands made from textured gold from Caroline Bucci's new Gitane collection.

Carolina Bucci Gitane ring decorated with textured feathers reminiscent of an owl, set with opals and moonstones.