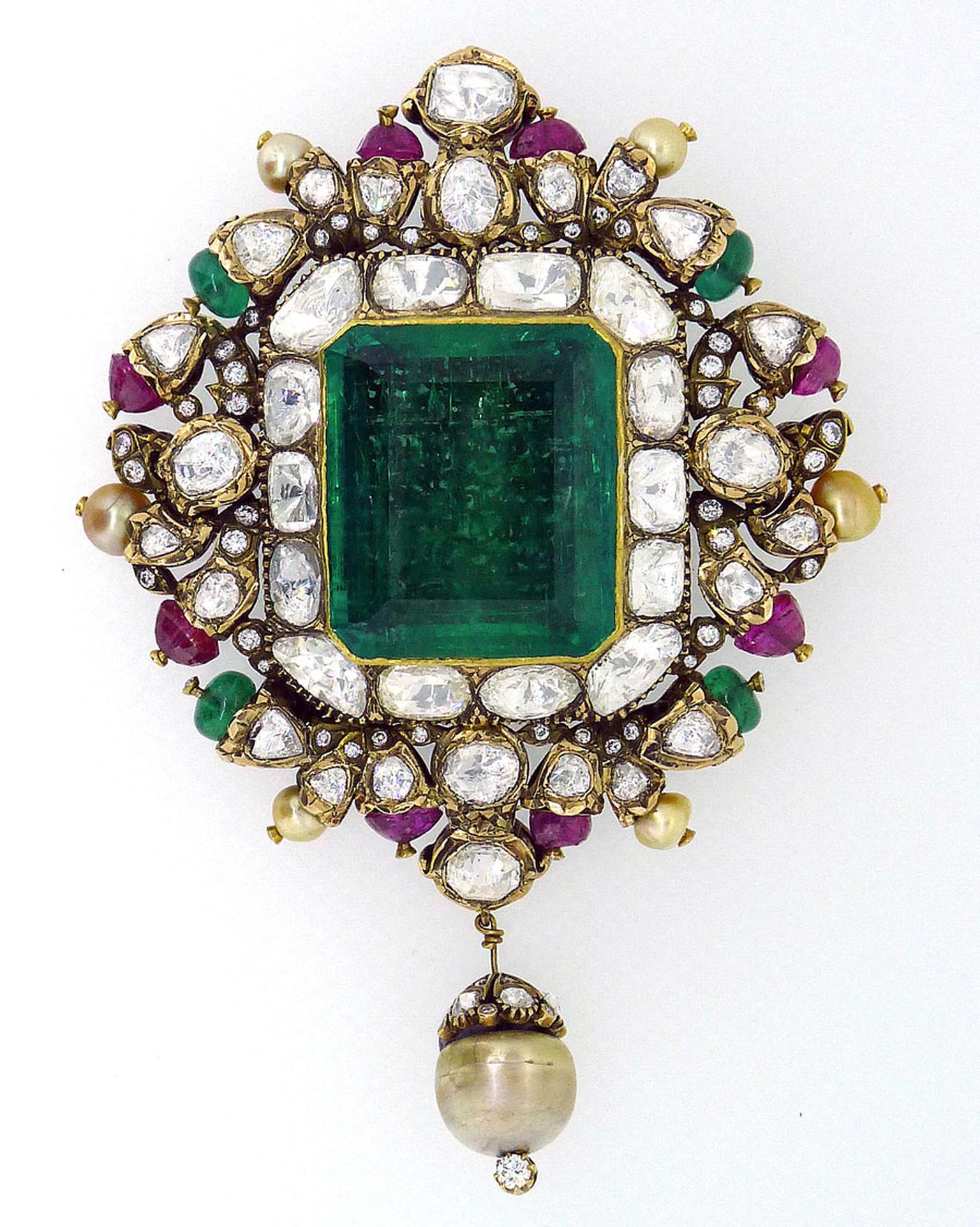 I am happy to report that The Gem Palace, the oldest jeweller in Jaipur, lives up to its name. All right, The Gem Palace is not really a palace, but it is brimming with some of the most extravagant gems I have ever seen. Where else would you find your host saying: "This half-a-million-pound emerald, pearl and diamond necklace is part of our regular collection"? Yet hear in the next sentence: "My father never wanted anyone to leave empty-handed, so he always made sure there was something for everyone." The firm has been supplying jewels to India's royalty - and still does -  since 1852, and The Gem Palace's fortunes are closely tied to those of its greatest patrons, the Singh Ji Royal Family of Jaipur, who still commission jewels.

On entering the dimly-lit interior, I really felt I had arrived in India proper - or rather, the India of my imagination: the land of maharajahs, impossible opulence and jewels that make your eyes pop out on stalks. Off the hot and dusty streets of Jaipur I quite literally stepped back in time - about 90 years, to be precise - into a series of rooms bursting at the seams with cabinet after cabinet after display case of jewels. The brass light switches are probably the same ones our gracious host Samir Kasliwal's grandfather installed, and better not look too closely in the corners as one such glance revealed a discarded fax machine.

Sanjay Kasliwal, father of Samir and fifth generation of the famed jewellery family, is waiting to show us around. But hang on, Samir has an Italian accent and is drinking an expresso.

Son of Sanjay and his Italian wife, Samir has come back from Italy to take over the running of the ancestral business. And like his father and grandfather, he has impeccable manners and is more than willing to let us play Indian princess with his treasure trove of jewels. I am shown wedding necklaces with centerpieces the size of dinner plates, shimmering with diamonds and emeralds. I try on a pair of bracelets - again all shimmering with diamonds - that reach to my elbows. I see a 100-year-old polki-diamond necklace and enough rose-cut diamonds to fill a bath-tub. I coo over delicate kundam meena enamelwork of blushing pink roses against lush foliage on the back of an elaborate diamond choker and swoon over trays glimmering with swirls of pearl ropes and diamond necklaces. I convince myself that a ring set with rose-cut diamonds the size of broad beans is really quite 'me'.

Tearing my eyes away from the jewels I see that the walls are covered in hand-printed calico that you can hardly see for all the oil paintings of maharajahs, black and white photographs of Hollywood film sirens, colour snaps of European royalty, including Lady Diana, and newspaper cuttings charting the many famous pilgrims to visit The Gem Palace. I wince as Samir turns the pages of a crumbling, browning visitors' book and points to Mountbatten's signature and then flips to a more recent page inscribed with the florid comments of the actors from 'The Best Exotic Marigold Hotel', including Judi Dench and Bill Nighy.

The Gem Palace also makes more affordable jewels, to a more - shall we say - European taste. Samir reports that a wide range of jewels are very popular with tourists from around the world as well as its faithful Indian customers, for whom wedding jewellery is a very serious matter.

The house employs 160 people, but we were only able to see the stone-cutting facilities. Above the shop, across rooftop terraces and up and down stairs, I visited the stone-cutting area. Samir pulled out a fistful of dull red stones from a battered aluminium bin marked 'rubies' in black felt-tip pen. Here, men sit cross-legged on the floor holding these dusty chunks of stone to a rotating disk that, in time, turns them into glossy red rubies, deep-green emeralds and swimming-pool blue tourmalines.

Time slipped by and, before I knew it, the sun was setting and we had spent almost three hours in this charming timewarp. I feel I haven't done justice to The Gem Palace and plan to return - and next time I promise to do a video so that you can see The Gem Palace in all its splendour.
Gem Palace wedding necklace of many tiers and fringes using polki-set diamonds.

Splendid Gem Palace wedding necklace of rows of polki diamonds set into 22ct gold. A bride would wear this necklace and probably another longer one, as well as a head ornament, bracelets and earrings.

Above The Gem Palace is a hall for special events and entertaining.

Dames Maggie Smith and Judi Dench with our host, Italo-Indian Samir Kasliwal.

More famous names in the Gem Palace guest book include Jacqueline Lee Bouvier Kennedy Onassis, wife of John Kennedy, the 35th President of the USA.

Nothing much has changed since The Gem Palace first opened its doors. The printed cotton wall linings and light fittings are all originals, as are the display cabinets.

Gwyneth Paltrow at The Gem Palace wearing a Gem Palace necklace.

A view from the outside of the Gem Palace in Jaipur.

Gem Palace enamelled bracelet in 22ct gold incorporating the traditional technique of kundam meena enamelling typical of Jaipur.

There is something for everybody at the Gem Palace. But take your time as it is a treasure trove.

Gem Palace diamond necklace with antique-cut diamonds and pearls.

More illustrious guests who have signed their names in The Gem Palace's visitors' book: Prince Charles, the Prince of Wales, and Camilla, the Duchess of Cornwall.